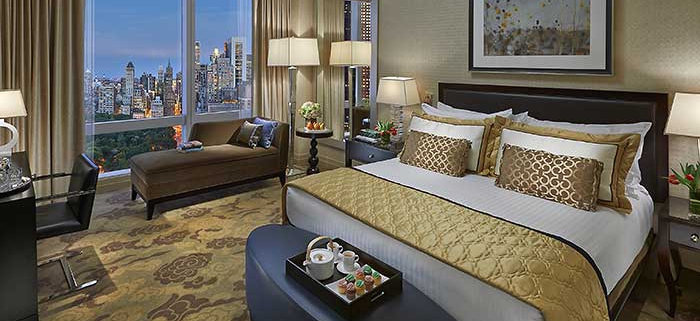 Mandarin Oriental New York to bring The Aviary NYC
Mandarin Oriental, New York and Chicago-based co-owners Chef Grant Achatz and Nick Kokonas of The Alinea Group have joined forces with Adam D. Tihany of Tihany Design to bring The Aviary NYC to the hotel's 35th floor in late summer 2017.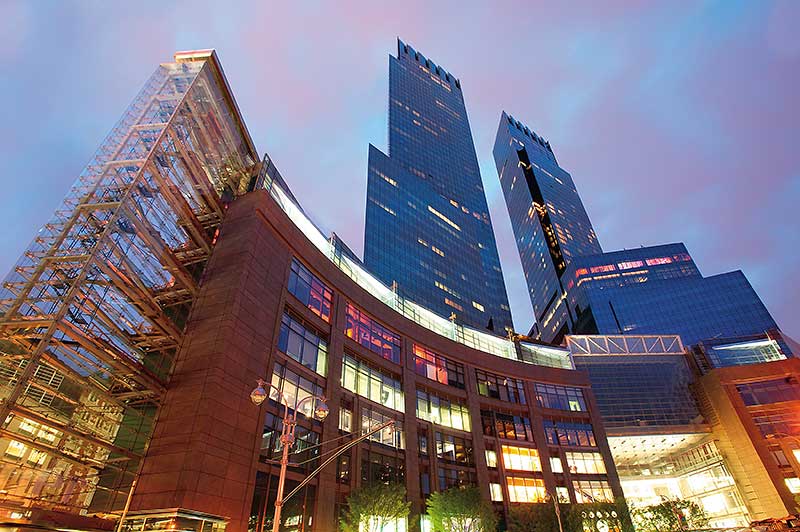 Mandarin Oriental, New York and The Alinea Group will bring The Aviary NYC to the hotel's 35th floor
Tihany Design is reimagining the innovative restaurant for drinks concept in Chicago to reflect the energy and buzz of New York City. As with the Chicago location, The Aviary NYC will deliver a distinctive culinary approach to cocktails and service.
About Mandarin Oriental, New York
A stunning fusion of modern design with stylish Oriental flair, Mandarin Oriental, New York features 244 elegant guestrooms and suites — all with breathtaking views of Manhattan and Five-Star hospitality. Luxurious amenities include Asiate, the hotel's elegant restaurant; a 14,500 square-foot Five-Star Mandarin Oriental Spa; and a state-of-the-art fitness center with a 75-foot lap pool.
In addition, there is premium meeting and event space, including a 6,000 square-foot pillar-less ballroom with three walls of windows overlooking Central Park. Located in Columbus Circle's Time Warner Center, Mandarin Oriental, New York is in an idyllic location just steps away from world-class dining, shopping and entertainment, including the Broadway Theater District, Lincoln Center, Central Park, Jazz at Lincoln Center and the Time Warner Center's collection of upscale retail shops and restaurants.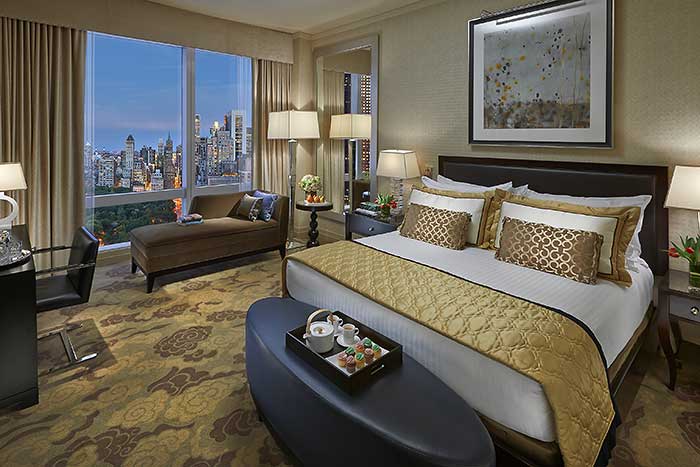 About The Aviary (The Alinea Group)
The Aviary debuted in Chicago in 2011 and takes a distinctly culinary approach to cocktails and their service. A stunning open kitchen greets every guest upon arrival and the chefs and bartenders are on full view while creating fun, delicious, and inventive cocktails and food that are innovative while remaining approachable. Even the ice is given purpose beyond dilution and temperature with over 30 types that play with texture and shifting flavors, with an ice-chef dedicated to their production.
Specialty glassware and service ware, often designed for a single drink, has become iconic and is sold throughout the world. Food is given equal attention, focusing on small plates that complement the drink selections. The Aviary won the 2013 James Beard Award for the Outstanding Bar Program in The United States.
"Our vision for The Aviary NYC at Mandarin Oriental, New York is not only to exceed our guests' expectations of service and reaffirm our commitment to culinary excellence, but to provide a comfortable and modern space that will encapsulate the spectacular views of New York City and the pulse of everyday Manhattan," said Susanne Hatje, General Manager. "We are confident that with the creative vision and direction of Tihany Design, we will be able to transform this space into an unforgettable experience for visitors."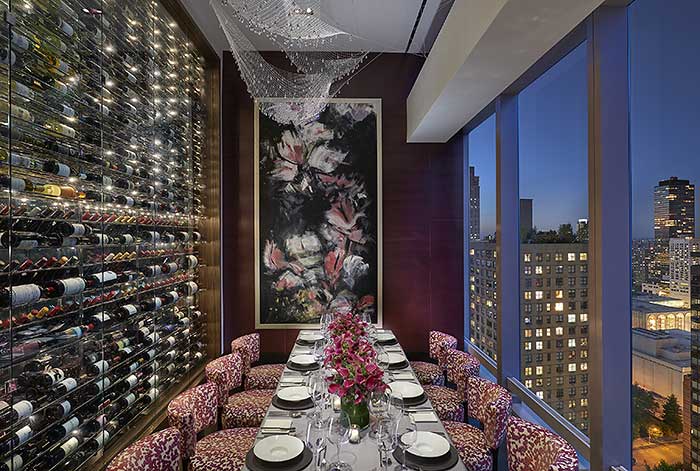 The Aviary NYC at Mandarin Oriental, New York
Upon entering the 35th floor of Mandarin Oriental, New York, guests will be greeted by a refreshed circular lobby with comfortable seating designed for meeting and relaxing. Floor-to-ceiling windows serve as the backdrop of this expansive space providing sweeping views of Central Park, Columbus Circle and the Manhattan skyline.
From the lobby, stairs descend into The Aviary NYC, where the dining room opens up like a grand stage, framed by delicate gold woven metal mesh. Reflecting the core principles of the Chicago location, the space will provide an interactive journey for guests, with inventive cocktails and small food plates. The 90-seat cocktail lounge will provide a comfortable, contemporary environment, with plush leather swivel chairs and rounded sofas placed around custom-designed Decca art metal-topped coffee and cocktail tables.
Sweeping custom floor lamps will brighten the lounge, while overhead, curving, ribbon-like gold light fixtures will weave across the dark ceiling. A custom dark blue Loloey carpet, featuring playful swirls of white, beige and tan tones, will adorn the space throughout, providing a dramatic contrast to the gold mesh-framed wall of windows with panoramic views of the city.
Once in the cocktail lounge, guests will be able to glimpse into the elevated glass-enclosed Drink Kitchen featuring glass and bronze light fixtures, custom bar equipment and black porcelain tiled stations where Aviary drink makers mastermind cocktails.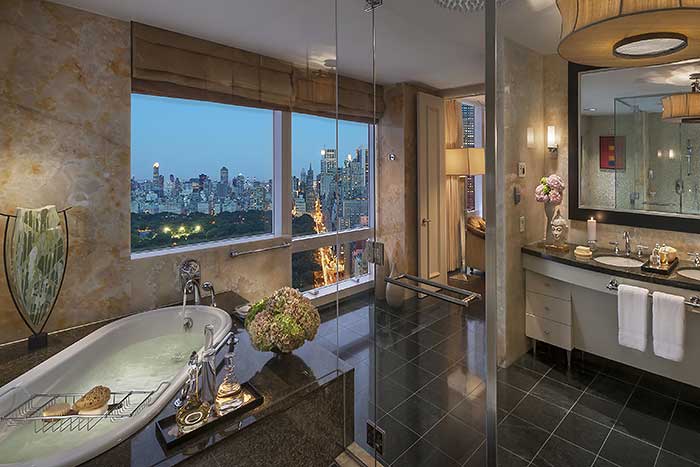 The Aviary NYC at Mandarin Oriental, New York opens in late summer 2017. For more information, please visit www.aviarynyc.com or www.mandarinoriental.com/newyork.
SOURCE: Mandarin Oriental
https://petervonstamm-travelblog.com/wp-content/uploads/2017/07/Mandarin-Oriental-New-York-premier-central-park-view.jpg
467
700
Peter von Stamm
https://petervonstamm-travelblog.com/wp-content/uploads/2018/05/petervonstamm-logo.png
Peter von Stamm
2017-07-13 18:05:24
2017-07-07 17:43:48
Mandarin Oriental New York to bring The Aviary NYC