News about Waymo, the self-driving car project from Alphabet
Do you know Waymo? If not, you'll probably know Google's funny egg-style looking self-driving cars. Formerly known as the "Google self-driving car project", Waymo, a subsidary of Alphabet Inc. (the parent company of Google), got fully self-driving cars ready for the road and now needs more types of vehicles to refine and test their advanced driving software.
Self-driving has a name: Waymo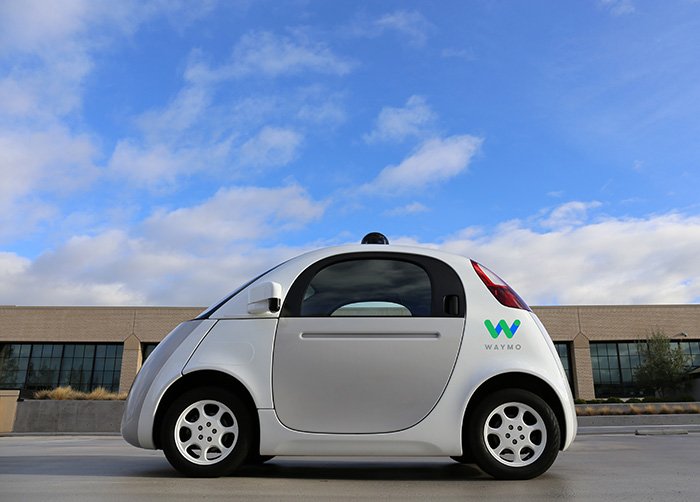 That's why in May Waymo teamed up with FCA (Fiat Chrysler Automobiles) to work on adding 100 self-driving Chrysler Pacifica Hybrid minivans to Waymo's fleet. John Krafcik, CEO Waymo: "With this great new minivan on the road in our test markets, we'll learn how people of all ages, shapes, and group sizes experience our fully self-driving technology." The vehicles are currently being outfitted with Waymo's fully self-driving technology, including a purpose-built computer and a suite of sensors, telematics and other systems, and will join the self-driving test fleet in early 2017.
Waymo's fully self-driving Chrysler Pacifica Hybrid minivan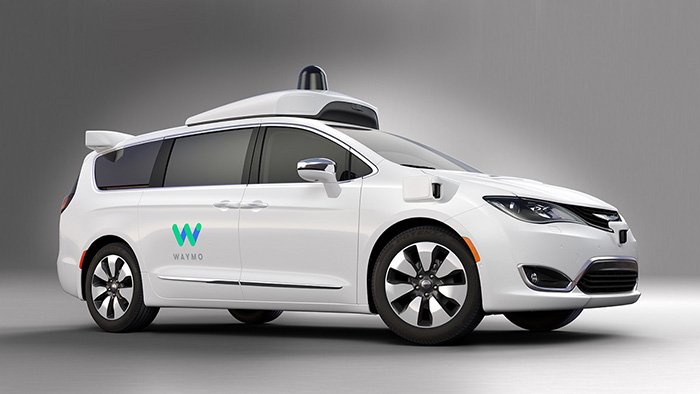 Over the last six months, the joint program team has been working to design and engineer the modifications to the Chrysler Pacifica Hybrid that would allow Waymo to integrate new fully self-driving systems. A few days ago, Honda and Waymo announced to enter discussions on technical collaboration of fully self-driving automobile technology. This technical collaboration would allow both companies to learn about the integration of Waymo's fully self-driving sensors, software and computing platform into Honda vehicles.
As part of the discussion on technical collaboration, Honda could initially provide Waymo with vehicles modified to accommodate Waymo's self-driving technology. These vehicles would join the existing fleet, which are currently being tested across four U.S. cities.
[bctt tweet="News about Waymo, the self-driving car project from Alphabet / #ev #cars #waymo #google" username="petervonstamm"]
Using several of their early prototype minivans, Waymo already run a gamut of tests, including over 200 hours of extreme-weather testing. "Before starting production in October, we'd put these early vehicles through their paces at our own test track in California, and FCA's Chelsea Proving Grounds in Chelsea, MI and their Arizona Proving Grounds in Yucca, AZ. We're looking forward to having these new vehicles on public roads in 2017" (John Krafcik).
In October 2015, Waymo achieved the world's first fully self-driving trip on public roads, in a car without a steering wheel or pedals. John Krafcik: "We refine our technology through one billion miles of simulation testing each year, and our cars have self-driven over two million miles on public roads across four U.S. cities."
Waymo video:
The CEO believes self-driving technology has enormous commercial potential and will enable us to rethink some of the ten trillion miles that motor vehicles travel around the world every year. As a standalone business, Waymo's goal is to commercialize this technology and build products that can help millions of people. One of the next steps will be to let people use fully self-driving cars to do everyday things like run errands or commute to work.
Waymo completed the world's first fully self-driving trip on public roads on October 20, 2015. The vehicle did not have a steering wheel, foot pedal or test driver on board as it drove from a doctor's office to a park and through typical Austin neighborhoods in everyday traffic (i.e., no police escorts or closed course). While there have been many rides with self-driving cars before, this was the first time any car has completed a trip from start to finish on public roads without a test driver on board.
Steve Mahan during world's first fully self-driving ride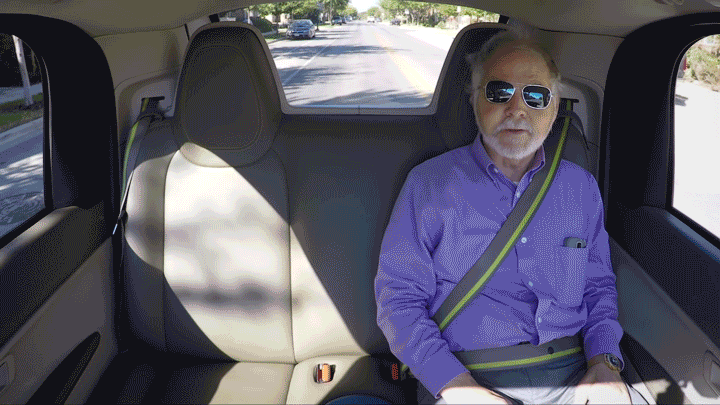 The Waymo software was fully responsible for all the driving. As a passenger, Steve Mahan became the first person in the world to ride in a fully self-driving car on public roads. For Steve, who is legally blind, this was the first time he was alone in a car in 12 years.
This ride was the culmination of six years of careful development and testing, which at the time included over a million miles of autonomous driving on public roads, three million miles a day of simulated driving, and testing the car's performance in thousands of unique or rare scenarios on Waymo's private test track. To prepare for fully self-driving trips, the Waymo team put multiple layers of safety preparations in place, including programming the vehicle to slow down and come to a safe stop in the event that it came across a situation it did not recognize.
Self-driving cars have the potential to prevent some of the 1.2 million deaths that occur each year on roads worldwide, 94 percent of which are caused by human error. This collaboration will help FCA and Waymo (and maybe Honda) better understand what it will take to bring self-driving cars into the world.
https://petervonstamm-travelblog.com/wp-content/uploads/2016/12/waymo_google_alphabet_minivan_1_TITEL.jpg
640
1139
Peter von Stamm
https://petervonstamm-travelblog.com/wp-content/uploads/2018/05/petervonstamm-logo.png
Peter von Stamm
2016-12-27 18:04:39
2016-12-24 11:05:14
News about Waymo, the self-driving car project from Alphabet