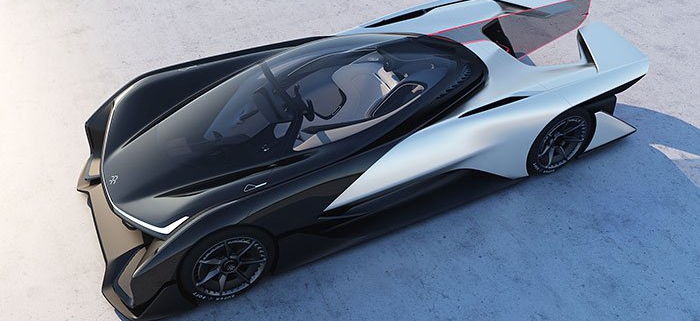 Like a Batmobile: Faraday unveils 1,000-horsepower-electric car FFZERO1
The future of cars? Stunning FFZERO1 electric car concept unveiled at CES
Update: Faraday Future says it will unveil its first production model at CES 2017 in January
Its a concept high-performance 1,000-horsepower one-seater batmobile called FFZERO1 that was unveiled by California-based electric car company Faraday Future at the CES 2016 in Las Vegas. Four electric motors – one on each wheel – will produce 1,000 horsepower, capable of racing from 0 to 60 mph in under 3.0 seconds on the way to a top speed above 200 mph. An electric racecar that should make Tesla and other car-producers pretty nervous.
[bctt tweet="A car like a Batmobile: Faraday Future says it will unveil its first production model at CES 2017 in January" username="petervonstamm"]
Its not only the car that's fast: "Faraday Future was founded just 18 months ago", told Faraday's senior vice president Nick Sampson the audience, who is a former Tesla engineer. "In that short year and a half, we already have a staggering 750 employees globally, breaking ground on a 3 million square foot factory in just a few weeks, and we will deliver our first production vehicle in only a couple years time. All of this in 18 months now, I'd call that very fast." Of course, the FFZero1 isn't going to hit the streets anytime soon. The company said that it plans to deliver its first production vehicle in maybe four years.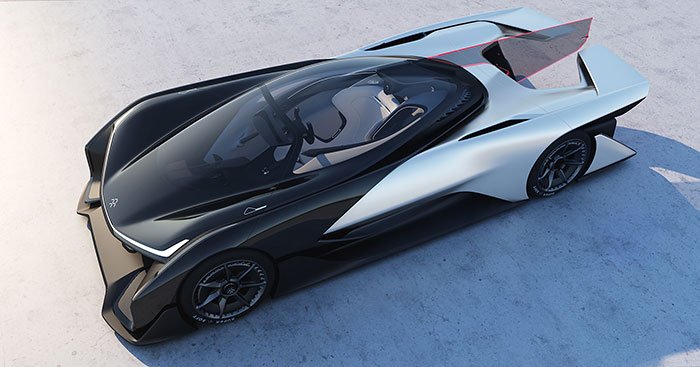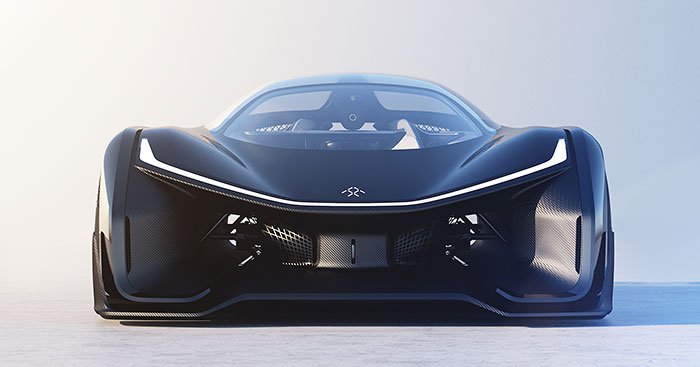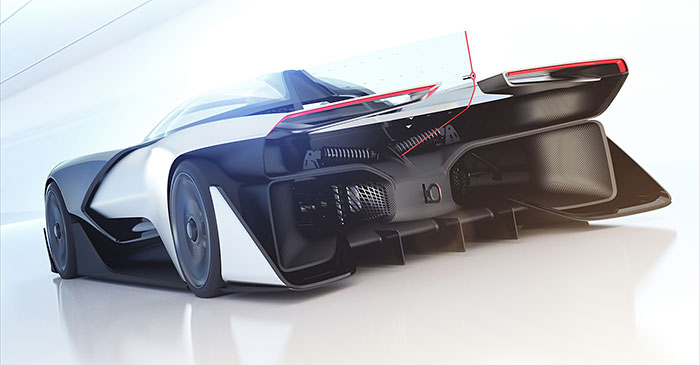 FFZERO1: a "Car of Concepts"
The company's first ever concept, the FFZERO1 is a high performance electric vehicle built upon FF's Variable Platform Architecture (VPA), a modular engineering system optimized for electric vehicles, on which all future FF production vehicles will be based.
Connectivity
User-centric design is core to Faraday Future's product development approach. Like future FF production models, the FFZERO1 Concept has a sixth sense for its drivers' needs: featuring adaptive personalization, seamless transfer of custom vehicle configurations, access to live images and real time data visualization. Faraday Future has directly integrated the smartphone into the steering column, representing the intersection of technology and automotive engineering. Conceptually, this setup could enable the smartphone to serve as the interface between the vehicle and the driver in – and outside – of the car. The FFZERO1 Concept could be fully autonomous, meeting its driver at the track and perhaps taking a few perfect laps on its own to compare with, and improve upon, its driver's performance.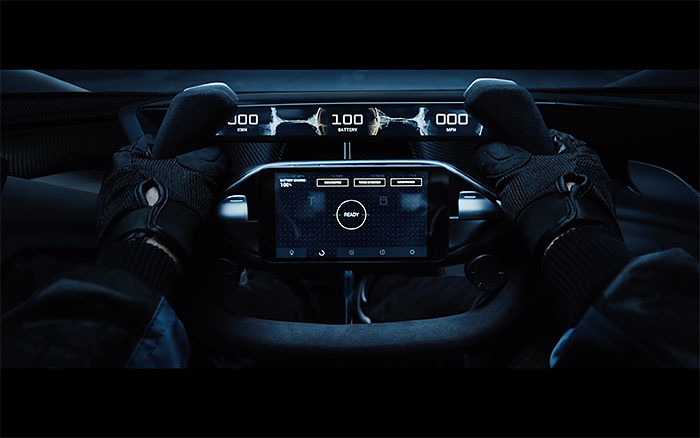 Interior
Another of FF's core philosophies is to design from the inside out. The FFZERO1 Concept's interior is primarily white with a carbon fiber finish – a pure and extremely clean aesthetic atypical for combustion engine race cars, but reflective of a clean, quiet electric vehicle.
Inspired by NASA research, the single-seat configuration offers a comfortable, weightless body position, holding the driver at a perfect 45-degree angle, thereby helping to promote circulation. The propeller-shaped, asymmetric instrument panel is a theme that will be incorporated into the future Faraday Future design DNA. The panel runs seamlessly into a unique Halo Safety System with integrated head and neck support, oxygen, and water supply fed to the driver through a prototype helmet. The system could also gather biometric data about its driver.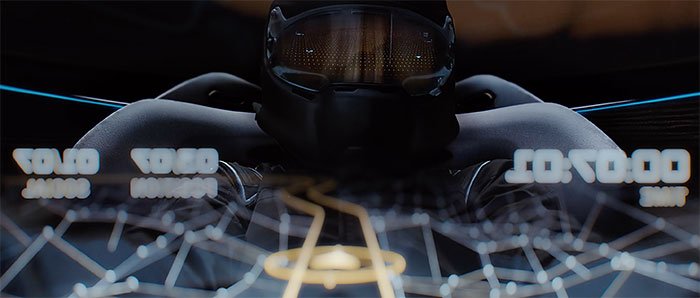 Exterior
Utilizing lightweight materials and composites on the VPA platform, the Faraday Future design team experimented with new driver-focused proportions, pushing the canopy forward for a perfectly aerodynamic teardrop profile. Faraday Future's soon-to-be signature "UFO line" runs around the center of the vehicle and is intended to give the sense that this vehicle is not completely of this world. Aero tunnels run through the interior length of the vehicle, allowing air to flow through the car rather than around it, dramatically reducing drag and improving battery cooling.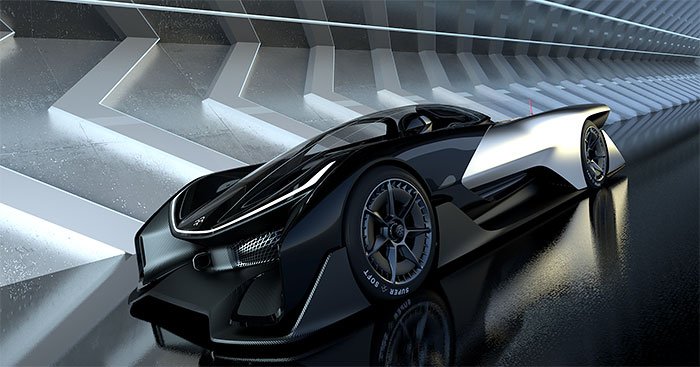 Our lives demand mobility solutions that go beyond a traditional car
The automotive industry is more than 100 years old, yet little has changed over the span of its existence. Meanwhile, our lives are changing at a rapid pace. Technological innovations, energy constraints, urban crowding and shifting lifestyles are changing our relationships with our cars.
Our lives demand mobility solutions that go beyond a traditional car to also improve the quality of our lives. Only when we begin to view the car as a connection point to the rest of the world we will realize the true value of the mobility experience. Faraday Future seeks to redefine the automotive experience by delivering a range of smart, electric vehicles and usage arrangements that will fit the needs of tomorrow's population.
[click to tweet!]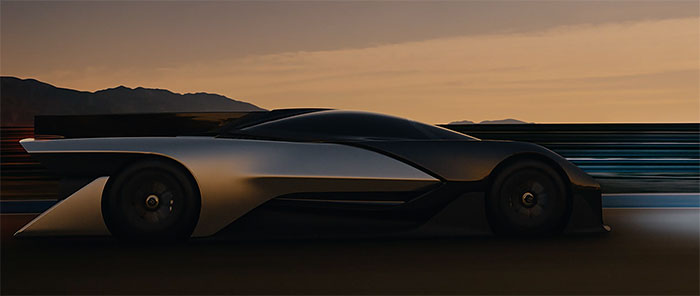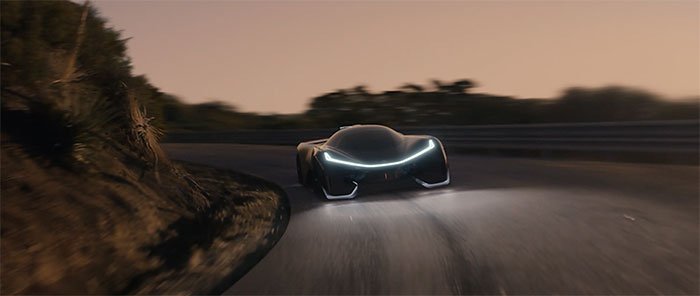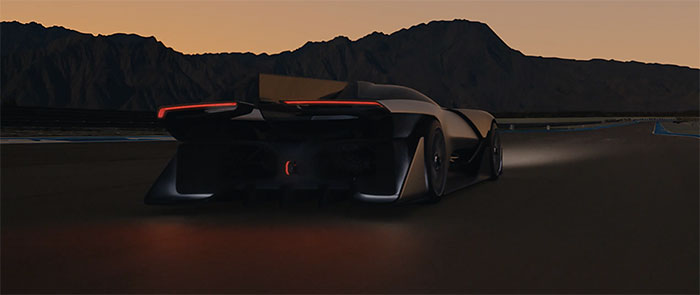 Faraday Future also announced a strategic cooperation with Letv that will enable it to benefit from Letv's expertise in content and technology. The two companies will build advanced electric vehicles by bringing together resources from the following four domains: technology, automotive, internet and cloud, and entertainment content.
These announcements come on the heels of a reveal of Faraday Future's plans to invest $1 billion in the creation of a 3 million square foot state of the art, environmentally conscious manufacturing facility in North Las Vegas. The company will break ground on this phase one investment in the next few weeks, and ultimately employ 4,500 people.
Variable Platform Architecture video: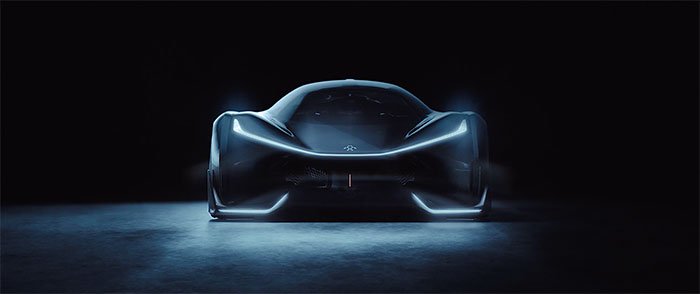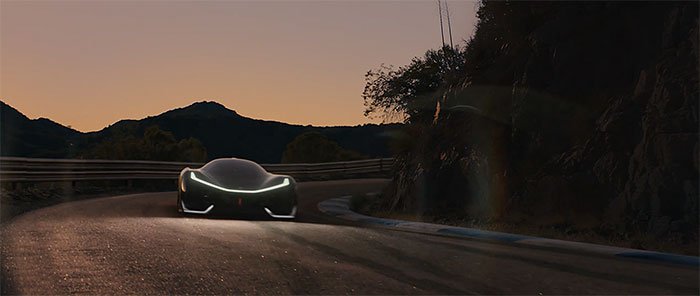 ---
https://petervonstamm-travelblog.com/wp-content/uploads/2016/01/Faraday_FFZERO1-Concept-Car-_003.jpg
367
700
Peter von Stamm
https://petervonstamm-travelblog.com/wp-content/uploads/2018/05/petervonstamm-logo.png
Peter von Stamm
2016-10-24 16:07:04
2016-10-25 10:36:11
Like a Batmobile: Faraday unveils 1,000-horsepower-electric car FFZERO1