Proterra Introduces new Drivetrain for Zero-Emission Buses
Proterra, the leading innovator in heavy-duty electric transportation, announced it has introduced the DuoPower drivetrain for its award-winning Catalyst® battery-electric vehicles. With the DuoPower drivetrain, the Catalyst bus will now have nearly twice the horsepower and acceleration, and will be five times more efficient than a standard diesel bus. In addition, the performance of the DuoPower drivetrain represents a 20 percent increase in efficiency over the standard ProDrive system.
New Proterra drivetrain delivers 500 percent improvement in efficiency
For the Catalyst E2 max, the DuoPower drivetrain enables a nominal range of 426 miles on a single charge, which far exceeds the average distance of North American transit routes. The company recently tested the DuoPower drivetrain at the Navistar Proving Grounds in Indiana, achieving a world record range for an electric vehicle, where the 40-foot Catalyst E2 max traveled 1,101.2 miles on a single charge.
Having already delivered the industry's most energy-dense batteries, Proterra is now setting new performance standards for efficiency and power.  Designed for durability, the new DuoPower drivetrain features two electric motors that deliver an impressive 510 horsepower, accelerating a Catalyst bus from 0-20 mph in 4.5 seconds, while also achieving an industry-leading 26.1 MPGe. In addition, it can propel a bus up a 26 percent grade, which is more than twice the performance of the average 35- or 40-foot diesel bus, and 72 percent better than competing electric transit vehicles, making it an ideal option for transit agencies with steep hills.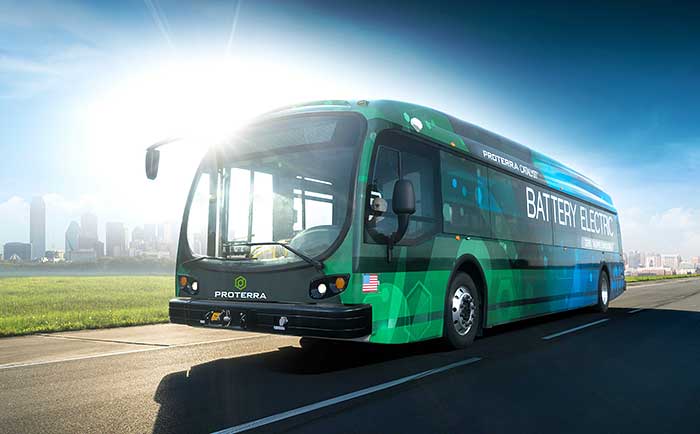 About Proterra
Proterra is a leader in the design and manufacture of zero-emission heavy-duty vehicles, enabling bus fleet operators to significantly reduce operating costs while delivering clean, quiet transportation to local communities across the United States. With more than 400 vehicles sold to 42 different municipal, university, airport and commercial transit agencies in 20 states, Proterra is committed to providing state of the art, high performance vehicles to meet today's growing market demand. The company's configurable Catalyst platform is capable of serving the full daily mileage needs of nearly every U.S. transit route on a single charge. With unmatched durability and energy efficiency based on rigorous U.S. certification testing, Proterra products are proudly designed, engineered and manufactured in America, with offices in Silicon Valley, South Carolina, and Los Angeles.
SOURCE: Proterra
You might also like: The Infiniti all electric Prototype 9
The Rolls-Royce VISION NEXT 100
The Honda neuV Concept EV with AI
https://petervonstamm-travelblog.com/wp-content/uploads/2017/10/PROTERRA-CATALYST-BUS-TITEL.jpg
601
900
Peter von Stamm
https://petervonstamm-travelblog.com/wp-content/uploads/2018/05/petervonstamm-logo.png
Peter von Stamm
2017-10-10 17:30:02
2017-10-09 16:30:20
Proterra Introduces new Drivetrain for Zero-Emission Buses