Curio Collection Launches Curious Wanderlust DNA Gene Program
Are you born curious? This fall, Curio Collection by Hilton – one of Hilton's 14 brands – is helping travelers find out by digging into their love of exploration. Through consumer research, the brand discovered that people are seeking unique experiences as an integral aspect of their travel.
With that insight, and with curiosity at the core of the brand name, Curio Collection turned to science to sponsor the DNA testing of approximately 30 avid travelers who love sharing their journeys with their social media followers.
Curio Collection Debuts Shareable Online Quiz
The goal was to determine if they have the DRD4-7R gene, better known as the "wanderlust gene," in an effort to understand our innate desire to travel. Today, the collection brand launches an "Are You Curious?" social media quiz, to allow everyone to put their curiosity to the test.
"A curious traveler is someone whose desire for one-of-a-kind discoveries draws them to distinctive hotels that are an essential part of their travel experience," said Stuart Foster, vice president, Global Brand Marketing, Curio Collection by Hilton. "Through our Curious Gene program, we are hoping to ignite curiosity in all people by helping them determine their next authentic travel moment at one of our more than 40 global hotels and resorts handpicked for their unique character – be it an epicurean adventure at the recently opened Lil' B Coffee & Eatery or Siren within The Darcy Washington DC or a tranquil, beachside spa experience at the iconic Hotel del Coronado in California."
Research Methodology: Curio Collection by Hilton undertook a research project from June 14, 2017 through September 3rd, 2017 to understand behaviors and preferences among people who are highly engaged with travel. Firstly, using an online survey, 129 avid travelers were identified based on their travel behaviors and preferences. Following the online survey, 30 participants took part in qualitative discussions for further exploration. Concurrent to the Online Bulletin Boards, these 30 partipants also provided a cheek swab that was tested to identify whether they had the DRD4-7R allele. Nine respondents tested positive for the DRD4-7R allele.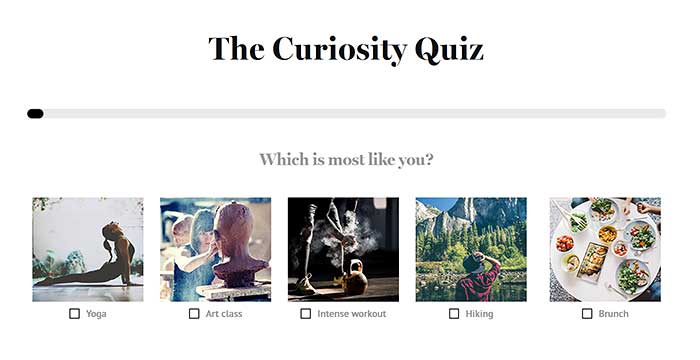 Curio Collection – The Science & Curiosity Types
Scientists believe that a variation of the 7R gene, a derivative of the gene DRD4, exists in one in five people or approximately 20 percent of the human population. Through the Curious Gene study, Curio Collection by Hilton worked with a genetics lab, Fulgent Genetics, and research partner, BrandIQ, to test the 30 travel influencers to determine which of them have the "curious gene."
Each influencer also participated in a qualitative portion of the study that included a detailed online board and survey. By applying learnings from the study and leveraging existing scientific information associated with the 7R gene, researchers developed an algorithm to classify curiosity into five different types:
Curious Pathfinder
They enjoy hiking under the stars and escaping from the city lights. Their travel style is spontaneous, rustic and authentic.
Curious Epicurean
They live to eat, drink and be merry, trying almost anything on a plate or in a cup at least once. Sight, smell and taste all drive their exploration of the world and their travel is all about romance and indulgence.
Curious Culturalist
Art is everywhere, both in what they create and what they seek. For them, travel is about being stylish, passionate and open to possibilities.
Curious Spiritualist
They are always seeking the best for their inner and outer selves, and the best balance for mind and body. Their travel style is relaxed, focusing on staying grounded while being inspired, whether it be a wellness retreat or a music festival.
Curious Challenger
Their interests take them to both the rooftop and the mountaintop. Their travel style is exotic, active and well-planned.
From the initial group of influencers participating in the Curious Gene study, five who represent each curiosity type were selected to further participate in a live observational study, during which they were filmed in their natural state to further validate the categories. With remarkable hotels in some of the most sought after global destinations, Curio Collection by Hilton offers amenities to meet the desires of each curious traveler type.
So, Are You Curious?
Starting today, all wanderlusters will be able to join in the study by taking the shareable, "Are You Curious?" social media quiz to discover their curiosity type. Based on their results, participants will receive recommendations for Curio Collection by Hilton hotels and resorts that best complement their curious interests.
Consumers can continue to follow along and join the conversation with @curiocollection using the hashtag #BeCurious and visit CitiesbyCurio.com/BeCurious for additional information. Media may access video assets, images and more at news.curio.com/BeCurious.
SOURCE: Hilton
You might also like: CurioCollection launches in the UK
Opening of the new Hilton Yantai
https://petervonstamm-travelblog.com/wp-content/uploads/2017/10/Curio-Collection-by-Hilton-Launches-Curious-Gene-Program-Girl-TITEL.jpg
600
900
Peter von Stamm
https://petervonstamm-travelblog.com/wp-content/uploads/2018/05/petervonstamm-logo.png
Peter von Stamm
2017-10-11 19:00:07
2017-10-11 09:27:15
Curio Collection Launches Curious Wanderlust DNA Gene Program