Canopy by Hilton unveils "first look" of its property in Washington D.C.
Canopy by Hilton, Hilton's lifestyle hotel brand, Hoffman-Madison Waterfront and Concord Hospitality Enterprises revealed the first look inside the brand's first North American property, Canopy by Hilton Washington D.C., The Wharf.
Set on the Potomac River, The Wharf is home to some of D.C.'s most anticipated new restaurants, year-round entertainment and waterfront accommodations.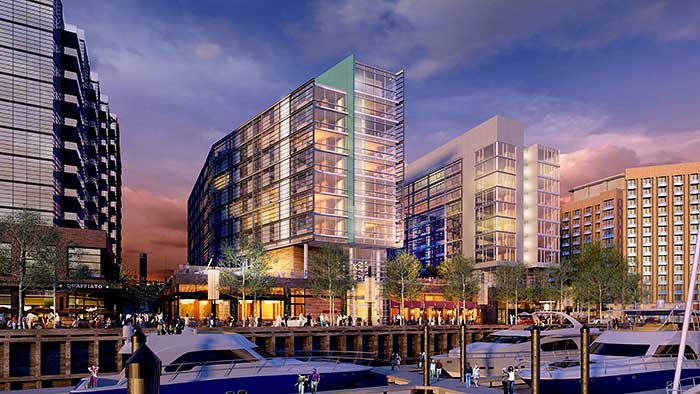 The property's 175 guestrooms and rooftop bar and lounge, Whiskey Charlie, are part of Hoffman-Madison Waterfront's $2.5 billion, world-class mixed-use waterfront neighborhood in Southwest Washington, D.C. The Wharf is designed to be the capitol city's destination and waterfront community. Canopy by Hilton Washington D.C., The Wharf is inspired and influenced by its local surroundings. An extension of The Wharf, the new Canopy property offers guests a thoughtfully-curated, locally-inspired experience representative of Washington, D.C.'s newest neighborhood.
Canopy by Hilton Washington D.C., The Wharf: 175 guestrooms
Canopy by Hilton Washington D.C., The Wharf offers tiered variations of 175 "Just Right" rooms with sweeping riverfront or city views. Guestrooms are thoughtfully designed for comfort and function with local influences. The distinctive interiors include nautical touches inspired by the history and beauty of the riverfront. Warm gray and beige tones create a relaxing atmosphere along with a splash of orange, Canopy's signature color. Guests will also experience contemporary bathrooms with illuminated mirrors and a luxurious shower experience. Other guest amenities include 55″ TVs, refrigerated drawers, Nespresso machines and plenty of places to charge tech devices.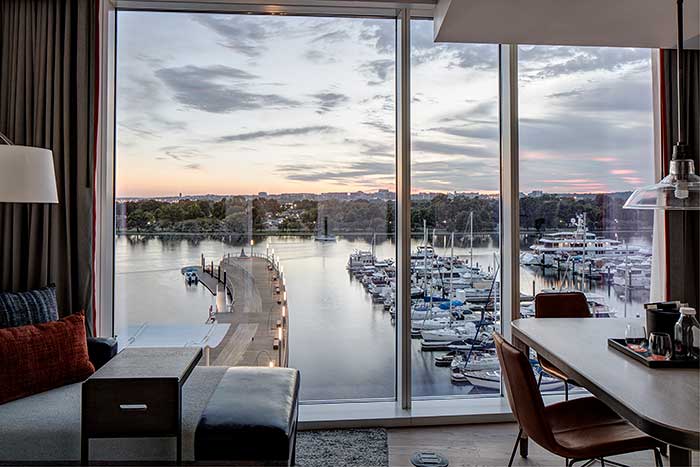 Each location in the Canopy by Hilton pipeline has been thoughtfully selected with the inquisitive traveler in mind, targeting vibrant, culturally rich neighborhoods in select cities around the world. The 10-story hotel is Canopy's first hotel to open in the Americas. The buzzing neighborhood, where D.C. meets the water, features a combination of residential, commercial and hospitality venues, and offers a wide range of recreational activities on its four public piers, from a seasonal ice rink on a pier to kayak and paddleboard rentals to "The Torch" fire feature and swings.
To explore the local neighborhood, Canopy bikes will be available for guests to use during their stay.  New water taxis transport Wharf visitors up and down the Potomac to various waterfront locations including Georgetown and Alexandria, with a future stop at National Harbor. The new free Southwest Shuttle bus service takes visitors from The Wharf to L'Enfant Metro, the National Mall and L'Enfant Plaza Retail.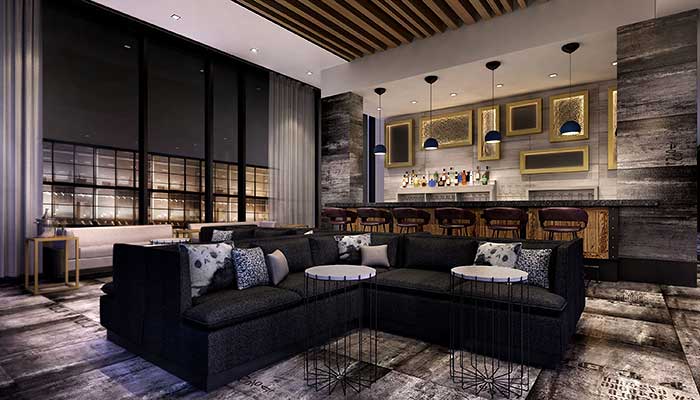 The Canopy brand was created after several years of consumer research and this fall, guests living in or visiting Washington, D.C. will finally be able to experience Canopy by Hilton firsthand. At Canopy, every guest will experience an energetic, thoughtfully-local stay. This experience begins before check-in at Canopy Central, where travelers unwind in an open, welcoming lobby with complimentary Wi-Fi and a nightly tasting of locally-sourced brews, wine and spirits. Post check-in, guests will enjoy the efficient design of their "Just Right" room, providing the highest level of comfort, as well as complimentary artisanal breakfast during their stay. Guests can also tap Canopy Enthusiasts – or local experts – for their local know-how such as recommendations on the best restaurants and excursions in the neighborhood.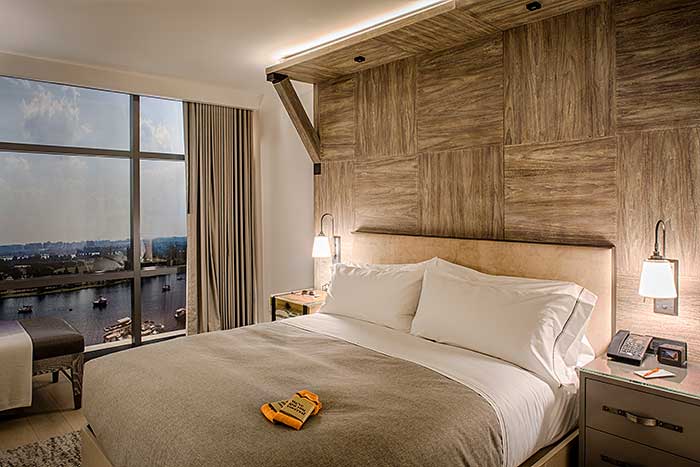 About Canopy by Hilton
Canopy by Hilton is the energizing, new hotel in the neighborhood offering simple guest-directed service, thoughtful local choices, and surprisingly comfortable spaces, so guests simply feel better going forward. Each property is designed as a natural extension of its neighborhood, with local design, food and drink, and delivers a fresh approach to hospitality and the guest experience. Canopy by Hilton is the lifestyle hotel brand of Hilton Worldwide
About The Wharf/Hoffman-Madison Waterfront
The Wharf is the $2.5 billion, world-class, mixed-use waterfront neighborhood located on the Washington Channel of the Potomac River. Situated along the District of Columbia's Southwest Waterfront, The Wharf is adjacent to the National Mall with a development area that stretches nearly one mile, across 24 acres of land and 50 acres of water from the Municipal Fish Market to Fort McNair. When complete, it will feature more than 3 million square feet of new residential, office, hotel, retail, cultural, marina, and public uses including waterfront parks, promenades, piers and docks. The first phase of The Wharf opens in October of 2017.
About Concord Hospitality Enterprises Company
As an award-winning hotel development, ownership and management company, Concord Hospitality Enterprises Company has spent the last three decades building relationships with investors on more than $2.5 billion in premium-branded properties across the United States and Canada. As an operator, both for third party owners and partners, Concord Hospitality instills value from the ground up, developing and managing with a sustainable viewpoint, a focus on quality and hands-on involvement to ensure long-term profitability and success. With the brightest talent, the most innovative processes and a commitment to giving back to the communities where associates live and work, Concord is a company that leads with purpose both internally and externally.
SOURCE: Canopy by Hilton
You might also like: Hilton opened doors to new Hilton Busan
Curio Collection by Hilton launches in The UK
https://petervonstamm-travelblog.com/wp-content/uploads/2017/10/Canopy-by-Hilton-Washington-DCThe-Wharf-Guest-SuiteTITEL.jpg
600
900
Peter von Stamm
https://petervonstamm-travelblog.com/wp-content/uploads/2018/05/petervonstamm-logo.png
Peter von Stamm
2017-10-23 18:30:37
2017-10-22 20:10:47
Canopy by Hilton unveils "first look" of its property in Washington D.C.