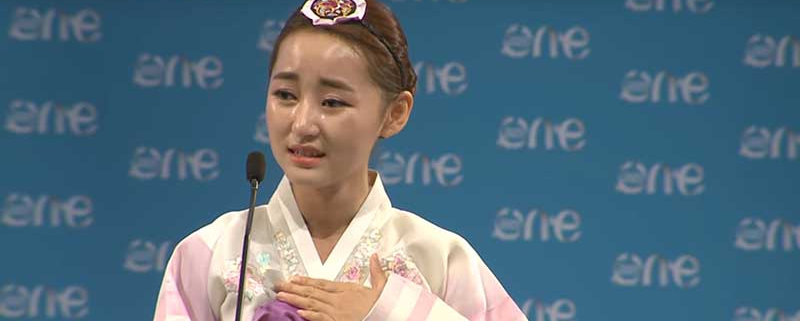 This is no travel-blogpost, but for topical reason I publish this video of Park Yeon-mi, a girl who escaped from North Korea to China in 2007 and settled in South Korea in 2009. The world talks about Kim Jong-un, the North Korean dictator, but there is still little known about the daily life of the "normal people" in North Korea. This heartbreaking video from 2014 is a must-see! It will give you an idea about the life in North Korea, about how the North Korean people suffer, even if they were lucky enough to flee to China…
Yeonmi Park: Escaping from North Korea in search of freedom
Park Yeon-mi (or Yeonmi Park) is a North Korean defector and human rights activist. She  rose to global prominence after she delivered a speech at the One Young World 2014 Summit in Dublin, Ireland. One Young World is an annual summit that gathers young people from around the world to develop solutions to global problems.
In this video, Parks tells the world that her family faced starvation after her father was sent to a labor camp for smuggling. They fled to China, where Park and her mother fell into the hands of human traffickers before escaping to Mongolia…
Yeonmi Park telling her story of  life in North Korea
Parks speech at the 2014 Summit detailing her escape from North Korea gained over 3.2 million YouTube views. As a result, she received global media attention and launched as a face for North Korean activism. This attention earned Park a global bookdeal with Penguin Press that enabled her to share her story with a wider audience. Her memoir In Order to Live: A North Korean Girl's Journey to Freedom was published in September 2015.
Park is now an advocate for victims of human trafficking in China and works to promote human rights in North Korea and around the globe.
https://petervonstamm-travelblog.com/wp-content/uploads/2017/06/North-Korea-01.jpg
379
800
Peter von Stamm
https://petervonstamm-travelblog.com/wp-content/uploads/2018/05/petervonstamm-logo.png
Peter von Stamm
2017-06-13 18:15:46
2017-06-13 18:25:51
Escaped from North Korea