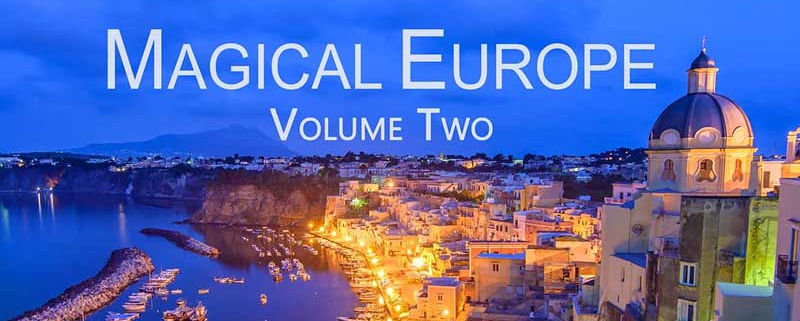 Magical Europe Time Lapse Video
This is a compilation of time lapse videos shot over the last two years when Stan Chang from Taiwan travelled Europe (and Dubai) with his wife and son. Stan: "I think that everybody needs to take a trip and have their eyes opened to just how beautiful the world is." He is glad to share his second time-lapse photography collection of 96 clips which covers 30 European countries that Stan and his family visited during their 2011 to 2014 journey.
Time lapse video: 2 cameras, 30 countries, 60 flights, 20 terabytes of data
One family, 2 cameras, 30 countries, 60 flights, 1000+ time lapse videos, 200,000+ images – almost 20 terabytes of data! We recommend to watch full screen in HD with sound if your device allows it.
"While organizing and editing these photos and videos the memory of our life and travels in Europe just kept popping up my mind", remembers Stan. "It was truly a wonderful and unforgettable time. Interwoven throughout the memories of those three years of travel are the even more precious memories of our older son as we watched him grow from month six to age three. And now both of our children are so excited and amazed when they watch the completed film. I believe that it is really an unbelievable experience for them; for my older son who lived it and still remembers, and for my younger daughter who has joined us in the journey."
Time lapse video – the 96 clip locations are list below:
00:01 Isle of skye, Scotland, UK
00:10 Dolomit, Italy
00:16 Obersee, Germany
00:20 Grindelwald, Switzerland
00:23 Matterhorn, Switzerland
00:27 Neuschwanstein, Germany
00:30 Eze, France
00:34 Grindelwald, Switzerland
00:37 Iceland
00:41 Dunnottar, Scotland, UK
00:44 Iceland
00:48 St. Wolfgang, Austria
00:51 Iceland
00:55 Gelmersee, Switzerland
00:59 Mykonos, Greece
01:02 Mykonos, Greece
01:04 Neum, Bosnia
01:06 Lake Bled, Slovenia
01:09 Bled, Slovenia
01:13 Provence, France
01:20 Iceland
01:27 Lake District, UK
01:34 Eibsee, Germany
01:41 Oia, Santorini, Greece
01:48 Mykonos, Greece
01:51 Chiemsee, Germany
01:55 San Marino
01:58 Scotland, UK
02:02 Sveti Stefan, Montenegro
02:06 Cappadocia, Turkey
02:09 Fira, Santorini, Greece
02:16 Procida, Italy
02:20 Dubrovnik, Croatia
02:21 Dublin, Ireland
02:23 Athens, Greece
02:25 Zaandam, Nederland
02:27 Vaduz, Liechtenstein
02:28 Brussels, Belgium
02:30 Kotor, Montenegro
02:32 Dubrovnik, Croatia
02:34 Keukenhof, Nederland
02:35 Provence, France
02:37 Hallstatt, Austria
02:41 Procida, Italy
02:44 Valletta, Malta
02:48 Caernarfon, Wales, UK
02:51 Scotland, UK
02:59 Azure Window, Malta
03:06 Cappadocia, Turkey
03:13 Iceland
03:16 Iceland
03:20 Kotor, Montenegro
03:23 Zermatt, Switzerland
03:25 Munich, Germany
03:27 Gordes, France
03:30 Nice, France
03:34 Cappadocia, Turkey
03:37 Cappadocia, Turkey
03:41 Lofoten Islands, Norway
03:43 Renie, Lofoten, Norway
03:44 Stockholm, Sweden
03:46 St Petersburg, Russia
03:48 Istanbul, Turkey
03:51 Monaco, Monte-Carlo
03:55 Edinburgh, Scotland, UK
03:58 Cologne, Germany
04:00 Florence, Italy
04:02 Wien, Austria
04:05 Wurzburg, Germany
04:09 Czesky Krumlov, Czech
04:12 Lisbon, Portugal
04:14 Budapest, Hungary
04:16 London, UK
04:20 Paris, France
04:23 Fira, Santorini, Greece
04:26 Tallinn, Estonia
04:28 Wien, Austria
04:30 London, UK
04:34 Glasgow, UK
04:36 Bratislava, Slovakia
04:37 Dusseldorf, Germany
04:39 Wien, Austria
04:41 Monaco, Monte-Carlo
04:42 Monaco, Monte-Carlo
04:44 Birmingham, UK
04:48 London, UK
04:50 Paris, France
04:51 Barcelona, Spain
04:53 Amsterdam, Nederland
04:54 Copenhagen, Denmark
04:56 Lisbon, Portugal
04:56 Prague, Czech
04:57 Munich, Germany
04:57 Luzern, Switzerland
04:59 Paris, France
05:12 Dubai, United Arab Emirates
Equipment used: Nikon D800E, Nikon D600
If you would like to license any of these clips or images, please contact Stan at stanchang.photo@gmail.com
Available in 4K~8K resolution.
There is a "behind the scenes" video: vimeo.com/219265510
https://petervonstamm-travelblog.com/wp-content/uploads/2017/06/time-lapse-magical-europe-2.jpg
379
800
Peter von Stamm
https://petervonstamm-travelblog.com/wp-content/uploads/2018/05/petervonstamm-logo.png
Peter von Stamm
2017-06-14 08:28:00
2017-06-14 08:35:53
Magical Europe Time Lapse Video