Expedia launches Expedia Collections
Expedia has launched Expedia Collections, a new resource to help travelers find the best hotels for every experience. The new hub is made to find "top-rated hotels easier than ever".
Six Expedia Collecions
Initially launching with six Expedia Collections – Beach, Relaxation, Family Fun, Culture & History, Shopping and Snow, each list has been curated using a rigorous set of standards for experience, customer reviews and value. Knowing that a source of anxiety for travelers can be whether the travel experience will live up to expectation, hotels in each Collection are determined using a combination of data sources to reveal the best quality and best value hotels in spectacular destinations.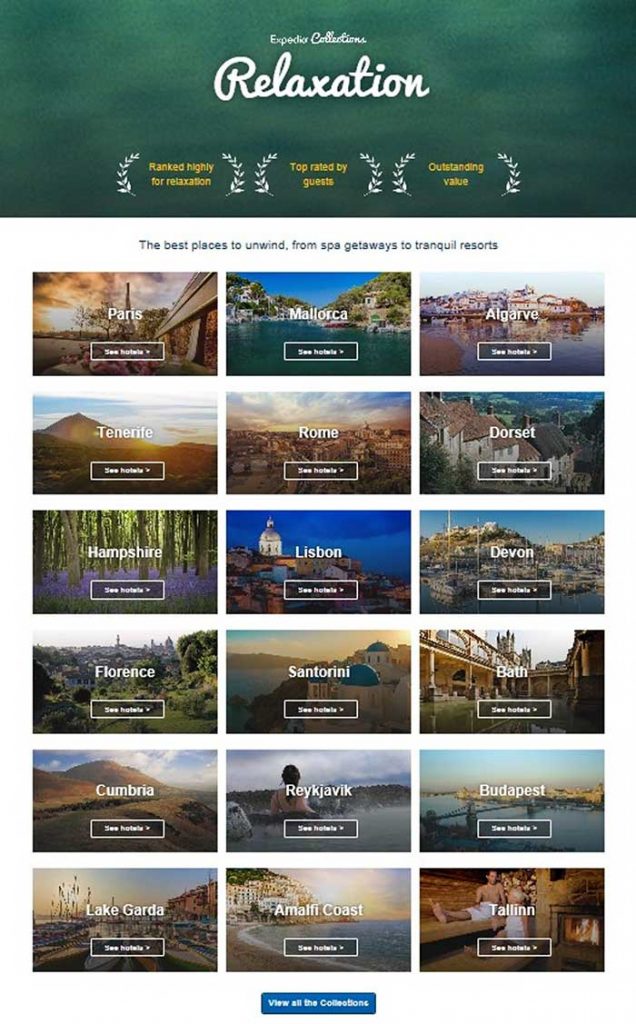 Travelers can browse accommodations by the type of travel experience they desire and by destination, making finding a great place to stay easier than ever.
Expedia's current Collections include:
Beach: Grab a swimsuit and hit top beach spots, from Mallorca to Phuket
Relaxation: The best places to unwind, from spa getaways to tranquil resorts
Family Fun: Top family hotels for all-ages fun; awesome pools, theme parks and more
Culture & History: Featuring destinations like Washington, D.C. and Venice, Italy, this Collection is
perfect for exploring top museums, historic sites, and restaurants
Shopping: From Hong Kong to Milan, indulge in a shopper's paradise, from local crafts to world-famous
stores
Snow: The best hotels and resorts for skiing, snowboarding, or snowball fights
About Expedia.com
Expedia.com is one of the world's largest full service travel sites, helping millions of travelers per month easily plan and book travel. Expedia.com aims to provide the latest technology and the widest selection of top vacation destinations, affordable airfare, hotel deals, car rentals, destination weddings, cruise deals and in-destination activities, attractions, services and travel apps.
SOURCE: Expedia
https://petervonstamm-travelblog.com/wp-content/uploads/2017/09/Expedia-Collections-Homepage-TITEL.jpg
718
1000
Peter von Stamm
https://petervonstamm-travelblog.com/wp-content/uploads/2018/05/petervonstamm-logo.png
Peter von Stamm
2017-09-29 16:00:00
2017-09-29 15:54:36
Expedia launches Expedia Collections