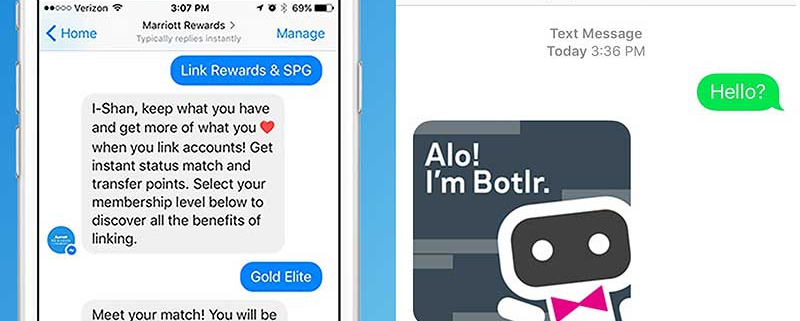 Marriott and Aloft chatbots simplify travel experience
Marriott International's AI-powered chatbots on Facebook Messenger and Slack, and Aloft's ChatBotlr, simplify travel for guests throughout their journey. Marriott is expanding upon the heart of its hospitality, its hundreds of thousands of associates, by creating additional points of engagement for guests, powered by artificial intelligence.
Marriott and Aloft chatbots
Recently, Aloft Hotels launched the first ChatBotlr, a new chatbot available via text message that gives guests an additional way to make service requests. Driven by ahead-of-the-curve technology, Aloft's ChatBotlr empowers guests to request basic hotel services right from their own smartphones.
Aloft introduced the first generation Botlr, a robotic butler, in 2014 as an inventive pilot program to allow front desk associates to respond more immediately to guest needs, one-on-one. This next evolution of Botlr, the ChatBotlr, is available to all guests on their phones, anywhere and anytime they have a request.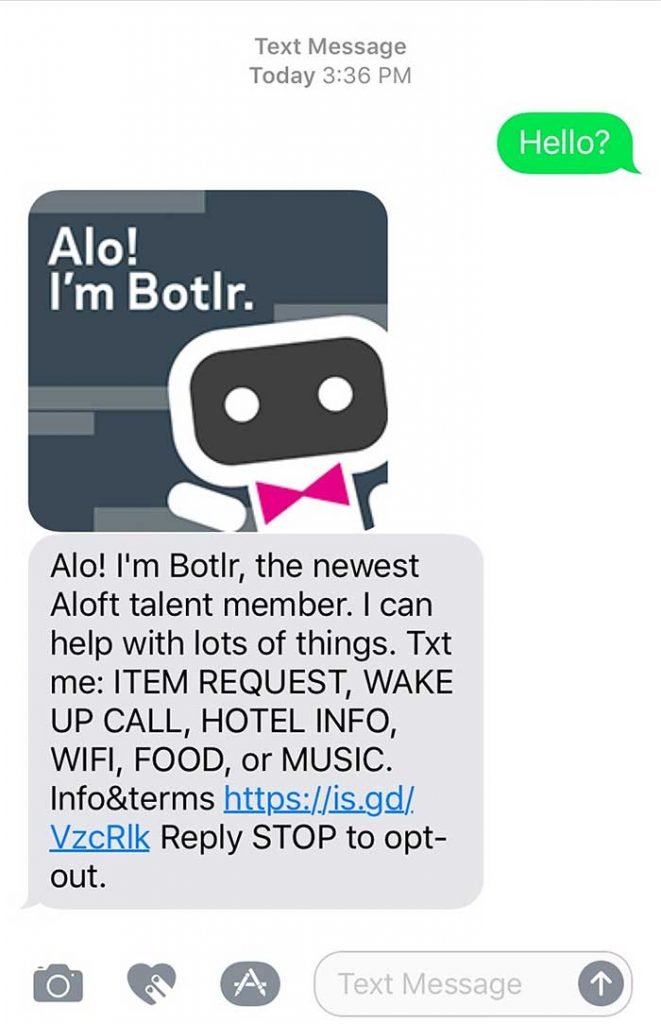 With ChatBotlr, guests may text to request services, information about the hotel, listen to the brand's #AloftLive playlist and connect with the front desk team during their stay, even when the guest is not on-property. By leveraging natural language understanding and machine learning, ChatBotlr gets smarter the more it interacts with guests. Early findings show that 2 out of 3 Aloft guests are interacting or making requests with ChatBotlr and the service has a five-second response time.
Aloft's ChatBotlr joins Marriott's other newly implemented service innovations powered by technology. Marriott Rewards chatbots are available on Facebook Messenger, Slack and soon, We-Chat and Google Assistant, and serve loyalty members before, during and between stays.
Marriott Rewards members on Facebook Messenger and Slack can research and book travel at more than 4,700 hotels, link their Marriott Rewards and SPG accounts, plan for their upcoming stay with articles from the digital magazine Marriott Traveler, and chat directly with Customer Engagement Center associates. Of Marriott Reward members using Marriott Rewards' Facebook Messenger this year, 44 percent received stay-related customer service such as changes to their reservation and 53 percent found assistance related to their Rewards account such as how to redeem points for stays.
As technology becomes more integrated into guests' daily lives, chatbots simplify the travel experience enabling guests to ask basic questions, make simple requests, and receive instant responses. They also free our Marriott associates on property from routine tasks, allowing them to deliver elevated, personalized hospitality to our guests.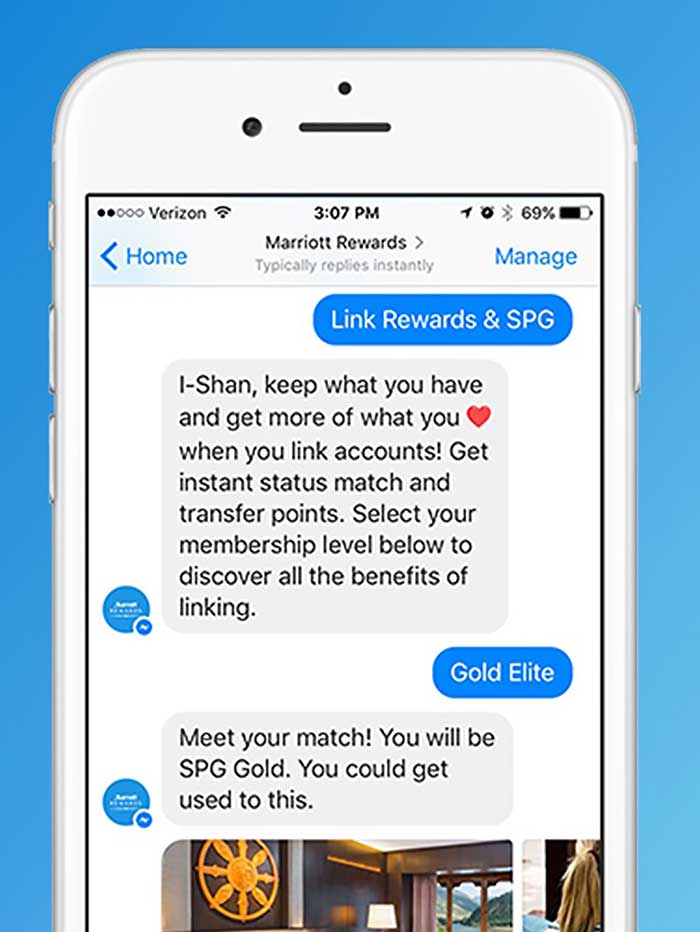 Messaging is growing in popularity with people in the U.S. spending an average of 200 minutes per day in messaging apps according to The Economist and recent reports show messaging apps as the number 1 most frequently used feature on mobile devices. Years ago, Marriott recognized the growing popularity of text messaging when it launched the Mobile Requests feature on the Marriott Mobile app in 2015 enabling guests to chat directly with hotel associates. Since then, 2.5 million requests have been received with more than half coming before guests checked in. Mobile Requests inspired Marriott to expand mobile communications options to guests using the device they always have at hand, their smartphone.
Marriott's always-on approach to customer service enables the company to deliver the widest choice of engagement whether that is through messaging, call centers, or face-to-face on property with associates. Leveraging technology, we can deepen personalization, expand choice and connect our associates with our guests in a more meaningful way, as we lead the next generation of the guest experience.
About Marriott International, Inc.
Marriott International, Inc. (NASDAQ: MAR) is based in Bethesda, Maryland, USA, and encompasses a portfolio of more than 6,200 properties in 30 leading hotel brands spanning 125 countries and territories. Marriott operates and franchises hotels and licenses vacation ownership resorts all around the world. The company also operates award-winning loyalty programs: Marriott Rewards®, which includes The Ritz-Carlton Rewards®, and Starwood Preferred Guest®.
About Aloft Hotels
With more than 110 hotels now open in nearly 20 countries and territories around the world, Aloft Hotels, part of Marriott International, Inc., delivers a fresh approach to the traditional staid hotel landscape. For the 'always on' next generation of traveler, the Aloft brand offers a tech-forward, vibrant experience and a modern style that is different by design. Aloft is proud to participate in the industry's award-winning loyalty program, Starwood Preferred Guest®. Members can now link accounts with Marriott Rewards®, which includes The Ritz-Carlton Rewards® at members.marriott.com for instant elite status matching and unlimited points transfer.
SOURCE: Marriott
https://petervonstamm-travelblog.com/wp-content/uploads/2017/09/Marriott-Chatbots-TITEL.jpg
539
800
Peter von Stamm
https://petervonstamm-travelblog.com/wp-content/uploads/2018/05/petervonstamm-logo.png
Peter von Stamm
2017-09-29 17:35:28
2017-09-29 17:34:24
Marriott and Aloft chatbots simplify travel experience