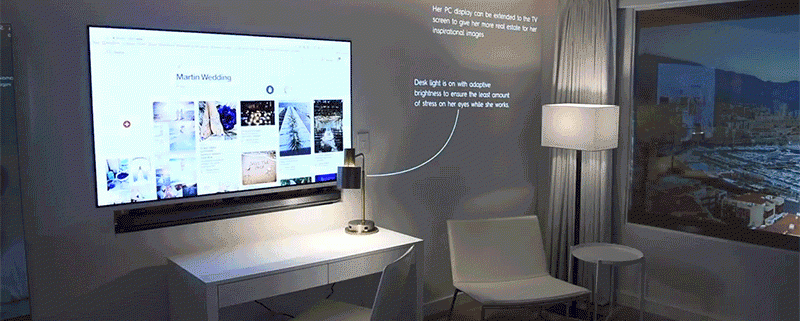 Marriott launches IoT Hotel Room of the Future
Marriott International teams with Samsung and Legrand to unveil hospitality industry's IoT Hotel Room of the future, enabling the company to deepen personalized guest experience
As technology continues to evolve and play an increasingly active role in our daily lives, Marriott International has teamed with two leading companies – Samsung and Legrand – to launch the hospitality industry's Internet of Things (IoT) hotel room to inspire the ultimate hotel experience of the future.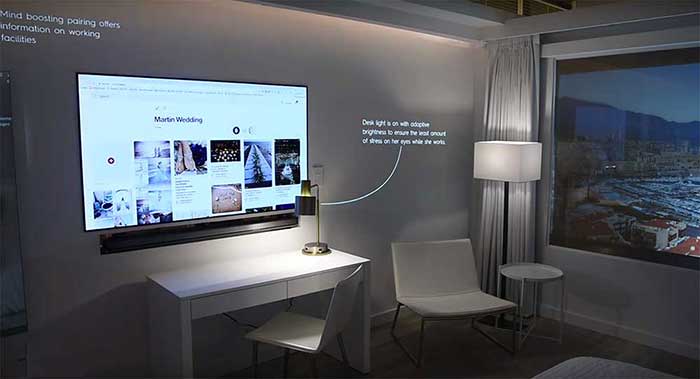 Marriott and IoT – the Internet of Things
The IoT Guestroom Lab – powered by Marriott's Innovation Lab at the company's corporate headquarters – explores concepts that have the potential to elevate the guest experience, create more efficient hotel room design and construction, and contribute to Marriott's global sustainability efforts and goals. As the hospitality industry's "smart" hotel room, the Lab allows multiple responsive IoT systems, devices and applications to communicate with one another to serve guests and optimize hotel operations.
"We know that our guests expect to personalize almost everything in their lives, and their hotel experience should be no different," said Stephanie Linnartz, Global Chief Commercial Officer, Marriott International. "By teaming with best-in-class partners, we are leveraging mobile and voice-enabled technology to give our guests the ability to set up the room to best meets their needs – whether that is creating the ultimate relaxation environment or one that enables productivity for business travelers."
"At Samsung, we aspire to make life easier and better for our consumers, whether they're at home or their home away from home," said James Stansberry, Senior Vice President and General Manager of ARTIK IoT, Samsung Electronics. "Partnering with Legrand and Marriott, we can offer users unprecedented levels of control and personalization, thanks to our end-to-end IoT services powered by the ARTIK platform and the SmartThings Cloud. From intuitive lighting to voice-activated room controls, we're delivering customizable, intelligent experiences that make our consumers' lives more convenient, productive and secure."
Developing an intuitive system is critical as Marriott seeks to continuously innovate the global guest experience across its 30 brands.  The technology inside the IoT Guestroom Lab allows, for instance, a user to ask a virtual assistant for a 6:30 AM wake-up alarm, to start a yoga routine on a full-length mirror, request additional housekeeping services and start the shower at the desired temperature stored in their customer profile – all by voice or app.
"We're proud to be innovating with industry leading partners to get closer to revolutionizing the guest experience, along with hotel operations and even hotel construction," said Karim Khalifa, Senior Vice President, Global Design, Marriott International. "Together with Samsung and Legrand, we are well on our way to creating the hotel room of the future."
"At Legrand, we offer a suite of power, light and data solutions that bring power and connectivity to previously untapped locations.  Legrand is partnering with Marriott to improve the guest experience in a cost effective and intuitive manner. This work further supports our Eliot Program in North America, Legrand's global IoT program that encompasses our ambition, drives our product innovation and fosters our partnership in the IoT space," said Ken Freeman, Senior Vice President of Demand Creation, Legrand. "Legrand's product portfolio can elevate a property by turning everyday features into lasting highlights. We are thrilled to collaborate with Marriott and Samsung to conceptualize and deliver on the future traveler's needs."
Marriott is working towards a future where hotel owners would have a seamless, transparent and flexible end-to-end solution that requires minimal equipment, while customers would enjoy an integrated experience with access to their own data and information, as well as accessible voice and mobile-optimized controls. Such systems would also benefit hotel operations and improve personalized service by, for instance, allowing staff to provide services at a guest's desired time.
Following the three-month-long IoT Guestroom Lab, Marriott, Samsung and Legrand will analyze feedback to continue innovating with IoT technology. Consumers will start to see elements of the technology in hotel rooms within the next five years.
About Marriott International
Marriott International, Inc. (NASDAQ: MAR) is based in Bethesda, Maryland, USA, and encompasses a portfolio of more than 6,400 properties in 30 leading hotel brands spanning 126 countries and territories. Marriott operates and franchises hotels and licenses vacation ownership resorts all around the world. The company also operates award-winning loyalty programs: Marriott Rewards®, which includes The Ritz-Carlton Rewards®, and Starwood Preferred Guest®.
About Samsung Electronics Co., Ltd.
Samsung inspires the world and shapes the future with transformative ideas and technologies. The company is redefining the worlds of TVs, smartphones, wearable devices, tablets, digital appliances, network systems, and memory, system LSI, foundry and LED solutions.
About Legrand
Legrand is the global specialist in electrical and digital building infrastructures. Its comprehensive offering of solutions for use in commercial, industrial and residential markets makes it a benchmark for customers worldwide. The company's prime vectors for growth are innovation—generating a steady flow of new products with high added value—and acquisitions.
SOURCE: Marriott International
You might also like: Marriott Launches Careers Chatbot for Facebook Messenger 
NH Hotel Group launched new "Mood Rooms"
Mandarin Oriental Appoints Humanoid Robot "Pepper" as Colleague
https://petervonstamm-travelblog.com/wp-content/uploads/2017/11/Marriott-International-IoT-Guestroom-GIF03.gif
450
800
Peter von Stamm
https://petervonstamm-travelblog.com/wp-content/uploads/2018/05/petervonstamm-logo.png
Peter von Stamm
2017-11-15 08:23:49
2017-11-15 08:23:58
Marriott launches IoT Hotel Room of the Future