Get a deeper sleep with Dreem Headbands at Pullman Hotels
AccorHotels wants you to fall asleep faster, get deeper sleep and wake up refreshed: At the cutting edge of wellness, Pullman (a luxury brand of AccorHotels) pilots Dreem, an innovative, award winning technology, scientifically proven to promote a superior, deeper sleep, in two key properties.
AccorHotels announced its partnership with Rythm, the award-winning neurotechnology company, in an exciting pilot program that will make their revolutionary product, Dreem available to guests staying at Pullman Paris Centre – Bercy and Pullman San Francisco Bay. Dreem is the first-ever active sleep solution, clinically proven to enhance your sleep quality.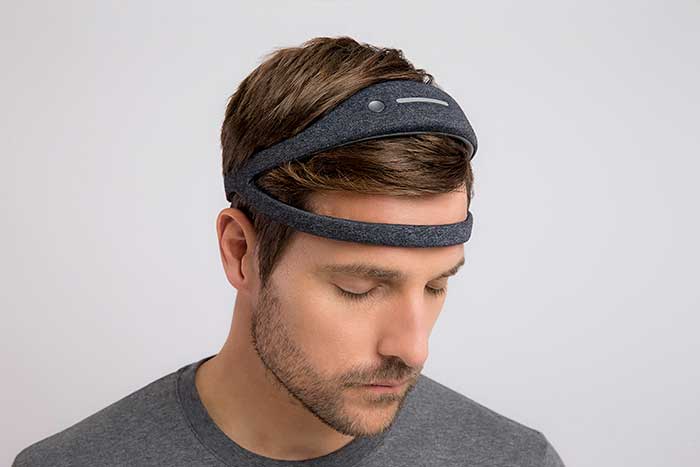 Deeper sleep: The Rythm Technology
Rythm is a leading neurotechnology company and builds consumer technology that stimulates brain function to enhance individual health and performance. The company's first product, Dreem, is a pioneering sleep solution that monitors, analyzes, and acts on your brain to enhance your sleep. Dreem represents a completely new category of product that merges cutting edge neuroscience research and disruptive technology to push the understanding and enhancement of sleep forward. The headband monitors brain activity and uses auditory stimulation as a medium to help fall asleep faster, get deeper sleep, and wake up refreshed.
It's hard to deny how disruptive a night of poor sleep can be, from red eyes to fatigue to diminished mental function. Pullman Hotels & Resorts has long been a champion of sound sleep, promoting it as a pillar of its renowned wellbeing program. A recent spate of scientific studies have further illustrated the relationship between sleep and wellbeing, including research demonstrating how deep sleep encourages important functions such as memory consolidation, cellular regeneration and growth hormone release. With the Dreem headband, Pullman will be leading the way in providing guests with the ultimate restorative hospitality experience.
One-third of the population does not sleep well or sufficiently, and this can manifest in multiple ways, including non-restorative sleep, difficulties falling asleep, waking up at night, and waking up at the wrong time. There are many intersecting causes behind these challenges — stress, environment, physical issues, lifestyle, not sleeping well, and that manifest in multiple ways: non-restorative sleep, difficulties to fall asleep, waking up at night, waking up not at the right time, bad hygiene or habits during the day. Currently, there are no obvious solutions to this epidemic. Existing solutions, like sleeping pills, are invasive and not good for health. Other solutions that are less invasive, like wearables, are inaccurate and do nothing to improve the quality of sleep. Dreem is a completely new kind of product that merges the latest innovations in neuroscience research and advanced technology to create an effective, non-invasive sleep solution that works through the night and during the day to help you sleep better.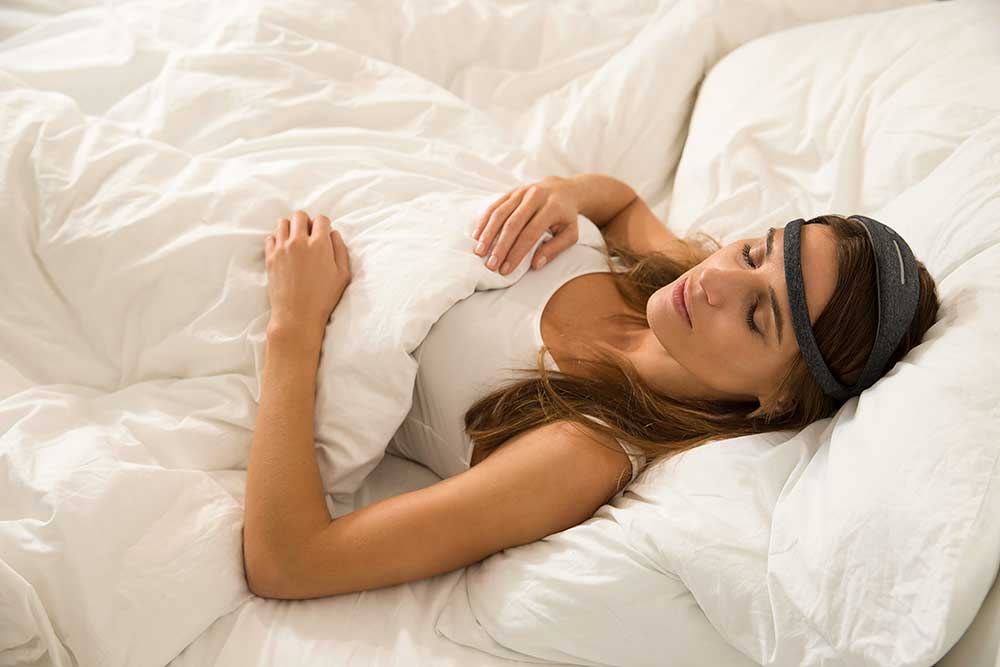 Deeper sleep: The Dreem Headband
Dreem takes highly complex technology and puts it into a miniaturized, comfortable, and autonomous headband, replicating the sophistication and accuracy of lab equipment in the bedroom. Using dry polymer EEG electrodes, Dreem accurately monitors brain activity during sleep and independently analyzes it on an internal CPU. The front of the device incorporates a bone-conduction technology, which emits subtle, precise sounds directly into your inner ear to improve sleep. This way you can hear the sounds without the hassle of using headphones while you're sleeping. Beyond enhancing brain activity to boost deep sleep, Dreem provides accurate, in-depth analyses of users' sleep patterns, providing tangible suggestions on how they can improve their sleep.
Aesthetically, Dreem is designed to feel like loungewear. The fabric comes in soft, neutral colors, looking more like apparel than traditional wearable tech, and is removable for easy cleaning. Foam inserts keep the headband soft and comfortable, with just the right amount of elasticity in each section to ensure it works effectively without feeling uncomfortable. It also includes a touchbar on the headband so the user doesn't need to turn their phone on if they are already in bed, although all the device's settings can be changed in the app.
The Benefits
Dreem is a complete platform to improve sleep. It comes with a number of key features that go above and beyond other sleep products to help you sleep better.
Fall Asleep Faster: Dreem's Words feature uses scientifically proven mental and breathing techniques to significantly accelerate the process of falling asleep. The Air setting addresses sleeplessness by synchronizing the user's heart rate and breathing frequency to bring them down to levels conducive to sleep. Finally, the headband also aids falling asleep with a meditation-based feature called Flow. Early tests with users show decrease in sleep onset by up to 30%.
Get Deeper Sleep: One of the key benefits of using Dreem is its ability to enhance the quality of your deep sleep or slow-wave sleep. As one of the most restorative stages of sleep, deep sleep is responsible for key physiological functions like hormone regulation, cellular regeneration, and memory consolidation. With sound stimulation that synchronizes with your brain activity, Dreem enhances the quality of your deep sleep by up to 31%.
Wake Up Refreshed: Dreem also ensures you wake up refreshed. Waking up too early or abruptly during one of the deeper stages of your sleep is disruptive to a good night's rest. With an alarm clock that is personalized to wake you during the lighter stages of your sleep, you'll be awake refreshed and alert at the optimal stage during your sleep. This is only possible because of the headband's ability to monitor sleep accurately.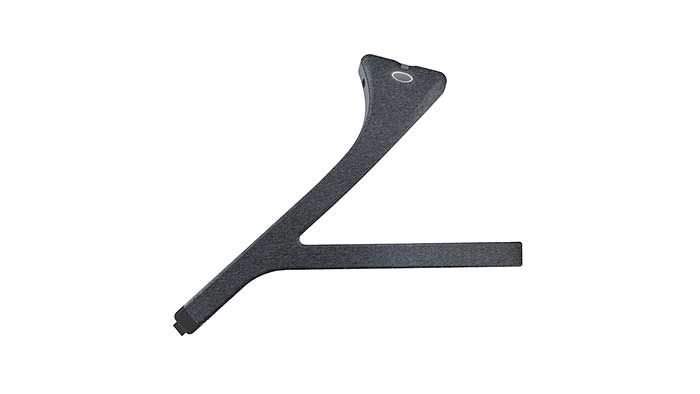 Once you are awake, you can go to the Dreem app to explore the landscape of your night's sleep. Based on clinical grade accuracy of the headband, you'll get actionable and personalized insights that were developed by leading sleep experts. These insights evolve constantly because of our machine learning algorithms that learn about your daily activities and sleep habits. Everything is optimized so you can improve your sleep throughout the day. The Dreem App is divided into multiple categories, with easy-to-understand metrics and visuals to make sense of the data.
About AccorHotels
AccorHotels is a world-leading travel & lifestyle group and digital innovator offering unique experiences in more than 4,200 hotels, resorts and residences, as well as in over 10,000 of the finest private homes around the globe. Benefiting from dual expertise as an investor and operator, AccorHotels operates in 95 countries. Its portfolio comprises internationally acclaimed luxury brands including Raffles, Sofitel Legend, Fairmont, SO Sofitel, Sofitel, onefinestay, MGallery by Sofitel, Pullman, Swissôtel and 25hours Hotels; as well as the popular midscale brands Novotel, Mercure, Mama Shelter and Adagio; the much-prized economy brands including JO&JOE, ibis, ibis Styles, ibis budget and the regional brands Grand Mercure, The Sebel and hotelF1. AccorHotels provides innovative end-to-end services across the entire traveler experience, notably through the acquisition of John Paul, world leader in concierge services.
SOURCE: AccorHotels / Rythm
You might also like:
Sleep very well… The Pullman Hotel Munich
Sofitel Sydney Darling Harbour opens
Three MGallery Hotels To Open In London, Dubai and Sarajevo
https://petervonstamm-travelblog.com/wp-content/uploads/2018/02/Better-deeper-Sleep-with-Dreem-Headband-by-Rythm-TITEL-.jpg
667
1000
Peter von Stamm
https://petervonstamm-travelblog.com/wp-content/uploads/2018/05/petervonstamm-logo.png
Peter von Stamm
2018-02-13 17:30:59
2018-02-13 14:20:57
Get a deeper sleep with Dreem Headbands at Pullman Hotels