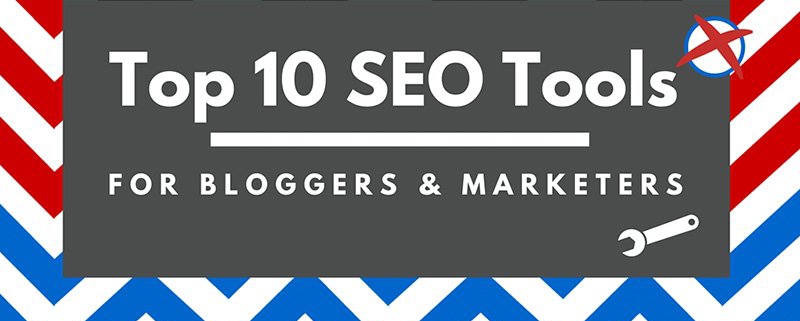 My Top 10 List of SEO and Marketing Tools for Bloggers
SEO is so important for bloggers and marketers, because running a blog or website is not only about writing or publishing. You have to drive traffic to your website and therefore you need some SEO tools that will help you to increase your blogging success. Here is my top 10 list of SEO and marketing tools and services that will increase your search engine rank or will let you check your blog statistics as well as your competitors:
Ping-O-Matic
Ping-O-Matic is a service to update different search engines that your blog has updated. This SEO service is pinging search engines – from Weblogs.com to Google Blog Search, My Yahoo!, FeedBurner and more. Just type in your Blog Name, Blog Home Page and RSS URL (optional), check the common services to ping and let Ping-O-Matic do the rest for you. Important for SEO and highly recommended!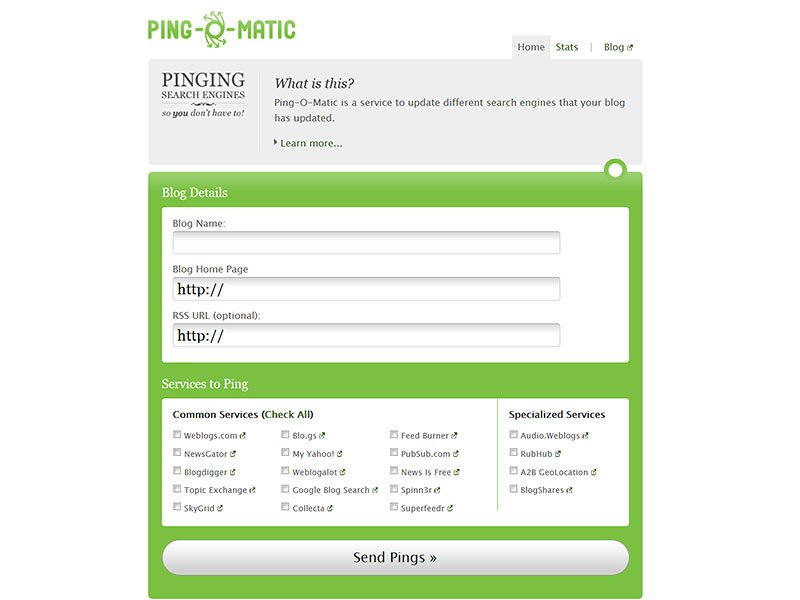 ---
---
Grammarly
Grammarly is the world's most accurate grammar checker and can make you a better writer by finding and correcting up to 10× more mistakes than your word processor. It finds and corrects over 250 types of grammatical mistakes and improves your word choice with context-optimized vocabulary suggestions.
Grammarly scans your text for proper use of more than 250 advanced grammar rules, spanning everything from subject-verb agreement to article use to modifier placement. Correctly spelled words used in the wrong context mean embarrassing mistakes for you. Grammarly spots erroneous use of lose/loose, affect/effect, lie/lay, there/their/they're, and many other commonly confused words.
Words can make an impact, or they can fall flat. Enhance your sentences with Grammarly's context-optimized word choice suggestions to instantly improve the readability of your document. Fill in a text box or load up a file and Grammarly will find all you mistakes!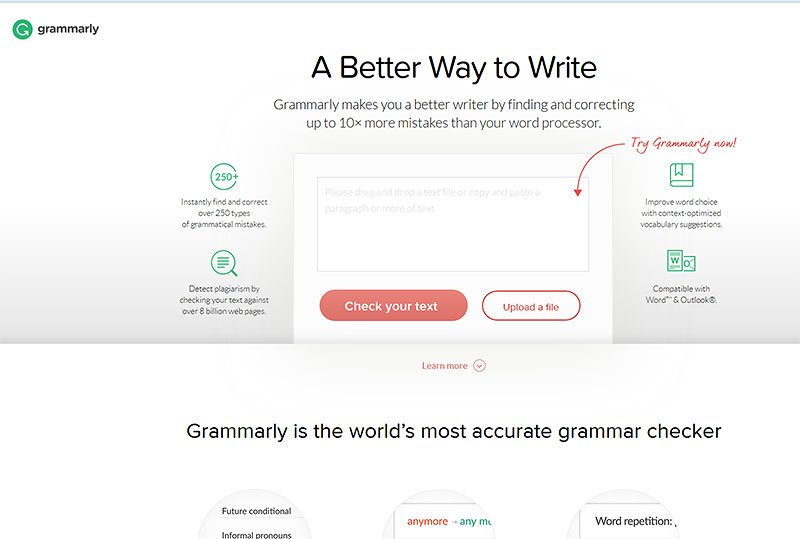 ---
Buzzsumo
With Buzzsumo you can analyze what content performs best for any topic. It delivers content insights to understand what content is resonating with your or your competitors audience. BuzzSumo's advanced social search engine finds the most shared content for a topic, author or a domain.
Want to know the most shared content yesterday or last year? Just select and search. BuzzSumo shows the share activity across all the major social networks including Twitter, Facebook, LinkedIn, Google Plus and Pinterest.
It will show you the links pointing to any domain or page and sort by social shares. It will let you search for key influencers in any topic area and gives you a full competitor analysis: Search for the most shared content for a competitor's domain to see what is working for them. Who links to your competitors and what backlinks do they use? See the content formats they are using and the networks they are getting most success. Check out all their SEO products and pricing on buzzsumo.com.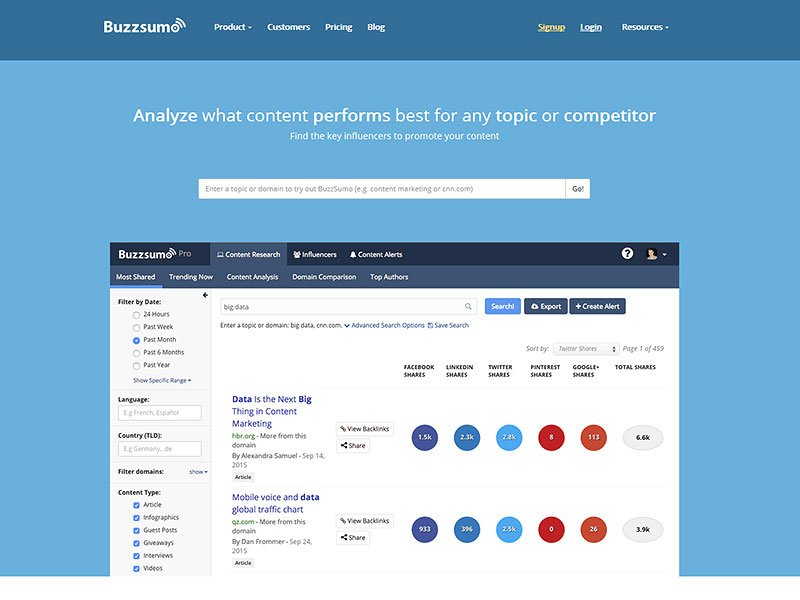 ---
Piktochart
Piktochart is a great info-graphic design app that will allow you to create easy info graphics, reports, and presentations within minutes. Infographics are as SEO relevant as photos and have been riding the waves of the Internet trend for the past years. Use it to increase traffic. It's that easy: Drag-and-drop, point-and-click. Piktochart offers a library of over 4000 beautifully designed icons and images. Crunch data in style. Import data from a Microsoft Excel file or your Google spreadsheets, and use editable, ready-made text frames and photo frames that effortlessly combine your text with visuals and photos and download your infographics in high definition JPEG, PNG or PDF formats.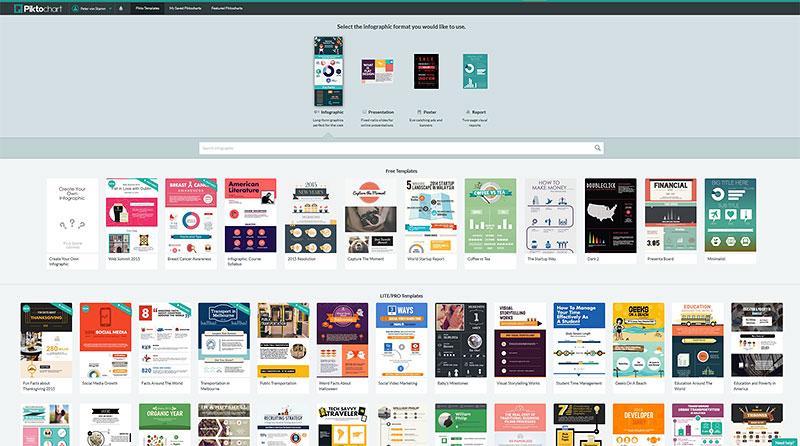 ---
Canva
Canva lets you can design presentations, social media graphics, and more with thousands of beautiful layouts – that's why it's so SEO imporatnt. Easily create beautiful designs and documents. Use Canva's drag-and-drop feature and professional layouts to design stunning graphics. Canva has everything you need for amazing design. Use millions of stock photographs, vectors and illustrations or just upload you own. Edit your photos using preset filters. Use icons, shapes, elements and fonts with ease. Download your files in JPEG, PNG or PDF formats.
---
>> Click and READ: Why You Should Never Ever Buy Twitter Followers!! <<
---
Screenpresso
Screenpresso is a new screen grab tool with built-in image editor, user guide generator and sharing options. It captures your desktop (screenshots and HD videos) for your training documents, collaborative design work, IT bug reports, and more…
Capture what you see on your screen with just a few clicks: Press the Print Screen button, and you will see how Screenpresso magically assists you in screen capture. The mouse cursor will turn into a crosshair, and moving it around the screen will automatically highlight the area that can be captured in red. It does some pretty cool edge snapping to the screen, so you can choose to capture part of a window, or the entire window, or even the whole screen.
Screen Presso comes with a built-in vector image editor to mark up your screen captures. Add arrows, spotlight an area, colorful speech bubbles, rectangles, ellipses, text boxes, callouts and more. Crop, add drop shadow, rounded corners, reflection, torn edges and more fancy border effects.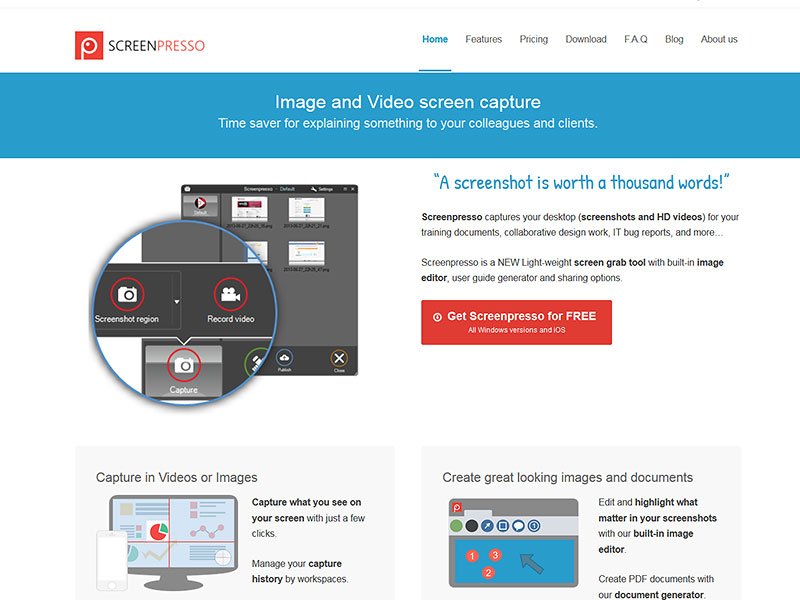 ---
Trello
Trello is a free collaboration tool that organizes your projects into boards. In one glance, Trello tells you what's being worked on, who's working on what, and where something is in a process. It is a popular projects and tasks manager, both for personal to-dos and team projects. It's a great visual way to organize anything for you – or with anyone.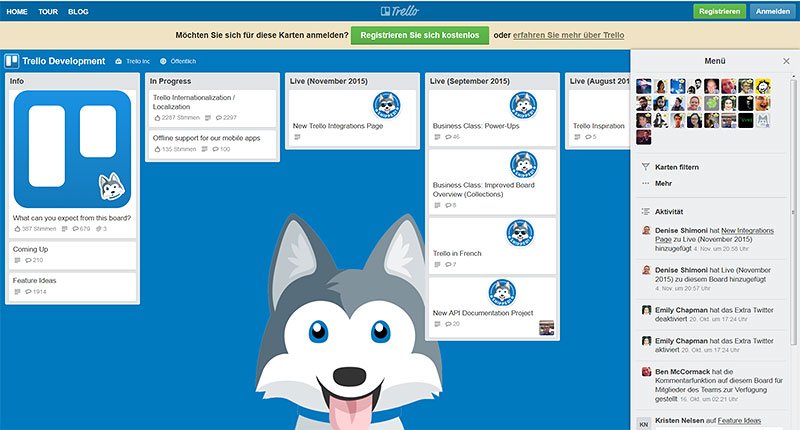 ---
Dropbox
Dropbox is a free service that lets you bring all your files (photos, docs, music, videos…) anywhere on any device and share them with anyoneand share them easily.
Save files on your computer, then access them on your phone from the road. Everything you keep in Dropbox is synced automatically to all your devices, whether you use a PC, Mac, Android, iPad, iPhone, or Windows Phone. Your files are available on your computer even when you're offline, so you can work from anywhere. Sharing large files is as fast as sharing small ones. Put any file in your Dropbox, then send it quickly with a simple link. When you send someone a link to a file, they can preview and download a copy, even if they don't have a Dropbox account.
Edit a presentation with teammates without emailing files back and forth. When you edit a file in a shared folder, everyone gets the update automatically. Work on the same files by creating a shared folder. When you add people to the folder, its files will appear in their Dropbox as they do in yours. When you edit a file in a shared folder, everyone gets the update automatically. There's no need to email versions back and forth.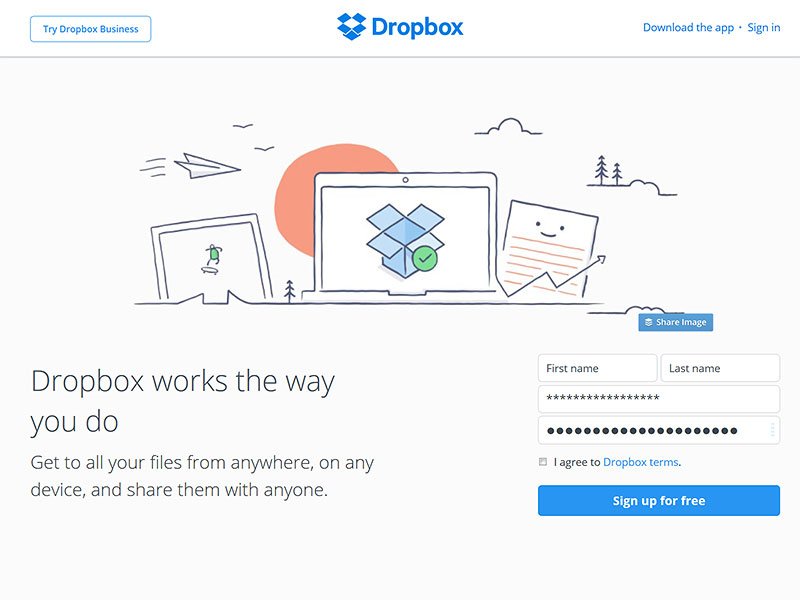 ---
MailChimp
MailChimp is an email marketing tool to manage contacts, send emails and track results. The features and integrations allow you to send marketing emails, automated messages, and targeted campaigns. And our detailed reports help you keep improving over time.
Easily use the Mail Chimp "drag and drop designer" to create campaigns that match your style. Build your own email: Whether you're starting from scratch and coding your email from the ground-up or you want to start out with some pre-built templates, MailChimp has many options to choose from. MailChimp's collaboration options, like multi-user accounts and comments inside the editor, will speed up the design process and fit right into your workflow. It's pretty easy! (And SEO important)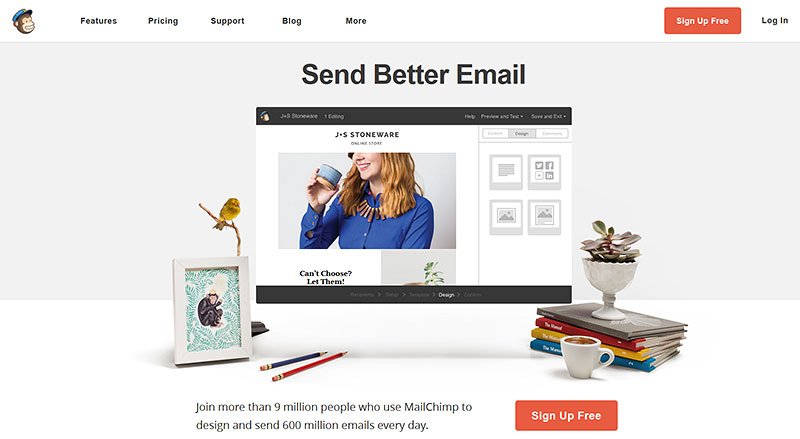 ---
Buffer
Buffer is a great social media management for marketers, agencies and bloggers: It shares your content at the best possible times throughout the day so that your followers and fans see your updates more often. As you add content, you can easily select which of your social accounts you want to post to. Buffer is available on all of your favorite social networks: Twitter, Facebook, Linkedin, Google+ and Pinterest. That's why it's SEO relevant. You can post the same message to all accounts or add context by customizing each. Whether you are browsing the web or on the go, you can easily add content to your queue with Buffer browser extensions and mobile apps. Save time and get more done by working from anywhere.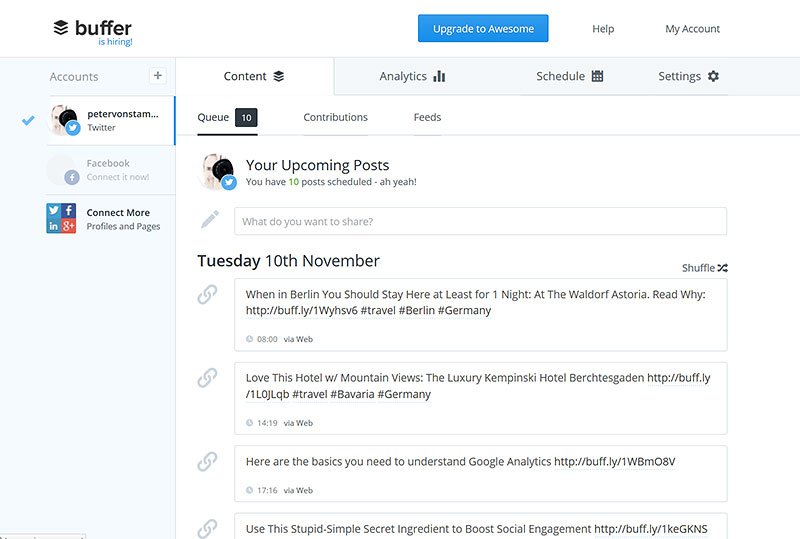 >> READ: Why You Should Never Ever Buy Twitter Followers!! <<
---
https://petervonstamm-travelblog.com/wp-content/uploads/2015/11/00_blogging_SEO_titel.jpg
513
800
Peter von Stamm
https://petervonstamm-travelblog.com/wp-content/uploads/2018/05/petervonstamm-logo.png
Peter von Stamm
2015-11-15 11:47:47
2016-09-19 09:42:17
My Top 10 List of SEO and Marketing Tools for Bloggers