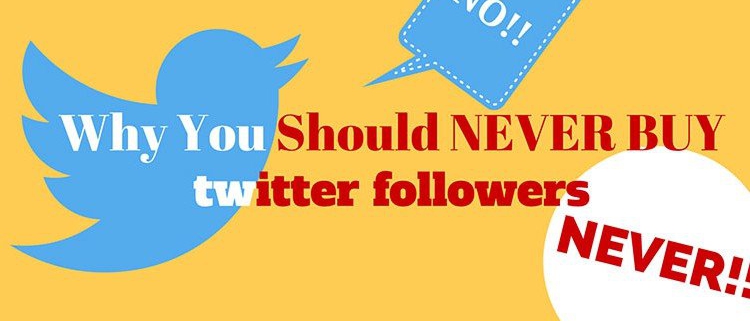 Why You Should Never Buy Twitter Followers
Never Buy Twitter Followers! That's my message today and let me just explain why:
As you have a Twitter account, you probably get followers, who invite you for a "super deal" to buy Twitter followers now. You probably have got "interesting messages" in your timeline like these: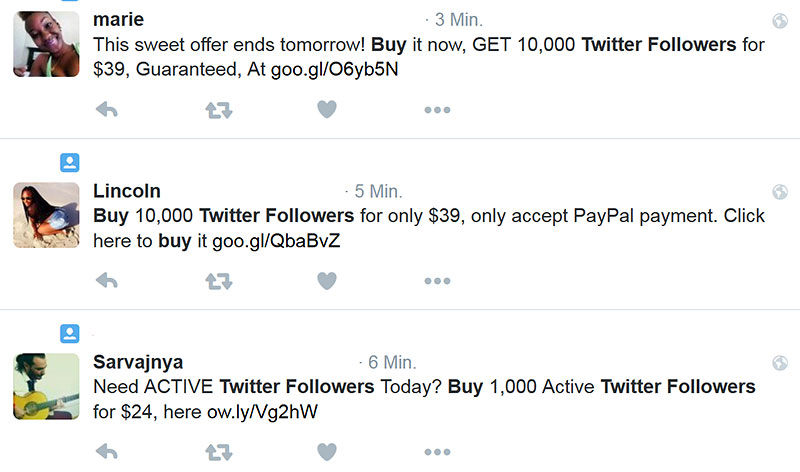 "This sweet offer ends tomorrow – Buy 10,000 Twitter followers for $39 NOW". Or "Need Twitter followers today? Buy 1,000 for $24… "
Sounds interesting? Big deal? I'm sure you already have been asked to buy. But did you buy? Hopefully NOT, because it's really nothing worth it! No ROI. Just a bad reputation. You will "loose your face" as they say in China…
Credibility, not numbers
Why do you like to have an overwhelming number of followers on Twitter (or other social media accounts)? For your reputation? To show others that you are a social media expert? That you "know how to do it"? No, I'm sure you don't think like that. What you want is credibility, not numbers. Your aim is to grow a community of customers who buy your products. Or you want to get clicks on your blog or website for example. With many followers you can earn many clicks (if your content-links are interesting enough for you followers, of course).
Never buy Twitter followers. Never ever!
So, why not just spend some money to buy 100,000, 200,000 or even more "followers"? Because these "followers" are FAKE. They will never reply on your messages; they will never click your links you are providing. And you will not connect with any new potential client. AND: Fake followers will give you a bad reputation! Why? Because it's so easy for others to check, how many of your "followers" are fake.
It's so easy for others to check how many of your followers are fake
Here is just one of several tools that you can use to spot accounts with many fake followers or just to check your "competitors" in your niche:  Just go to "TwitterAudit" on www.twitteraudit.com and click to spot accounts with fake followers.
This is the result for my account: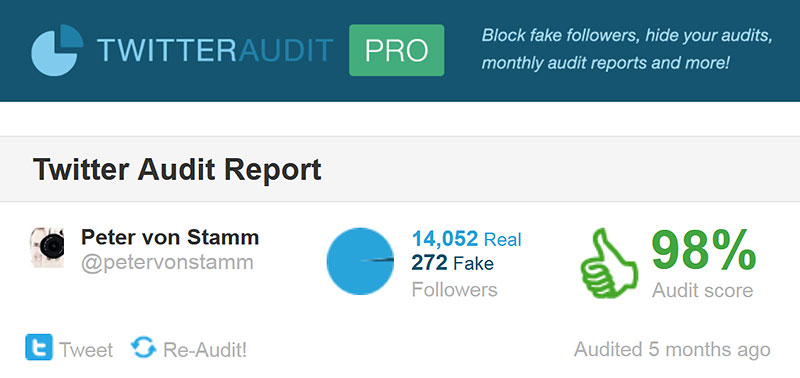 There are 272 FAKE followers out of my more than 14,000 followers; means 98% are REAL. Go ahead and check Yours or other accounts. Maybe you'll be surprised.
I never bought these fake followers. I think I've got them in my "portfolio", because I followed some followers of other accounts, without checking, who they are. My mistake.
>> READ: Top 10 List of SEO Tools for Bloggers and Marketers <<
https://petervonstamm-travelblog.com/wp-content/uploads/2015/12/never-buy-twitter-followers_04-750x400-1.jpg
400
750
Peter von Stamm
https://petervonstamm-travelblog.com/wp-content/uploads/2018/05/petervonstamm-logo.png
Peter von Stamm
2015-12-01 15:51:05
2016-09-19 15:42:25
Why You Should Never Buy Twitter Followers