Bangkok to get 459-metre observation tower
Bangkok is to get its first city observation. A 459-metre-high tower will rank 6th among the world's tallest towers as well as be the tallest observation tower in Southeast Asia.
Located on the banks of the Chao Phraya River, the Bangkok Observation Tower is set on a 6,400 square metre land plot owned by Thailand's Treasury Department and leased to the Bangkok Observation Tower Foundation for 30 years. The Foundation is required to deliver ownership of the tower and all other structures on the land to the Treasury Department when the construction is completed in 2019.
A 459-metre-high tower for Bangkok
The tower has been enthusiastically embraced by Thailand's tourism sector as a much-needed addition to the nation's tourist-pulling attractions and as a catalyst to investment and employment in the sector.
Local residents in the vicinity of the tower have been very welcoming of the initiative, believing it will lift interest in their communities, creating new employment and boosting their livelihoods.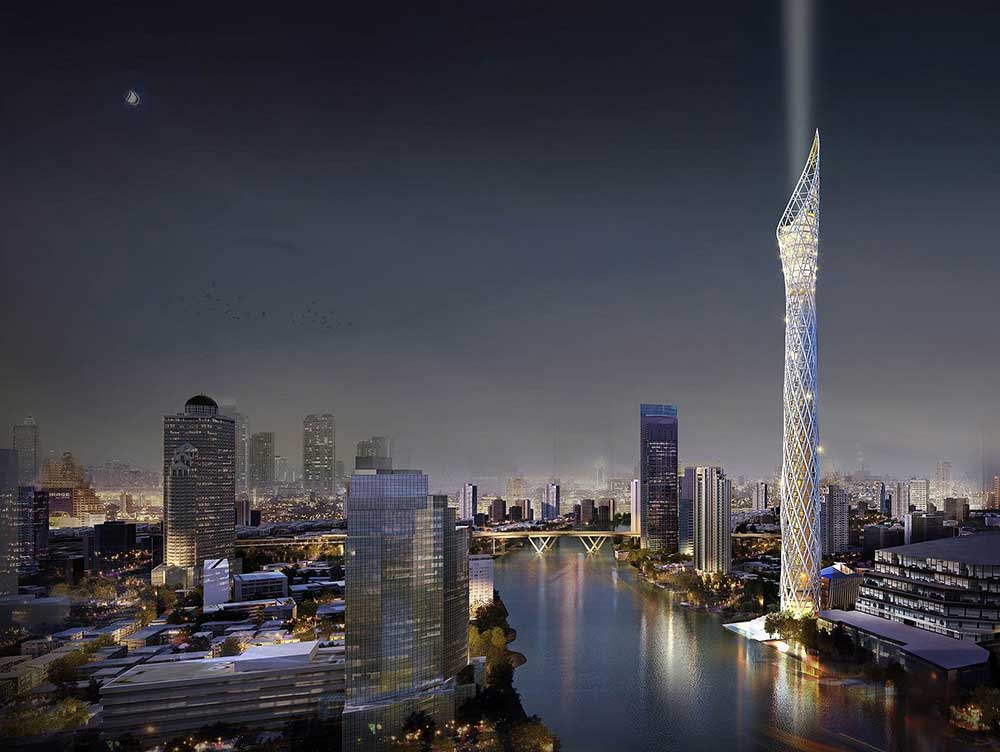 This location in Klongsarn District is reputedly the historic site on which a flag would be flown, several centuries ago, as a symbolic marker to foreign vessels navigating the river to tell them that they were in Siamese territory.
Inspiration for the candle-like design
Inspiration for the candle-like design of the Bangkok Observation Tower is drawn from the popular celebratory tradition, observed by millions around the country, of lighting candles on the birthday of the late King Bhumibol Adulyadej as a symbolic gesture of lighting up the country with prosperity.
The Bangkok Observation Tower Foundation is a not-for-profit organisation that has the right to operate and manage the tower for 30 years.  There is no commercial space for rent inside the tower.  The space inside the tower will be used for educational purpose promoting Thailand's historical and cultural heritage as well as various aspects of particular pride from Thailand's 77 provinces. The surplus from income generated from ticket sells and other sources will be used for social causes that benefit the local community or for charities only.
SOURCE The Chao Phraya River Tourism Association
https://petervonstamm-travelblog.com/wp-content/uploads/2018/05/petervonstamm-logo.png
0
0
Peter von Stamm
https://petervonstamm-travelblog.com/wp-content/uploads/2018/05/petervonstamm-logo.png
Peter von Stamm
2017-09-12 18:30:19
2017-09-12 18:23:56
Bangkok to get 459-metre observation tower