First Airbus A330neo completes maiden flight
The first of three A330neo Family development aircraft to fly – MSN1795, an A330-900 variant – has landed at Toulouse-Blagnac, France after successfully completing its first flight. The aircraft was powered by the latest technology Rolls-Royce Trent 7000 turbofans.
Departing from Toulouse-Blagnac Airport in southwestern France, the no. 1 A330neo was put through its paces during a four hour and 13 minute airborne evaluation.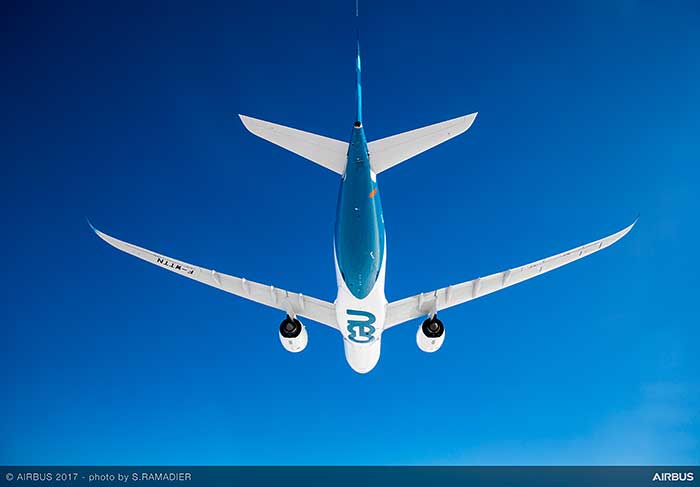 Development on track for A330-900 entry into service in the middle of 2018
Airbus has developed a fast-paced development programme from launch to first A330neo delivery. This will comprise 1,100 flight hours for the A330-900 campaign – to achieve its EASA and FAA Type Certification around the middle of 2018. An additional 300 flight hours is also allocated for the A330-800's own certification flight-test campaign – which will commence in due course. These respective campaigns will be performed in an 'airline like' environment, ensuring maximum aircraft maturity and reliability at entry into service (EIS) with A330-900 launch operator TAP Portugal. This phase will also define the mature aircraft documentation to be available for airline operators at EIS.
Overall, the full flight-test campaigns for both models will be performed by two A330-900s and one A330-800 respectively. To complement these dedicated flight-test aircraft, the first production A330-900 aircraft will also be tasked to validate the full Airspace cabin.
Performing the maiden flight was an A330-900. When entering airline service by mid-2018, this aircraft version will become the lowest seat-mile-cost jetliner in the 300-passenger widebody category, continuing the success of Airbus' A330-300 variant (the best-selling midsize widebody ever).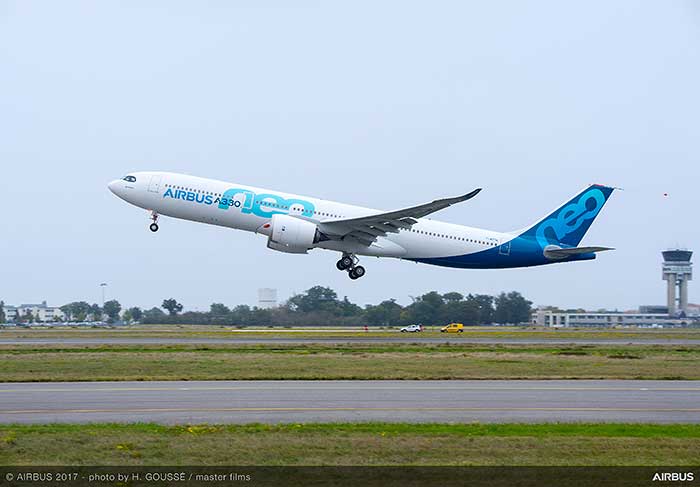 A330neo: One aircraft in two sizes
Launched in July 2014, the A330neo is the latest generation in Airbus' market-leading A330 product line, comprising two versions: the A330-800 and A330-900. Both of these widebody aircraft incorporate new Rolls-Royce Trent 7000 engines, nacelle, titanium pylon, new wings and an Airspace by Airbus Cabin. The most visible new features of the A330neo are the new wing span extensions to 64m total (up from the CEO's 60.3m span) and the specially developed curved wingtip Sharklets – which draw on A350 XWB technology.
Less visible, but equally important is the implementation of enhanced 3D-optimised aerodynamic refinements along the overall wing profile. Meanwhile, the Trent 7000s deliver double-digit fuel burn improvements and the quietest operation thanks to latest technology components, materials, new 'zero-splice' inlet and composite nacelle, 'fully-faired' pylon and also the larger (112-inch diameter) slower-rotating front fan with a bypass ratio of 10:1 – compared with the typical 5:1 ratio of previous-generation turbofans.
Both the A330-800 and the A330-900 will accommodate up to 10 more passengers than their respective predecessors, thanks to their new Airspace interiors which introduce various cabin enablers to free-up more usable cabin space – thus ensuring that each passenger can enjoy a significantly better actual comfort level and in-flight experience versus that offered by any competing aircraft in its market sector. The larger A330-900 will accommodate up to 287 seats in a typical three-class layout, while the A330-800 typically will seat 257 passengers in three classes.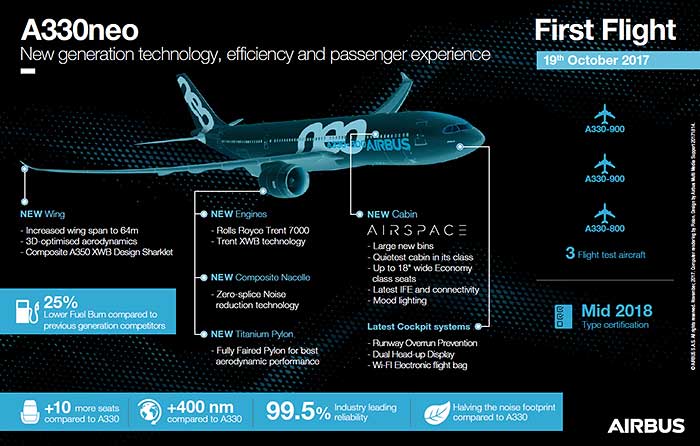 By offering the A330neo along with its next-generation A350 XWB, Airbus has created a world-leading widebody airliner product line that accommodates 257 to 366 seats – sharing a high degree of commonality for airline operators, while providing unmatched comfort and a superior in-flight ambience for passengers.
SOURCE: Airbus
You might also like: NASA Funds Development of Subsonic D8 X-Plane
easyJet: Goal for all-electrice planes
Lilium Jet: First zero-emission electric plane
https://petervonstamm-travelblog.com/wp-content/uploads/2017/10/Airbus-A330neo-first-flight-landing.jpg
696
1000
Peter von Stamm
https://petervonstamm-travelblog.com/wp-content/uploads/2018/05/petervonstamm-logo.png
Peter von Stamm
2017-10-23 18:15:58
2017-10-22 18:07:40
First Airbus A330neo completes maiden flight