The Private Residences at Four Seasons Resort Chiang Mai
At the Private Residences at Four Seasons Resort Chiang Mai, nestled amid shimmering rice fields and tropical gardens, the discerning traveller can immerse in the lush magic of Mae Rim valley – without compromising on privacy, luxury and thoughtful service.
Ranging from three to six bedrooms, each Residence features one or more outdoor salas (decks), ideal for enjoying the stunning natural surroundings. The duplex design allows guests to discover the slow rhythms of life at the Resort, while offering extended views and additional privacy. The larger split-level Residences come with foliage-fringed plunge pools and wooden sundecks, perfect for lazy dips and all-day lounging. The expansive living and dining areas invite families and friends to spend time together and create precious vacation memories. Each Residence also features its own kitchen and a personal 'mae baan (housekeeper) for the duration of stay; picture breakfast in bed, cocktails by the pool, or even a spontaneous midnight feast.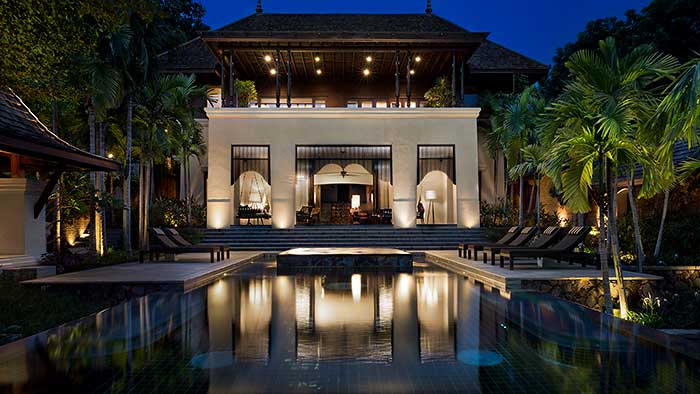 Four Seasons Resort Chiang Mai offers bespoke Residences for different types of travellers – from wellness devotees to couples with young kids; from multi-generational families to large groups looking for total privacy. With thoughtful touches and impeccable attention to detail, every single Residence is designed for an unforgettable holiday.
Four Seasons Resort Chiang Mai: Family Getaway
For couples travelling with young children, the Family Residences offer an unparalleled blend of luxury, warmth and play. While the adults relax on the outdoor terrace with lush views, the kids can take a dip in the plunge pool or scamper about in the roomy interiors. There are also plenty of opportunities for together time: watch a movie or play board games in the sunlit lounge, and enjoy family-style meals in the dining room. Each Family Residence is equipped for entertainment, with an LCD flat-screen television, DVD player, stereo system, iPod docking station and a collection of board games.
Parents can also rest assured that the little ones will be in good hands with the wonderful mae baans at the Resort. These experienced staff members can keep the kids safely busy for hours – be it teaching them Thai dance, whipping up tasty treats, or making local crafts together.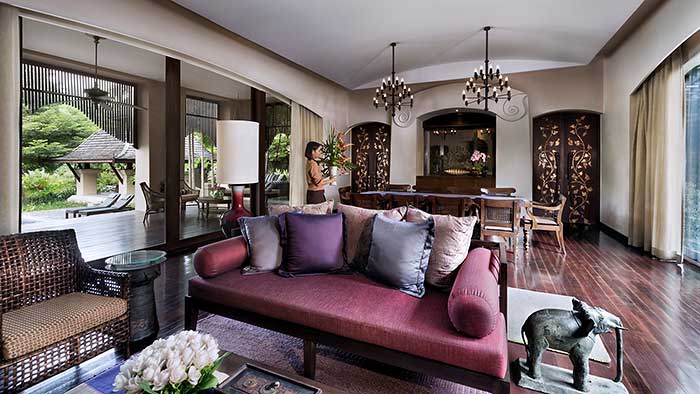 Four Seasons Resort Chiang Mai: Multi-Generational Vacation
With spaces for togetherness as well as privacy, the Three-Bedroom and Four-Bedroom Residences are tailor-made for that long-awaited multi-generational family holiday. The split-level villas make it possible for all age groups to enjoy the gorgeous tropics, without compromising on comfort and privacy.
Guests can lounge on the deck, swim in the pool, and soak in the outdoor whirlpool – or retreat to their airy bedroom or private balcony for some quiet time. The open-air pavilions are ideal for unwinding over sundowners, while the spacious dining area can host delicious meals for the entire family. Upper level rooms boast panoramic views of the countryside and mountains, while the ground level enjoys tranquil private gardens. For those chilly winter nights, there is even a fireplace to warm one's spirits.
The Resort team can set up a variety of entertainment and dining events, be it an elaborate sit-down Thai brunch, a friendly game night, an evening of fine vintages at the wine cellar or a casual barbeque by the pool.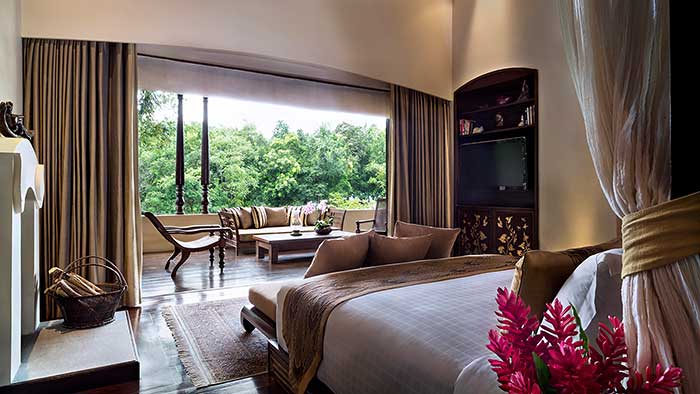 Four Seasons Resort Chiang Mai: Spa Retreat
There is no better place than the soulful Mae Rim valley for a spa holiday – and staying at the Spa Residence further elevates the wellness experience. The in-Residence spa room for two takes luxury to the next level: guests can enjoy pampering treatments of their choice in complete privacy, just a few steps away from the sumptuous master bedroom. The exclusive Residence Pool is a short walk away.
Be it a weekend escape or a well-deserved fortnight of relaxation, a sanctuary of indulgence awaits wellness devotees at Four Seasons Resort Chiang Mai. Reserving a Spa Residence comes with daily 90-minute treatments for two guests, in the Residence or at the bespoke Resort Spa.
Four Seasons Resort Chiang Mai: All About The Views
The Three-Bedroom Penthouse Residence occupies the top two levels of the villa, offering an enviable range of spectacular views. Guests can choose their preferred vantage point from among the various sitting rooms, private pavilions and penthouse terrace – each with its own vista of tropical gardens, lush countryside, or mist-clad mountains in the distance. The penthouse bedroom enjoys complete privacy, while all three master bedrooms come with their very own whirlpool, while the exclusive Residence Pool is a short walk away.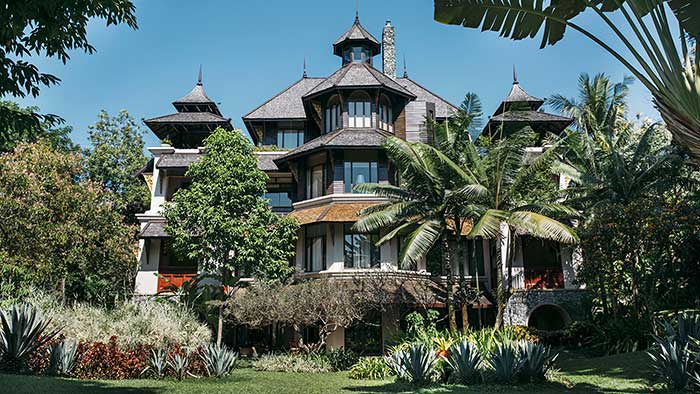 Bespoke Owner's Residence Villa
Designed by renowned architect Bill Bensley, the Owner's Residence Villa is where guests can truly get away from it all while still enjoying the utter bliss and peace of mind that come with signature Four Seasons service, easy accessibility and complete security.
Ideal for families or couples travelling together, this four-bedroom Residence is set amid verdant secluded gardens and can be accessed via a completely private entrance. It also boasts the most panoramic views in the Mae Rim valley; guests can gaze at the mystical Doi Suthep mountain range as they relax in the large swimming pool or outdoor whirlpool. The sitting room overlooks tropical gardens and the Resort's very own waterfall.
The Owner's Residence Villa comes with a private butler, housekeeper, chef and fully-equipped kitchen. This special package includes additional perks such as an on-call luxury limousine and chauffeur, theme babysitting service and two customised private yoga classes during the stay.
Exclusive Private Resort Experience
With 20 sumptuous bedrooms, 5 private swimming pools, and 5 live-in butlers, the Four Seasons Private Resort Experience in Chiang Mai is the perfect choice for large groups seeking complete exclusivity and bespoke luxury – not to mention unforgettable memories. This set of five villas, linked by a sheltered bamboo-lined pathway, comes with a completely exclusive entrance for its residents. Think of it as the present-day equivalent of aristocratic retreats of the past.
When it comes to dining, the sky is the limit. Guests can enjoy relaxed pool parties, festive cocktail evenings, sizzling live barbecues, traditional Thai meals with floor seating and other special experiences. The team at the Resort can also set up events such as lively game nights, friendly cooking competitions and unique private performances. For those who wish to spend some time in the city, the Concierge is happy to design and organise private group tours, with sights and activities to suit all age groups.
The Private Resort Experience includes additional perks such as an afternoon tea at the Orchid Nursery, a dinner at Rim Tai Kitchen, a private BBQ dinner at the Residence, a wine tasting session with the sommelier at the wine cellar and daily private yoga lessons at the Residence pool deck.
Guests in Residence at the Resort enjoy a number of perks, including round-trip airport transfers, a live-in butler, evening canapes, daily buffet breakfast for two adults per room, a welcome bottle of wine and daily credit on dining or spa treatments.
SOURCE: Four Seasons
You might also like: Four Seasons Resort Langkawi Embraces Bold New Look
Four Seasons Hotel Beirut Voted Best Luxury Hotel
Four Seasons Hotel Mexico City Ranked #1 in the Capital
https://petervonstamm-travelblog.com/wp-content/uploads/2017/12/Four-Seasons-Resort-Chiang-Mai-TITEL.jpg
563
1000
Peter von Stamm
https://petervonstamm-travelblog.com/wp-content/uploads/2018/05/petervonstamm-logo.png
Peter von Stamm
2018-01-11 17:50:25
2018-01-05 16:09:45
The Private Residences at Four Seasons Resort Chiang Mai