With "Generation EQ", Mercedes-Benz shows how electric cars can soon move into the fast lane: debuted at the Paris Motor Show the concept vehicle, with the appearance of a sporty SUV coupé, gives a preview of a new generation of vehicles with battery-electric drives. With a range of up to 500 kilometres and the typical Mercedes strengths of safety, comfort, functionality and connectivity, "Generation EQ" meets every demand in terms of contemporary, sustainable mobility.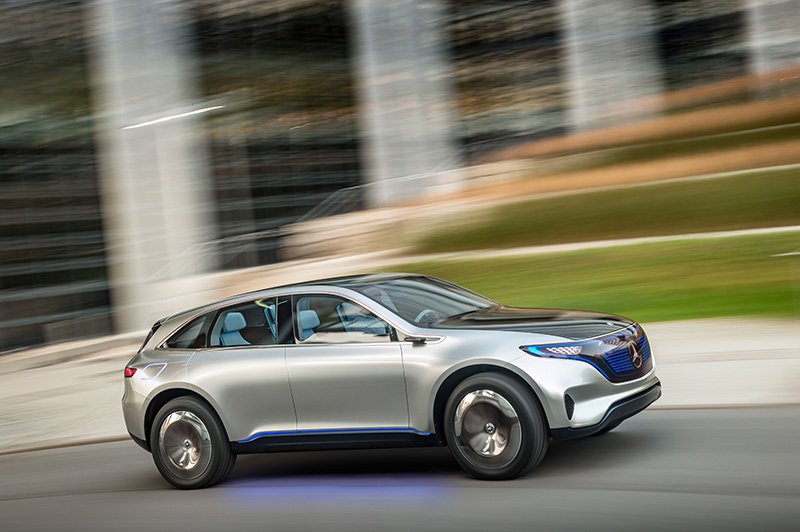 Generation EQ : Electric-vehicle architecture for all models
The new generation of electric vehicles will be based on an architecture developed specifically for battery-electric models, which is scalable in every respect and usable across all models: the wheelbase and track width as well as all other system components, especially the batteries, are variable thanks to the modular building-block system. The vehicle concept is thus optimised to meet every requirement of a future-oriented, battery-electric model family. The basic architecture is suitable for SUVs, saloons, coupés, cabriolets and other model series.
[bctt tweet="Mercedes-Benz Generation EQ: A new electro look with a range up to 500 kilometers " username="petervonstamm"]
Generation EQ video presented at Paris Moros Show
Similarly to the latest series-produced models from Mercedes-Benz, the vehicle architecture builds on an intelligent multi-material mix of steel, aluminium and carbon fibre. This ensures that the requirements in terms of lightweight design, strength and cost efficiency are ideally met.
Generation EQ : A new electro-look
"Generation EQ is hot and cool," says Gorden Wagener, Head of Design at Daimler AG. "Its fascination lies in a reinterpretation of our design philosophy of sensual purity, the aim being to create an avant-garde, contemporary and distinctive electro-look. At the same time, the design of the visionary show car, which has been reduced to the essentials, reveals an alluring progressivity."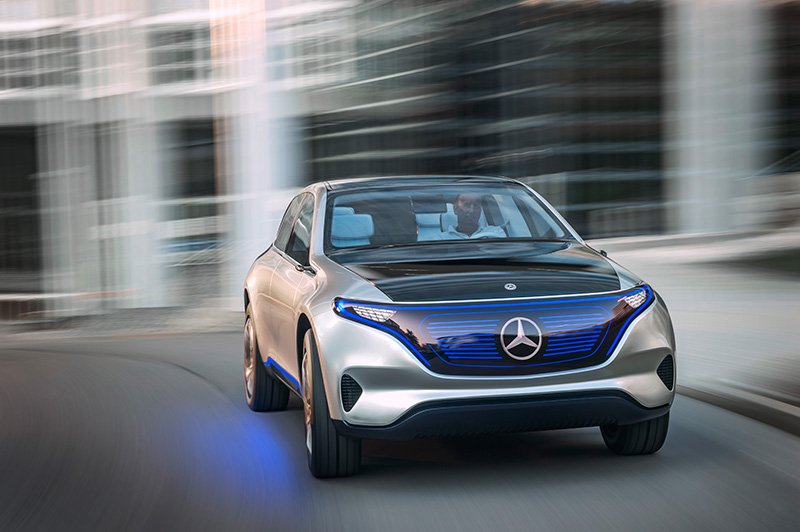 The "Generation EQ" unites the genes of an SUV with the dynamic character of a coupé and a dash of shooting brake at the rear end. The squat, elongated greenhouse gives rise to muscular-purist proportions. The new electro-look is the result of a flowing transition from the gleaming black bonnet across the windscreen to the dark-tinted panoramic roof – an exciting contrast to the alubeam silver paintwork.
Scarcely visible body panel joins, concealed windscreen wipers, cameras instead of exterior mirrors and an absence of conventional door handles emphasise the stretched, dynamic silhouette, making the SUV crossover appear as a unified whole while reducing its air resistance. An intentionally reduced side view, broad shoulders and large 21-inch light-alloy wheels make for a dynamic presence even before the vehicle moves off.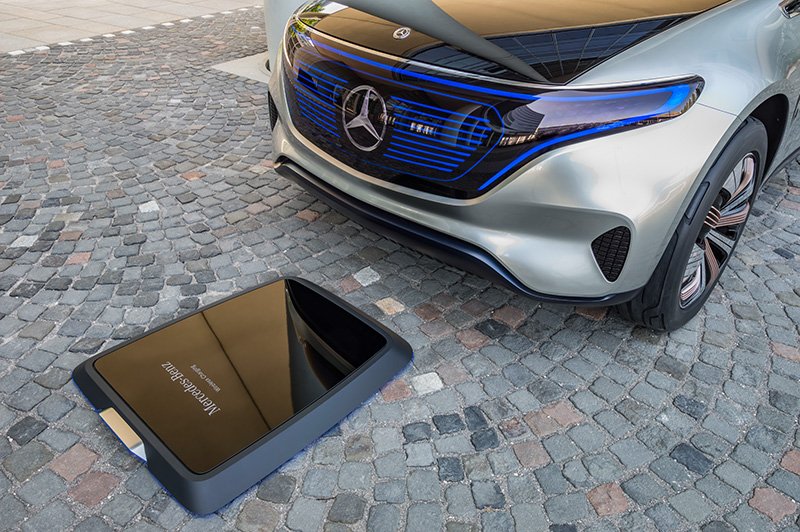 The focus of the driver-oriented cockpit is on simple, touch-based controls with a new electro-look consistently reflecting the exterior styling. The asymmetrical design of the instrument panel with its large, floating wide-screen display is tailored to the driver.
"Generation EQ" comes with four individual seats. The reduced volume, impression of floating in space and avant-garde seat upholstery layout make for a visual lightness. The side bolsters are covered in light-white leather, while perforations with a pixel rain look reveal a view of particles in rose gold. Stitching with a PCB look on the deep-brown centre sections produces an exciting contrast.
Generation EQ : Peek into the future of user interaction
The innovative, digital user experience gives a peek into the future of user interaction at Mercedes-Benz. The interior of "Generation EQ" is characterised by dispensing with traditional switches and knobs, except for the electric seat adjustment typical of Mercedes. Two of the three narrow spokes on the steering wheel are provided with touch controls, which indicate icons and symbols in the respective menus. The 24-inch (53 x 11 cm) TFT high-definition wide-screen display presents all the relevant information, such as speed, range, driving data or navigation and map details.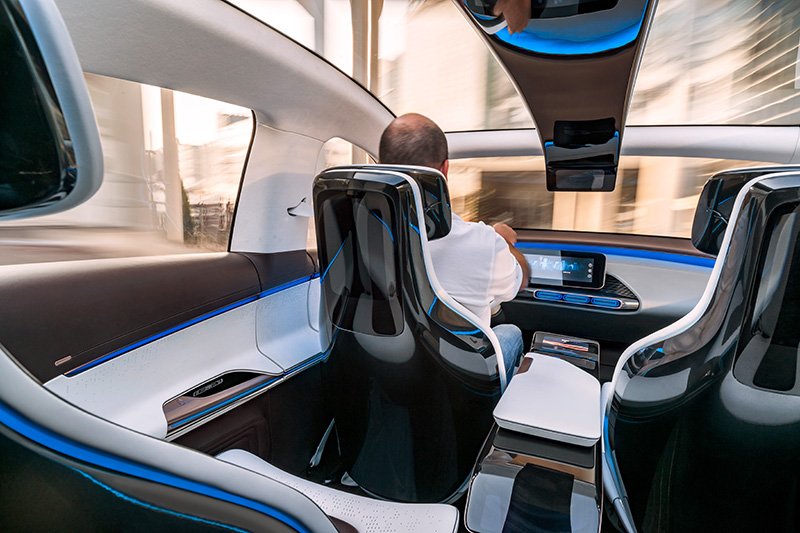 Bordered in rose gold, the centre console is equipped with touch-sensitive elements, too. Similarly to the touch controls on the steering wheel, the driver can use a finger to operate the automatic climate control and the infotainment system. As "Generation EQ" is devoid of conventional exterior mirrors, cameras are used to project an image of the traffic behind onto integrated displays in the doors. Both the door openers and the electric window lifters are touch-controlled.
Generation EQ : A range of up to 500 kilometres
With two electric motors on the front and rear axles and a battery in the vehicle floor, "Generation EQ" embodies a powerful vehicle concept. With a total output of up to 300 kW in the most powerful variant and a maximum torque of up to 700 Newton metres, "Generation EQ" accelerates to 100 km/h in under five seconds. In combination with the intelligent operating strategy from Mercedes-Benz, "Generation EQ" has a range of up to 500 kilometres.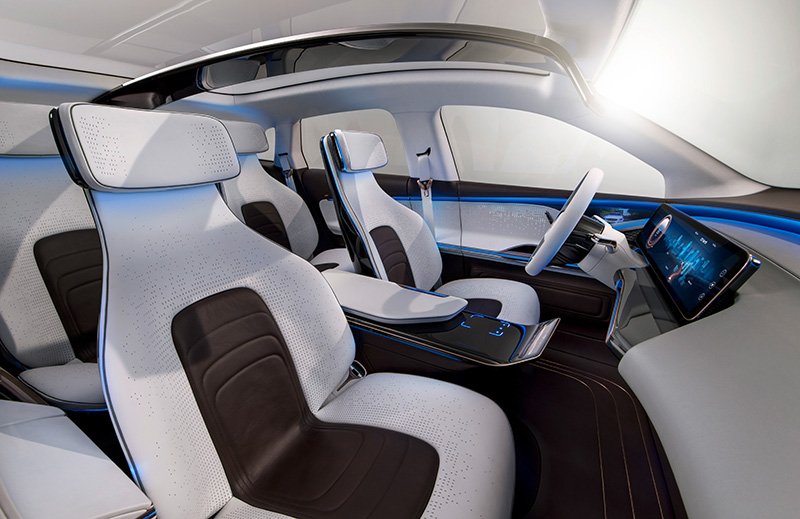 The high-efficiency lithium-ion battery originates from the Daimler subsidiary Deutsche ACCUMOTIVE. Thanks to their modular design, the innovative battery systems have a model-specific total capacity of over 70 kWh.
Generation EQ : Convenient charging at home and on the road
"Generation EQ" brings together the latest-generation charging technologies. The vehicle is ready both for charging at home and for fast charging.
Mercedes-Benz energy storage units of the future could form an ideal symbiosis with the cordless charging system via induction or wallbox. Households that have their own photovoltaic system and which store their surplus solar power in a Mercedes-Benz energy storage unit can thus benefit from a "green" source of power that is extensively independent of the energy market.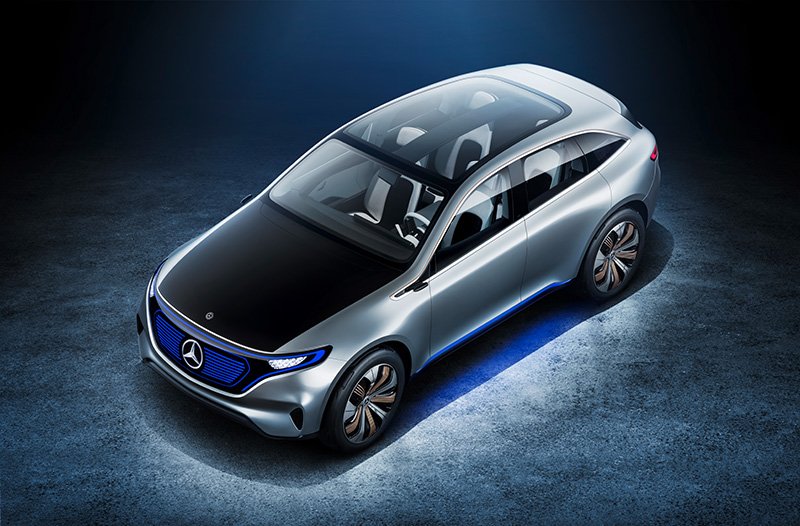 Significantly reduced charging times will come with the introduction of fast charging by the Combined Charging System (CCS). This European charging standard allows for fast charging with a far greater capacity than at present. Currently, charging capacities from 50 up to sometimes 150 kW are possible. In the medium to long term, a charging capacity of even up to 300 kW is planned. This would enable sufficient power for 100 locally emission-free kilometres to be recharged within five minutes.
https://petervonstamm-travelblog.com/wp-content/uploads/2016/10/Mercedes-Benz-Generation-EQ-01-1.jpg
505
963
Peter von Stamm
https://petervonstamm-travelblog.com/wp-content/uploads/2018/05/petervonstamm-logo.png
Peter von Stamm
2016-10-26 08:44:45
2016-10-26 08:44:45
Mercedes-Benz presents "Generation EQ"