Watch out, foodies! Michelin Guide Hong Kong Macau Kicks off Chef Showcase Series
You are a foodie and planning a trip to Hong Kong or Macau? Watch out: The MICHELIN guide Hong Kong Macau Dining Series has embarked 2018 with a new format of its annual International Chef Showcase (ICS).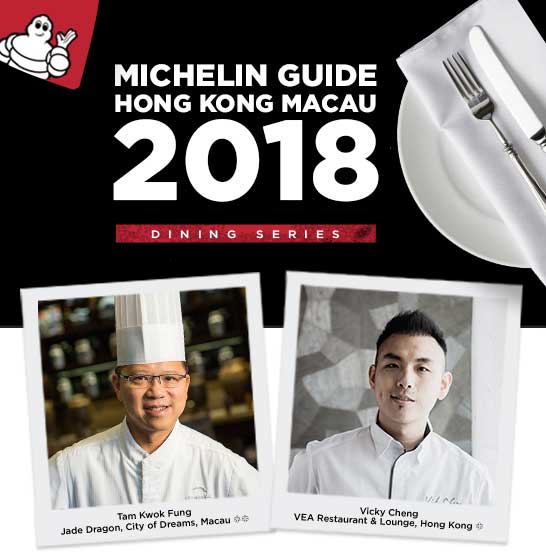 The line up of unique four-hands culinary collaborations will be in store for gourmet and fine wine aficionados, and kicking off this year's ICS in March will be two of the most sought-after culinary stars in the region – Hong Kong born Chef Vicky Cheng from one-MICHELIN-starred VEA Restaurant & Lounge of Hong Kong, and veteran Cantonese chef Tam Kwong Fung from two-MICHELIN-starred Jade Dragon at City of Dreams, Macau.
Representing their respective restaurants, Chef Tam and Chef Vicky will work together to present a special 4-course lunch and an 8-course dinner for discerning guests, paired with excellent wines handpicked by Robert Parker Wine Advocate. Their exquisite joint menus will first be showcased at VEA Restaurant & Lounge from March 7-8 (Wed-Thurs), followed by at Jade Dragon in the City of Dreams integrated resort from March 9-10 (Fri-Sat).
Chef Showcase Series: Vicky Cheng
With his Cantonese roots and background in classical French culinary training, Vicky Cheng has pioneered the art of Chinese X French cuisine. Dishes such as the Wagyu Beef Shortrib with shiitake and daikon is a stunning testament to his ability to seamlessly weave together multiple cultures on a plate. While meticulously applying French gastronomic techniques of great precision and finesse, he pays homage to his home town and heritage by using authentic and seasonal products particularly from Hong Kong and Asia. For him, the dream collaboration has always been with a Chinese-trained chef of Tam's incredible calibre.

Chef Showcase Series: Tam Kwok Fung
With over three decades of international experience in Cantonese fine dining, Chef Tam Kwok Fung helms the kitchen of multi-award-winning Jade Dragon. One of the leading figures in Macau's flourishing fine dining scene, his extraordinary culinary creations give way to an opulent gastronomic experience of reinvigorated Cantonese cuisine. Chef Tam's dedication to producing the most authentic flavours in his dishes is apparent by his use of the finest produce and skilled execution of technical culinary traditions. Chef Tam expertly blends western techniques to reinvent traditional regional Chinese dishes, such as the exquisite Chilled Abalone with mustard seed and wasabi, paired with chilled cherry tomato marinated with avocado oil and plum wine jelly.
Chef Showcase Series: Hong Kong
Location: VEA Restaurant & Lounge, Hong Kong
4-course Lunch: 8 March from 1200pm – 230pm
Price: HK$988 + 10% service charge
8-course Dinner: 7-8 March from 630pm – 1100pm
Price: HK$2,280 + 10% service charge
Chef Showcase Series: Macau
Location:  Jade Dragon, City of Dreams, Macau
4-course Lunch: 10 March from 1130am – 230pm
Price: HK$988 + 10% service charge
8-course Dinner: 9-10 March from 630pm – 1030pm
Price:  HK$1,988 + 10% service charge
The MICHELIN guide Hong Kong Macau Dining Series has invited some of the best chefs from MICHELIN-starred restaurants around the globe to cook for discerning diners in Hong Kong and Macau. Bringing together esteemed gourmet connoisseurs, the exclusive Dining Series is in collaboration with Official Title Partner Melco Resorts and Entertainment and wine experts Robert Parker Wine Advocate — who curate the highly-rated wine pairings for each menu.
This year's International Chef Showcase will see four key four-hands collaborations throughout the calender year — full line-up and dates to be announced soon. For the latest and greatest dining news, events and announcements about the MICHELIN guide Hong Kong Macau Dining Series, foodies should bookmark the MICHELIN guide website and download the mobile app: Michelin HKM.
About MICHELIN guide
The MICHELIN guide selects the best restaurants and hotels in the 31 countries it covers. Providing a showcase of gourmet dining around the world, it highlights the culinary dynamism of a country, as well as new trends and emerging young chefs. Creating value for restaurants through the distinctions that it awards each year, the MICHELIN guide's ethos has been to acclaim local gastronomy, making cities and countries more attractive to tourists. Backed by its rigorous selection method and longstanding knowledge of the hospitality industry, the MICHELIN guide guarantees a dining experience of the highest quality.
SOURCE Melco Resorts & Entertainment
You might also like / auch interessant:
3 Sterne, 19,5 Punkte, vier Hauben: Das Aqua in Wolfsburg
The Chef of The Future Could Be a Robotic Kitchen
https://petervonstamm-travelblog.com/wp-content/uploads/2018/02/International-Chef-Showcase-VEA-Crispy-Sea-Cucumber-TITEL.jpg
667
1000
Peter von Stamm
https://petervonstamm-travelblog.com/wp-content/uploads/2018/05/petervonstamm-logo.png
Peter von Stamm
2018-02-21 13:40:00
2018-02-21 13:37:32
Watch out, foodies! Michelin Guide Hong Kong Macau Kicks off Chef Showcase Series