Supersonic Air Travel: Japan Airlines invests in Boom
Japan Airlines (JAL) and Boom Supersonic announced a strategic partnership to bring commercial supersonic travel to passengers.
While new and advanced technologies are changing our lives significantly, flight times for air travel have stayed relatively constant. Boom is developing a new-generation supersonic aircraft, which flies at Mach 2.2 and will cut flight times in half. Through this agreement, JAL will provide its knowledge and experience as an airline to support Boom in developing the aircraft.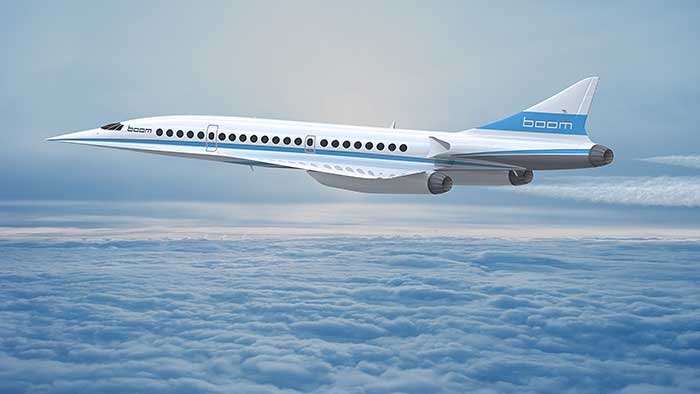 Boom! Affordable Supersonic Flights on the Horizon
As part of the agreement, JAL has made a strategic investment of USD 10 million in Boom and is collaborating with the company to refine the aircraft design and help define the passenger experience for supersonic travel. JAL also has the option to purchase up to 20 Boom aircraft through a pre-order arrangement. The two companies will cooperate closely to realize faster and more convenient air travel.
"60 years after the dawn of the jet age, we're still flying at 1960s speeds," says Blake Scholl, chief executive officer and founder of Boom. "Concorde's designers didn't have the technology for affordable supersonic travel, but now we do."
Boom's Leading Design Team Making Supersonic Possible
Formerly of NASA, SpaceX and Boeing, Boom brought together the top minds in aviation to build its modern supersonic passenger airliner. Learning from the Concorde, they combined advanced aerodynamics, efficient engine technology and new composite materials to power a safe and affordable supersonic aircraft 2.6x faster than current jetliners.
The product of over 1,000 simulated wind tunnel tests, Boom's tri-jet design features a refined delta wing, a gracefully tapered carbon fiber fuselage, and efficient turbofan jet engines. Unlike Concorde, the Boom design requires no afterburner, significantly improving fuel economy.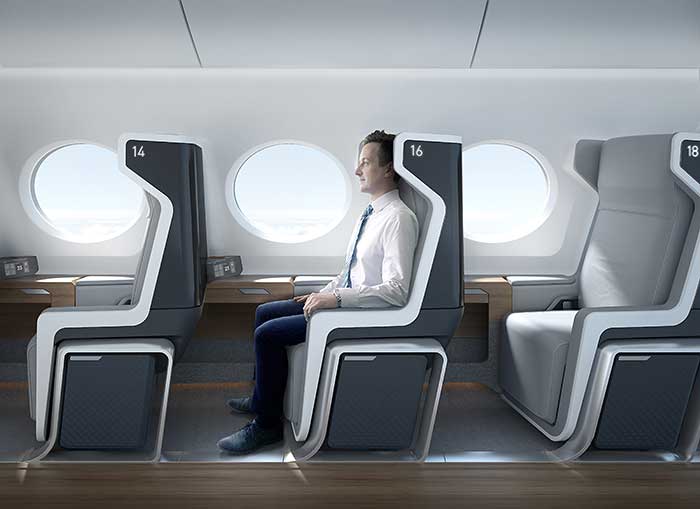 Notable Features
First independently developed supersonic jet: Previously, supersonic flight has been the province of governments and militaries. The XB-1 is the first independently developed and privately-funded supersonic jet.
Fastest Civil Aircraft Ever: Cruising at Mach 2.2 (1,451mph), Boom jets are 10% faster than Concorde and 2.6X faster than other airliners.
State of the Art, Proven Technology: Leveraging 50 years' progress in fundamental aerospace technologies, Boom uses proven tech (aerodynamics, materials, propulsion) to create a revolutionary new design. While the design is new, every key technology has already been proven safe and reliable on other commercial aircraft.
Premium Passenger Experience: With one spacious seat on each side of the aisle, each passenger has a large window, a personal overhead bin, and direct aisle access. Cruising up to 60,000′, passengers experience a smoother ride with less turbulence.
Safety First: The Boom design meets or exceeds industry and regulatory safety guidelines. Our aim is to create an aircraft that is safe, fast, and a pleasant to fly.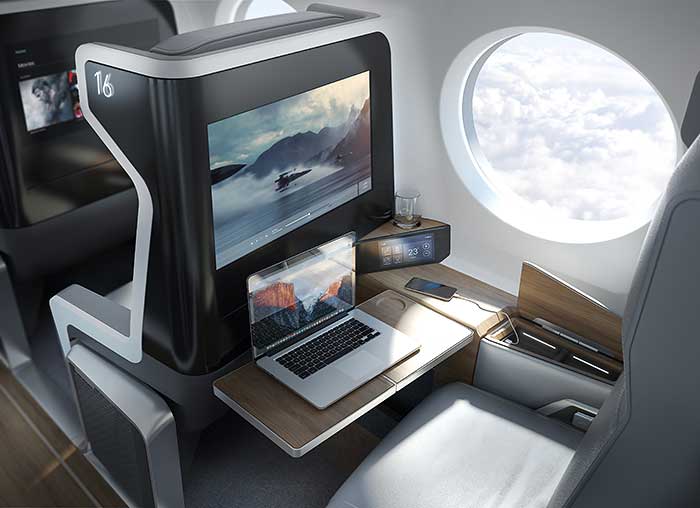 Design Specifications: XB-1 Supersonic Demonstrator
Crew: Two (pilot + optional flight test engineer or passenger)
Length: 68′, Wingspan: 17′
Maximum Takeoff Weight: 13,500 lb
Powerplant: 3X General Electric J85-21, non-afterburning; proprietary variable-geometry intake and exhaust
Aerodynamics: Chine, refined delta wing with swept trailing edge
Cruise: Mach 2.2 (1,451mph, 2,335 km/h)
Nose Temperature: 307°F (345°F on ISA+20 day)
Range: > 1,000nmi
Design Specifications: Boom Passenger Airliner
Crew: Two
Length: 170′, Wingspan: 60′
Passengers: 45 standard (up to 55 in high density)
Flight attendants: Up to 4
Lavatories: 2
Powerplane: 3X non-afterburning medium bypass turbofan; proprietary variable geometry intake and exhaust
Aerodynamics: Chine, refined delta wing with swept trailing edge
Long Range Cruise: Mach 2.2 (1,451mph, 2,335 km/h)
Nose Temperature: 307°F (345°F on ISA+20 day)
Maximum Design Route: 9,000nm (4,500nm unrefueled)
The JAL Group will continue to embrace new technology to deliver greater customer convenience and comfort, enhance its networks, and improve the quality of its products and services.
SOURCE: JAL
You might also like: NASA Funds Development of Subsonic D8 X-Plane
Lilium Jet: First zero-emission electric plane
Emirates Unveils New First Class Private Suites
https://petervonstamm-travelblog.com/wp-content/uploads/2017/12/Boom-Supersonic-Aircraft-exterior-flight-TITEL.jpg
563
1000
Peter von Stamm
https://petervonstamm-travelblog.com/wp-content/uploads/2018/05/petervonstamm-logo.png
Peter von Stamm
2017-12-12 17:55:54
2017-12-11 15:41:19
Supersonic Air Travel: Japan Airlines invests in Boom