Booking.com Expands Access to Booking Assistant Chatbot
The pilot version of Booking.com's new service and support Booking Assistant Chatbot is now widely available to English-language bookings, handling 30% of those customer enquiries automatically in less than 5 minutes.
As the latest evolution of Booking.com's messaging platform, the Booking Assistant merges proprietary Artificial Intelligence technology with Booking.com's already-robust customer service support. Available to an increasing number of travellers in advance of the busy end-of-year travel season, the Booking Assistant empowers customers to get first-line support for their upcoming bookings, including timely responses to their most common stay-related requests, all through a single intuitive chat interface. Built entirely in house, the Booking Assistant leads the industry when it comes to quickly identifying and automatically responding to an increasingly broad range of post-booking related questions from travellers, all via their preferred device and platform.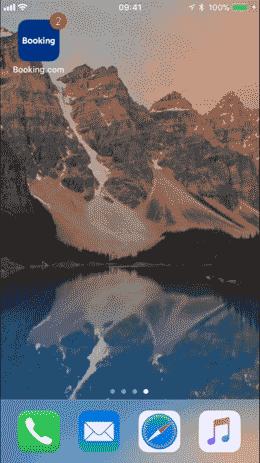 Booking Assistant Chatbot: Customer-first AI
The Booking Assistant leverages natural language processing technology to identify the most frequently asked questions from customers, including topics such as payment, transportation, arrival and departure times, date changes, cancellation requests, parking information, extra bed requests, pet policies, Wi-Fi and internet availability, as well as a wide variety of greetings and thank-you messages. With increased access to additional consumers and their most-pressing questions, the Booking Assistant is rapidly becoming more sophisticated. Booking.com is currently training the model to refine the current number of questions it can manage into more than 90 specific subtopics that can be quickly identified and handled appropriately.
Unlike other chatbots that are only focussed on conversion conversations, one or two specific tasks, or upselling in-stay services, the Booking Assistant chatbot has been built to respond to customers' most commonly asked questions. The chatbot can currently respond to 30% of customers' stay-related questions automatically in less than 5 minutes. If the Booking Assistant has identified a question it can't solve on its own, depending on the nature of the query, it pulls in support from either the Booking.com customer service team or the property, adding their response directly into the conversation. In addition, the Booking Assistant always identifies the source of that information, so that it's 100% transparent for customers.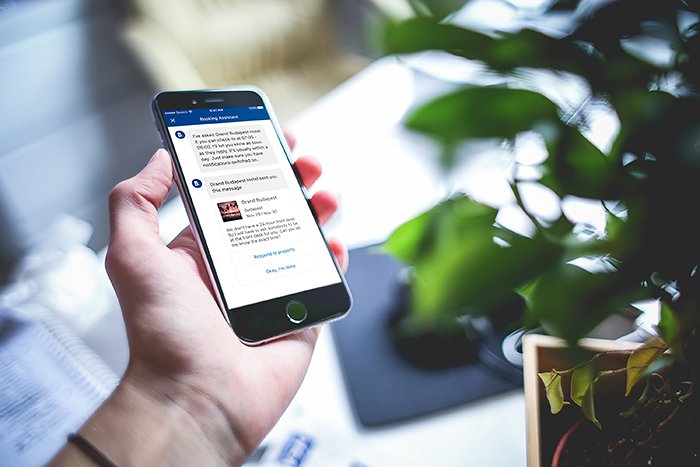 New frontiers for customer and partner support
According to recent research conducted by Booking.com with 19,000 travellers in 26 countries, 50% of consumers don't mind if they deal with a real person or a computer, so long as their questions are answered. Coupled with Booking.com data that 80% of customers prefer to self-serve in order to get the information that they need, the Booking Assistant is filling a need for travellers to get the quick support they require without having to engage with more traditional customer service channels, such as phone or email. In addition, as a hybrid chatbot experience, human back-up is always available within the interface itself with no need to reach out via alternate channels for assistance.
For Booking.com's accommodation partners, the Booking Assistant represents a valuable timesaving innovation. The chatbot can already field many easy-to-answer questions eliminating the need for customers to reach out to the property directly for clarification, with the benefits only increasing as topic identification becomes more sophisticated.
No matter which device or preferred communication channel travellers use, they can get the answers they need via the Booking Assistant. The Booking Assistant was built as a mobile-first experience and has been adapted to operate natively within the iOS and Android versions of the Booking.com app, as well as via Facebook Messenger. It can also be accessed via the Booking.com website on desktop, mobile or tablet. To interact with the Booking Assistant, customers should look for the chat icon and the text Ask a question.
About Booking.com
Established in 1996 in Amsterdam, Booking.com B.V. has grown from a small Dutch start-up to one of the largest travel e-commerce companies in the world. Part of The Priceline Group, Booking.com now employs more than 15,000 employees in 198 offices in 70 countries worldwide.
With a mission to empower people to experience the world, Booking.com invests in digital technology that helps take the friction out of travel. At Booking.com, we connect travellers with the world's largest selection of incredible places to stay, including everything from apartments, vacation homes, and family-run B&Bs to 5-star luxury resorts, tree houses and even igloos. The Booking.com website and mobile apps are available in 43 languages, offer over 1.5 million properties, and cover more than 120,000 destinations in 229 countries and territories worldwide.
Each day, more than 1.5 million room nights are reserved on our platform. So whether travelling for business or leisure, customers can instantly book their ideal accommodation quickly and easily with Booking.com, without booking fees and backed up by our promise to price match. Via our customer experience team, customers can reach Booking.com 24/7 for assistance and support in 43 languages, any time of the day or night.
SOURCE: Booking
You might also like: Marriott Launches Careers Chatbot for Facebook Messenger 
Marriott and Aloft chatbots simplify travel experience
Bebot – The AI Chatbot for Hotels
https://petervonstamm-travelblog.com/wp-content/uploads/2017/12/booking-assistant-message-from-property-TITEL.jpg
667
1000
Peter von Stamm
https://petervonstamm-travelblog.com/wp-content/uploads/2018/05/petervonstamm-logo.png
Peter von Stamm
2017-12-12 16:45:00
2017-12-12 16:20:21
Booking.com Expands Access to Booking Assistant Chatbot