Hilton Announces Connected Room, First Mobile-Centric Hotel Room
Hilton unveiled Connected Room, a first-of-its-kind, high-tech guest room that enables guests to personalize and control every aspect of their stay from one central point – their mobile device. Currently in beta testing, Connected Room is live in one hotel, will deploy in coming weeks in several more, and will begin to scale rapidly to hotels across the United States in 2018.
The company's new high-tech platform will transform the customer experience and allow guests to manage their stays from the palm of their hands
The Connected Room Experience
Guests who stay at Connected Room-enabled properties will soon be able to use the Hilton Honors app to manage most things they would traditionally do manually in a room, from controlling the temperature and lighting to the TV and window coverings. Guests will also be able to personalize their room with technology that loads the most popular streaming media and other accounts to in-room TVs.
In the longer-term, Connected Room will support a range of connected devices, engagements and experiences. Guests will able to use voice commands to control their room or access their content, and to upload their own artwork and photos to automatically display in their room. Guests will also be able to set various preferences in their Hilton Honors account profile to further customize their in-room experience to their individual preferences.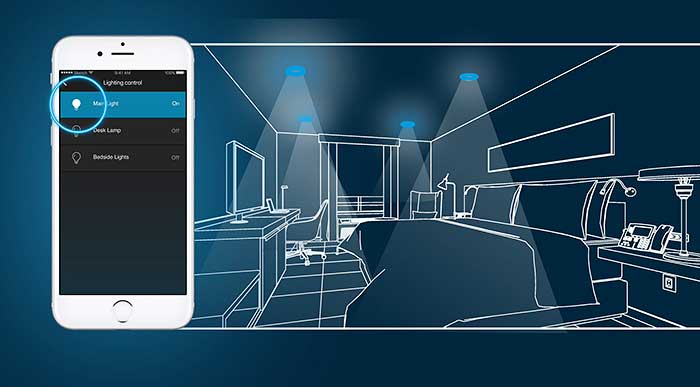 A First-of-its-Kind Technology
With Connected Room's introduction, Hilton is delivering the industry's first truly mobile-centric hotel room, building on the success of the award-wining Hilton Honors app. Hilton Honors members are already using the app to check-in,select their room, and open their hotel room's door with Digital Key. Hilton knows their guests value this type of access from their smartphones based on the wide usage already seen from Hilton Honors members – 34 million digital check-ins,  four million room key downloads and more than 18.7 million doors opened. In the month of October, a door was unlocked with Digital Key every 1.5 seconds.
Designed and built by Hilton from the ground up, Connected Room is a natural extension of the Hilton Honors app's existing capabilities. Its creation was rooted in the unique needs of guests, who have voiced an increasing desire to personalize their stays. The beta version of Connected Room uses a physical remote control to manage the experience, with the goal of supplementing it and all traditional remote controls with the Hilton Honors app before deployment at hotels across the portfolio. Hilton is working with popular streaming media providers to enable guests to seamlessly access their favorite programs in Connected Room hotels.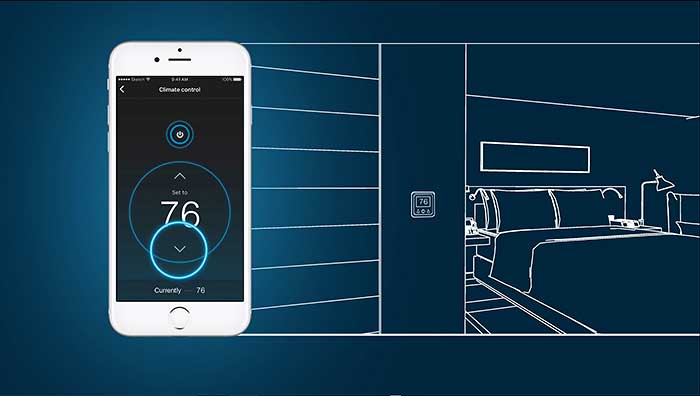 Optimizing Hotel Operations
Connected Room is Hilton's solution for continued innovation and will make it easier for hotels across the portfolio to keep pace with the rapid change in technology. Instead of relying on new hardware to update hotel rooms, Hilton can more efficiently push software updates through the platform to create new experiences and offer new features. Connected Room also has implications for Hilton's corporate responsibility program, Travel with Purpose. The technology will give guests the option to help conserve energy by syncing the air conditioning with their schedule and allow hotel operators to monitor how their hotels are managing energy in real time to ensure they are effectively reducing environmental impact. Hilton Team Members will also benefit from Connected Room since the platform will provide them with better insight into guest preferences.
Hilton's History of Innovation
Hilton has a 100-year history of pioneering the hospitality industry: The first airport hotel, the first central reservations system, the first hotels to provide air-conditioned comfort and televisions in every room, and even the invention of the piña colada. Operating within a culture of creativity, Hilton continues to deliver on its commitment to deliver exceptional experiences – every hotel, every guest, every time.
About Hilton
Hilton (NYSE: HLT) is a leading global hospitality company, with a portfolio of 14 world-class brands comprising more than 5,100 properties with nearly 838,000 rooms in 103 countries and territories. Hilton is dedicated to fulfilling its mission to be the world's most hospitable company by delivering exceptional experiences – every hotel, every guest, every time. The company's portfolio includes Hilton Hotels & Resorts, Waldorf Astoria Hotels & Resorts, Conrad Hotels & Resorts, Canopy by Hilton, Curio Collection by Hilton, DoubleTree by Hilton, Tapestry Collection by Hilton, Embassy Suites by Hilton, Hilton Garden Inn, Hampton by Hilton, Tru by Hilton, Homewood Suites by Hilton, Home2 Suites by Hilton and Hilton Grand Vacations.
SOURCE: Hilton
You might also like: Hilton Launches Innovation Gallery 
Marriott launches IoT Hotel Room of the Future
Marriott Technology converts Shower Door in Shareable Canvas
https://petervonstamm-travelblog.com/wp-content/uploads/2017/12/Hilton-Connected-Room-01-TITEL.jpg
559
1000
Peter von Stamm
https://petervonstamm-travelblog.com/wp-content/uploads/2018/05/petervonstamm-logo.png
Peter von Stamm
2017-12-12 18:10:13
2017-12-11 15:40:01
Hilton Announces Connected Room, First Mobile-Centric Hotel Room