Infiniti all electric Prototype 9
Nissan Motor Corporation and premium automotive brand INFINITI have unveiled a sleek, open-wheeled electric retro-roadster prototype at the 2017 Pebble Beach Concours d'Elegance. The car, called Prototype 9, represents a reimagining of a 1940s race car with time-honoured production techniques employed to realise its retro design.
Infiniti handcrafted the all-electric Prototype 9 roadster
Finished in a bare sheet-metal skin, Prototype 9 is the result of countless hours of careful construction. The designs of the brand's contemporary road cars are characterised by deep-stamping production methods, which enable the creation of sharply defined lines and smooth body surfaces. Far from production lines, this out-of-hours project required similarly technical yet more traditional crafting methods.

The vehicle's stunning bodywork is made from steel body panels wrapped around a steel ladder frame. The panels were hammered into shape by the Takumi. For Prototype 9, panel beaters incorporated INFINITI's signature design elements, such as the double-arch grille, 'shark gills' aft of the front wheels, a single-crease hood, and sharp lines that stretch from front to rear.
In a cabin that features no distractions from the road ahead, the steering wheel rotates around a fixed central hub, housing the driver's instrument gauges. The hub itself finished in turned aluminium, an effect found on aircraft throughout the first half of the 20th century. Like the machines that inspired its design, the effect has been completed by hand, 'turning' aluminium shavings into the fascia with the end of a cork. Inspired by the project, this was a finish that the interiors team had not previously had the opportunity to explore.
The motor produces 120 kW (148 hp) and 320 Nm (236 lb ft) of torque and driving the rear wheels, via single-speed transmission. Prototype 9 has a top speed of 170 kph (105.6 mph), and sprints from 0-to-100 kph (0-to-62 mph) in 5.5 seconds, with a maximum EV range of 20 minutes under heavy track use.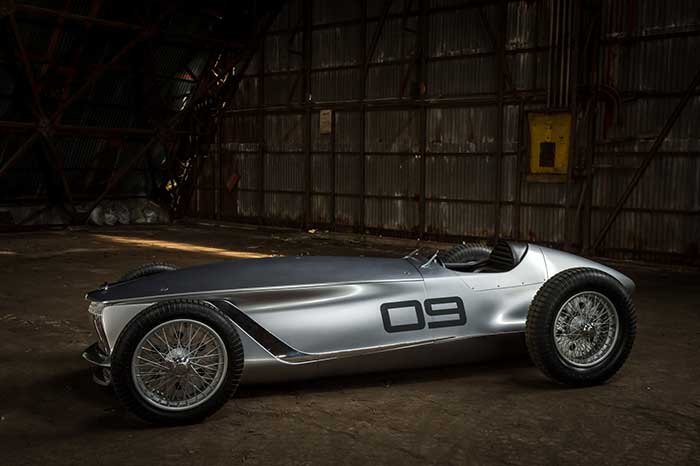 "Prototype 9 celebrates the tradition of ingenuity, craftsmanship and passion"
"Prototype 9 celebrates the tradition of ingenuity, craftsmanship and passion of our forebears at Nissan, on whose shoulders we stand today. It started as a discussion – what if INFINITI had created a race car in the 1940s? If one were to imagine an open-wheeled INFINITI racer on the famous circuits of the era, such as Japan's Tamagawa Speedway, what would that look like? The sketches were stunning and the idea so compelling that we had to produce a prototype. As other departments became aware of this, they volunteered their time to create a working vehicle."
Alfonso Albaisa, Senior Vice President, Global Design
Prototype 9 is powered by a prototype electric motor and battery from Nissan's Advanced Powertrain Department. This nod to the future contrasts with the traditional materials and techniques applied for the Prototype 9's manufacture, including panels hand-beaten by a team of Takumi – Nissan Motor Corporation's master craftspeople.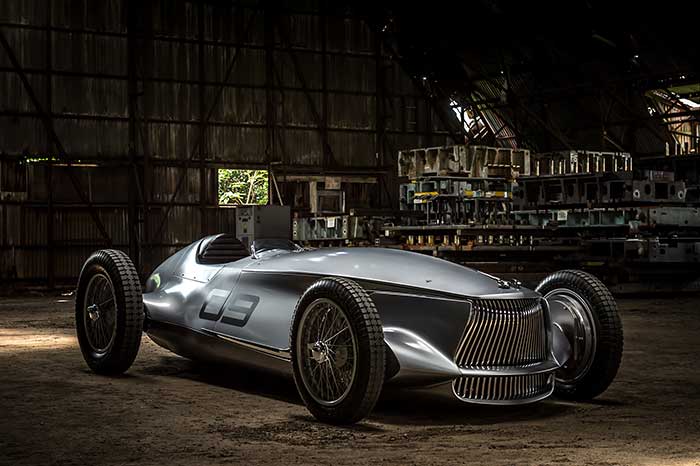 Prototype 9 was inspired by an emerging era of Japanese motorsport. The custom-built Prince R380, which also makes its public debut at the 2017 Concours d'Elegance, broke several land speed records in 1965 before taking overall victory at the 1966 Japanese Grand Prix at Fuji Speedway. Prince Motor Company is considered to be Japan's original builder of premium automobiles, and its legacy can be traced to INFINITI Motor Company and its current model line. The R380 in Pebble Beach is the actual Japanese Grand Prix-winning car, believed to be the only surviving R380.
Where existing and future INFINITI models adhere to the company's 'Q' and 'QX' nomenclature, Prototype 9 represents something different. Echoing the company's origins, the figure '9' is pronounced 'kyuu' in Japanese – similar to the anglicized pronunciation of the letter 'Q', which is used for all of the company's production cars.
SOURCE: INFINITI
https://petervonstamm-travelblog.com/wp-content/uploads/2017/08/INFINITI-Prototype-9-TITEL.jpg
665
1000
Peter von Stamm
https://petervonstamm-travelblog.com/wp-content/uploads/2018/05/petervonstamm-logo.png
Peter von Stamm
2017-08-15 18:10:01
2017-08-15 18:27:15
Infiniti all electric Prototype 9