Lufthansa Group campaigns for Berlin
Lufthansa Group decides on a bundle of measures to support air travel from and to Berlin.
In order to fulfil the unusually high current demand for tickets from Berlin to Frankfurt, Munich, Zürich and Vienna, three airlines of the Lufthansa Group (Lufthansa, Swiss International Air Lines, Austrian Airlines) will replace the usually scheduled short-haul aircraft with wide-body aircraft for a short-term in October. In addition, all other scheduled flights from these hubs to Berlin will almost all be flown with the largest short-haul aircraft of the Lufthansa Group (Airbus A321) during the period from 23 to 25 October. Eight inner-European special flights planned for October.
Wide-body aircraft to replace smaller aircraft from Berlin to Frankfurt, Munich, Zürich and Vienna
With the use of the larger aircraft, far more passengers can be transported, so that as many travel wishes of Berliners can be fulfilled as possible. The extended flights from Berlin have been scheduled to enable passengers to conveniently reach many global transfer flights of the Lufthansa Group airlines via the airports Frankfurt, Munich, Zürich and Vienna.
Lufthansa is thus offering a daily flight from Frankfurt to Berlin with an Airbus A340-300 from 23 to 25 October 2017. From Munich, there will be an Airbus A340-600 flight once a day from Munich on 23 and 24 October 2017.
Swiss is planning to replace one flight from Zürich to Berlin with an Airbus A330-300 on 24 and 25 October 2017.
Austrian Airlines will use a Boeing 767 from Vienna to Berlin on October 24, 2017
The cabin equipment of the wide-body aircraft is the same as for any long-haul flight of the Lufthansa Group airlines. The service will also be the same as that offered by Lufthansa, Swiss and Austrian Airlines in the respective travel class for flights to and from Berlin.
The use of larger aircraft for this period are not the only measures taken by the airlines in the Lufthansa Group to cope with the strong demand. In September, Lufthansa had already decided to use a Boeing 747-400 during high-peak times from Frankfurt to Berlin. The jumbo has thus visited Tegel more than 60 times. In addition, Lufthansa will connect Berlin and New York four times a week from November 8, 2017.
Eurowings expands its market position in Germany and Europe
The fleet marketed by Eurowings (program fleet) is projected to grow from 160 to 210 aircraft with the finalization of the transaction and purchase of additional aircraft, with 189 short- and medium-haul aircraft and 21 long-haul aircraft, making Eurowings the third-largest in European point-to-point traffic. The number of flight operations will grow to a total of eight, including the aircraft operated by TUIfly and Sun Express on a wet-lease basis. With its platform concept, Eurowings is oriented towards the integration of flight operations and is predestined to actively advance the consolidation of the European aviation market.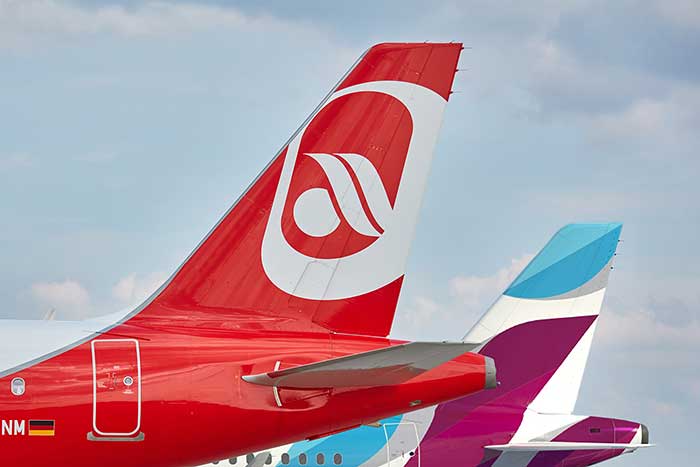 At the same time, the number of employees is expected to grow from currently around 7,000 to roughly 10,000. Eurowings has approximately 50 new short-haul and medium-haul connections planned for the summer of 2018 and – not related to the transaction with Air Berlin – additional long-haul connections in North Rhine-Westphalia, Berlin and Munich. The airline will be growing particularly strongly at these locations. Eurowings is anticipating a total of 80,000 additional flights and 12 million additional passengers per year. This would increase the point-to-point traffic sales volume of the Lufthansa Group by up to 40 percent. Eurowings is expanding its competitive position in the German and European market with this. It will be able to produce at competitive costs with the acquired capacity and generate positive profit contributions as soon as the integration is complete.
SOURCE: LufthansaGroup
You might also like: Norwegian names "Airline of the year"
NASA funds development of Subsonic D8 X-Plkane
https://petervonstamm-travelblog.com/wp-content/uploads/2017/10/Lufthansa-Swiss-Austrian-Berlin-TITEL.jpg
600
900
Peter von Stamm
https://petervonstamm-travelblog.com/wp-content/uploads/2018/05/petervonstamm-logo.png
Peter von Stamm
2017-10-23 18:10:03
2017-10-22 17:24:32
Lufthansa Group campaigns for Berlin