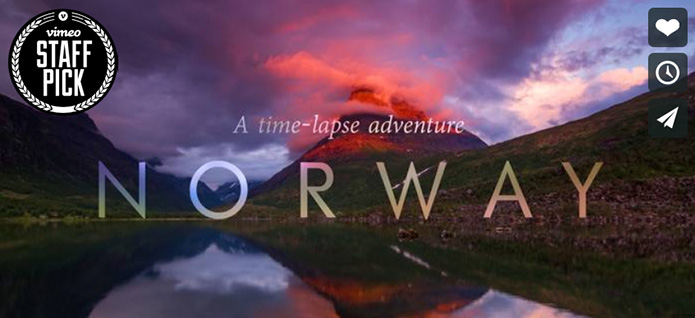 Norway – a stunning time-lapse video
Gosh, what a stunning video!
This makes me dreaming of travelling Norway!
This breathtaking motion time-lapse video was captured by Morten Rustad of Rustad Media. Simply titled "Norway" it results from a 15,000 km (almost 10,000 miles) long road trip and tens of thousands of images taken along the way over the last 5 months. The journey has covered all of Norway's 19 counties, from the far south to the Russian border in the Northeast.
Watch it – it's really worth it!!
NORWAY – A Time-Lapse Adventure from Rustad Media on Vimeo.
The aim of this 5 minute short film is to show the variety of Norway, everything from the deep fjords in the Southwest, to the moon landscape in the North, the Aurora Borealis (Nothern Lights) and the settlements and cities around the country, both in summer and wintertime. The video shows some of the most scenic places in Norway, such as Lofoten, Senja, Helgelandskysten, Geirangerfjorden, Nærøyfjorden and Preikestolen.
Please watch in HD with good speakers for the optimal experience.
You can watch it in 4K here: youtube.com/watch?v=Scxs7L0vhZ4
If you are interested in reading the tales, seeing behind-the-scenes photos from the journey and a map of the route driven, head over to Morten's Website here: rustadmedia.com
The soundtrack is custom-made for this film by the very talented fellow Norwegian Jogeir Daae Mæland.
Many thanks to Morten giving me the permission to embed this video in my blog!
Keep in touch with Morten here:
facebook.com/RustadMedia
twitter.com/RustadMedia
https://petervonstamm-travelblog.com/wp-content/uploads/2014/10/Norway-by-RustadMedia-1.jpg
318
695
Peter von Stamm
https://petervonstamm-travelblog.com/wp-content/uploads/2018/05/petervonstamm-logo.png
Peter von Stamm
2014-10-01 15:52:05
2016-10-27 10:10:19
Norway – a stunning time-lapse video