Mexico Tourism Unveils "A World of Its Own" Campaign
The Mexico Tourism Board unveiled a new global campaign, "A World of Its Own" in New York City. The campaign represents the next chapter in Mexico's global tourism positioning and promotion and focuses on the vibrant, multi-faceted experiences that keep visitors coming back to Mexico and its hundreds of destinations, time and again. The "A World of Its Own" positioning highlights the sheer scale and diversity of Mexico's tourism offering and comes at a time when Mexico has climbed from the 15th (2012) to the 8th most visited country in the world (source: UNWTO), outpacing the global industry average in growth, by several times.
Mexico Tourism – telling rich stories
By telling rich stories about these diverse, vibrant experiences Mexico offers across its destinations to a wide variety of travelers, the campaign will build upon Mexico's recognized positioning as a mega-destination. It is a country that beckons travelers again and again, for even longer visits each time, in order to fully explore the richness and diversity found everywhere. In this sense, the campaign highlights that the question for travelers is not 'should you visit Mexico?' but instead 'how far will you go?'
"A World of Its Own" will also highlight the colorful, magical and even surreal aspect of Mexico which has attracted explorers, artists and philosophers for thousands of years. This is what Salvador Dalí, the acclaimed and eccentric Spanish artist, sarcastically claimed about Mexico: "There is no way I am going back to Mexico, I can't stand to be in a country that is more surreal than my paintings."  Nothing captures this surrealism more so than the Dia de Muertos (Day of the Dead) celebration. Travelers can be immersed in this beautiful, joyous tradition that has evolved over thousands of years where Mexican families and friends honor and remember their departed loved ones with altars, food, flowers, colorful decorations, and public and private festivities that symbolize how the dead still dance and celebrate among us.
Mexico Tourism multi-faceted global marketing campaign
The multi-faceted global marketing campaign will begin to roll out immediately, with its first phases focused on the visitmexico.com website refresh, digital and social media programs, and public relations efforts. Advertising, promotions and events in partnership with the tourism industry, and Mexico's many destinations, will begin rolling out across global markets in October.  A new digital platform will launch in December, allowing for interaction with the "World Of its Own" video, with 360-degree views of Mexico experiences and a Mexico bucket-list building tool for consumers. The campaign content and messages have also been designed to be customized by market, consumer segments and according to Mexico's tourism products including sun and beach, romance, adventure and nature, medical and wellness, LGBT, cruises, culture, high-impact events, luxury, sustainability and gastronomy.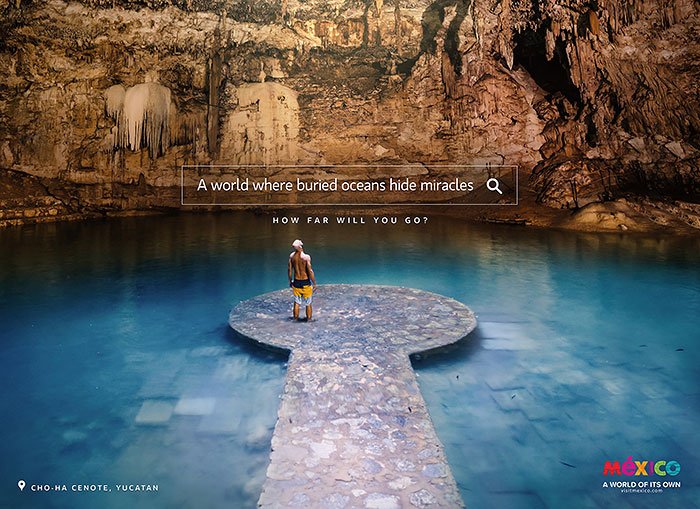 The Mexico Tourism Board's Chief Marketing Officer, Emmanuel Rey, added, "It's time for Mexico to connect with travelers on a more personal level, now more than ever. 'A World of Its Own' will both engage consumers by sharing the breadth of experiences Mexico has to offer and, more importantly, challenge travelers to live life to the fullest, awaken their drive to imagine and ensure travel is an important part of how they discover the world and themselves."
SOURCE: VisitMexico
https://petervonstamm-travelblog.com/wp-content/uploads/2017/09/Mexico-Tourism-Campaign-TITEL.jpg
727
1000
Peter von Stamm
https://petervonstamm-travelblog.com/wp-content/uploads/2018/05/petervonstamm-logo.png
Peter von Stamm
2017-09-27 18:40:18
2017-09-27 19:42:57
Mexico Tourism Unveils "A World of Its Own" Campaign