Honda showcased NeuV concept EV with AI at CES
Honda showcased the NeuV EV concept at 2017 Consumer Electronics Show (CES) in Las Vegas.
Honda NeuV – updated post
Designed to create new possibilities for customers, the NeuV (pronounced '"new-v'"), which stands for New Electric Urban Vehicle, is a concept vehicle whose genesis is based on the fact that privately-owned vehicles sit idle 96 percent of the time. The NeuV explores the idea of how to create new value for its owner by functioning as an automated ride sharing vehicle, picking up and dropping off customers at local destinations when the owner is not using the car. The NeuV also can sell energy back to the electric grid during times of high demand when it's not in use. These activities have the potential to create a new business model for enterprising customers.
Honda NeuV
Designed to create new possibilities for customers, the Honda NeuV (New Electric Urban Vehicle) is an automated EV mini-vehicle concept with artificial intelligence (AI) that aids driver decision-making and can generate income for its owner through autonomous ride-sharing and the ability to sell energy back to the electric grid during periods of low use.
 "We designed NeuV to become more valuable to the owner by optimising and monetising the vehicle's down time," said Mike Tsay, Principal Designer, Honda R&D Americas.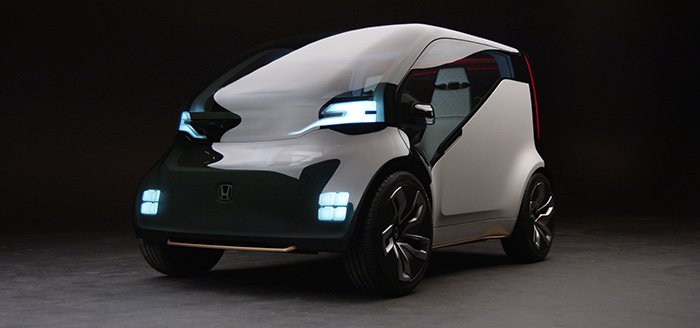 NeuV also functions as a thoughtful and helpful AI assistant utilising an '"emotion engine'", an emerging technology developed by Honda and SoftBank (cocoro SB Corp.). Called HANA (Honda Automated Network Assistant), in its application in the NeuV, the '"emotion engine'" will learn from the driver by detecting the emotions behind the driver's judgments and then, based on the driver's past decisions, make new choices and recommendations. HANA can check on the driver's emotional well-being, make music recommendations based on mood, and support the owner's daily driving routine.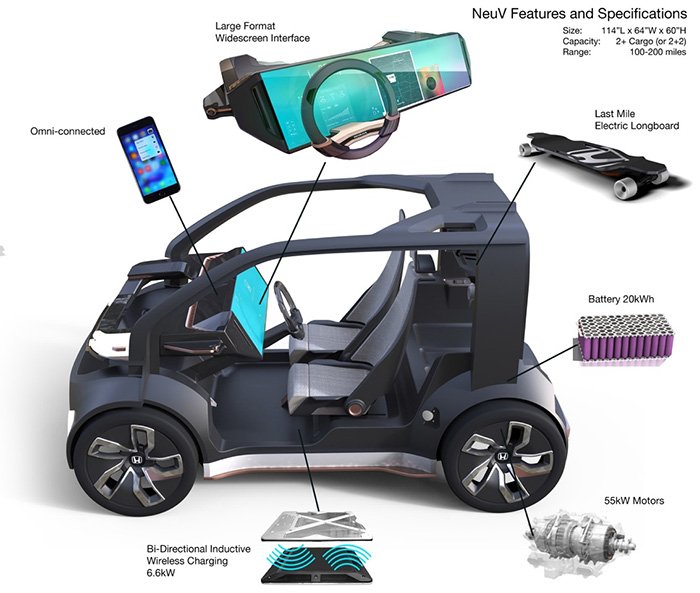 The NeuV features a full touch-panel interface enabling both the driver and passenger to access a simple and convenient user experience. The vehicle has two seats, a storage area in back, and an electric skateboard for '"last mile'" transit. The NeuV also features outstanding outward visibility via a wrap-around panoramic windscreen and a dramatically sloping belt line that make manoeuvring easy.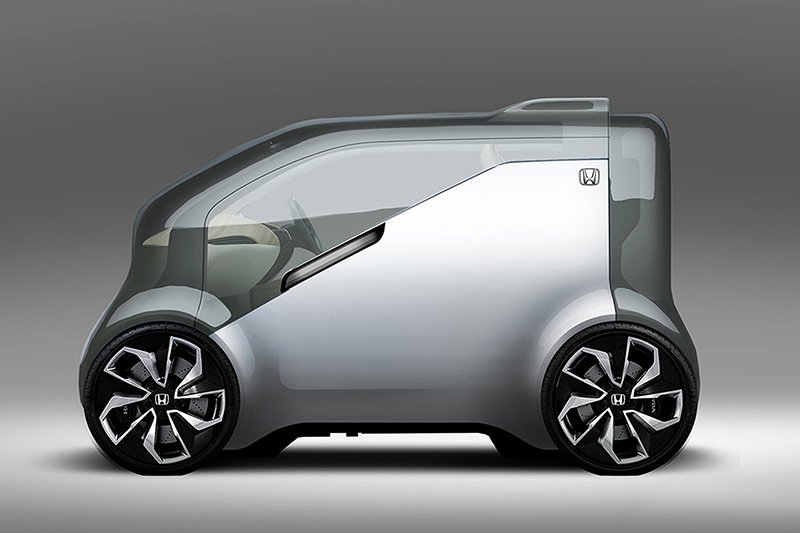 Background:
Honda announced in July 2016 that it will collaborate with SoftBank Crop on a joint research project on application of "emotion engine", an artificial intelligence (AI) technology that allows mobility products to generate their own emotions. The "emotion engine" allows mobility products to evolve while sharing various experiences with their drivers. The technology has been developed by cocoro SB Corp., a SoftBank Group Company.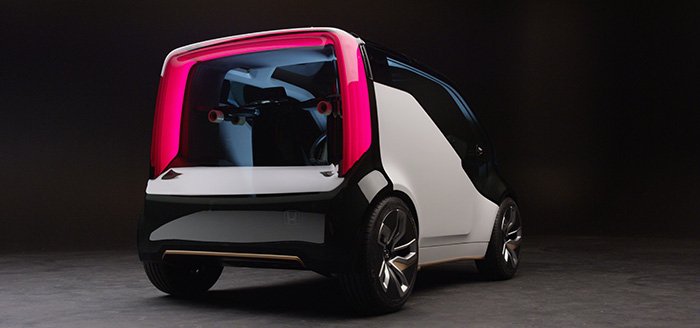 Through the joint research project, both companies aim to perceive the drivers' emotions and engage in dialogue with the driver based on the vehicles own emotions based on information obtained from various sensors and cameras. The project looks to add even more value to mobility devices and the drivers' daily lives, whilst developing a deeper bond between the driver and the mobility product.
Honda is committed to the development of AI technologies with the target of creating new relationships between people and mobility products.
https://petervonstamm-travelblog.com/wp-content/uploads/2016/12/Honda-NeuV_1-Titel.jpg
550
1280
Peter von Stamm
https://petervonstamm-travelblog.com/wp-content/uploads/2018/05/petervonstamm-logo.png
Peter von Stamm
2017-01-06 01:55:55
2017-01-06 09:58:07
Honda showcased NeuV concept EV with AI at CES