Sleep very well… The Pullman Hotel Munich
From a little boy in a limousine to a big boy in his suite: The Pullman Hotel Munich
>> hier gehts zur deutschen Text-Version >>
When I was little, and that was a long time ago, the name Pullman meant one thing to me:  A very big and luxurious car. One day, my grandfather showed me a Mercedes Pullman limousine standing in front of a luxury hotel entrance. I was even allowed to sit on the back seat for a while, where two rows of elegant leather seats enabled me to stretch out my legs without trouble or risk of damaging the interior. That little boy, sat in that indescribably big car, amazed and hardly wanting to get out again. Today, that "big boy" is lying on a bed in his suite at the Pullman Hotel Munich. Still amazed and still hardly wanting to get up. The name is the same, as is the impression of size and luxury. Pullman is Pullman.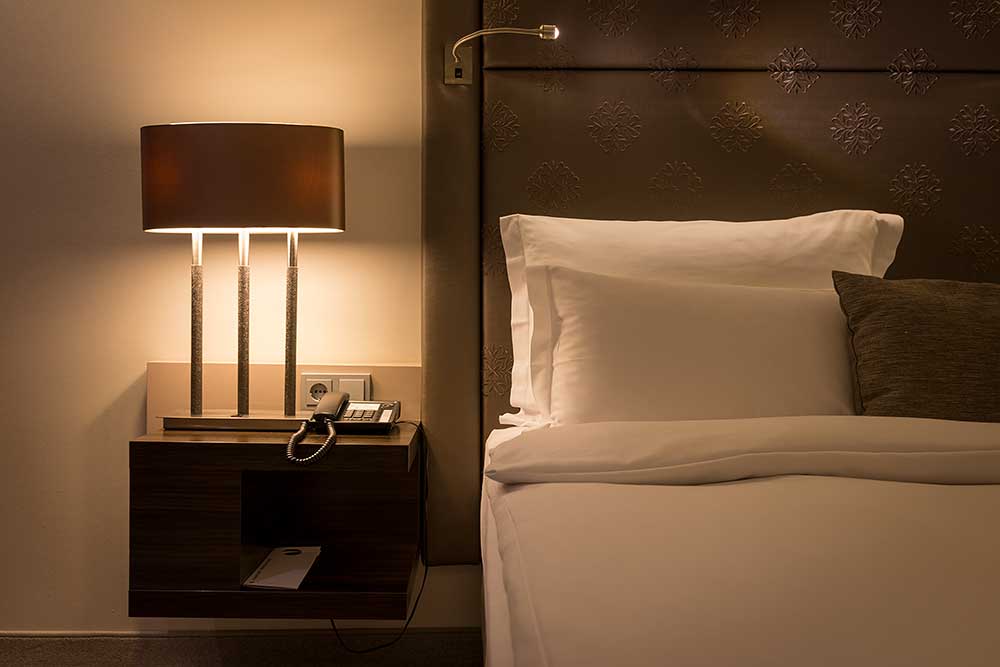 Pullman Hotel: Where the name comes from
Originally, the man behind the name didn't have cars in mind at all, but travel itself: George Mortimer Pullman, an American industrialist who wanted to make nightly train-rides as luxurious as possible. In the 19th century, the golden age of railway construction, Pullman founded the Pullman Palace Car Company. In 1864 he developed a particularly comfortable railway sleeping car bearing his name until the 1980s. Pullman Sleeping Cars (Pullman Sleepers) were a synonym for comfortable travelling at that time.
It was mainly business people and industrialists, like Pullman himself, who appreciated the comfort of travelling in the Pullman Sleeper. That gave the founder an idea: Why not establish a Pullman Hotel? For business people who constantly travelled throughout the country and appreciated well-maintained luxury, before and after the train ride. That is how the first Pullman hotel was built in New York in 1877 – and many more were to follow in the US and around the world. Up to this point, an almost typical American success story.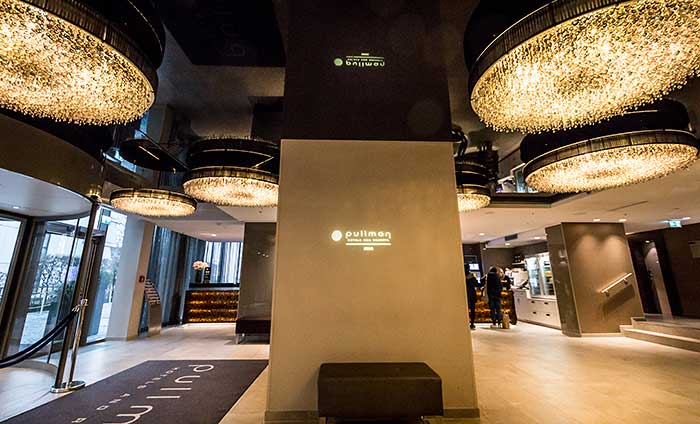 In 1991, the great-great grandson of the company's founder sold the Pullman Hotel Group to AccorHotels. And this is where the French success story begins.
Acquisition by the AccorHotels
The AccorHotels group, which celebrated its 50th anniversary this November, not only adopted the name of the Pullman Hotels, but also the hotel founder's philosophy. Pullman hotels still offer the highest level of comfort, convenient city locations and the best connections to the airport or train station. Ideal, especially for discerning business travellers. Even today, Pullman equals pleasant travel, or even better: a pleasant stay.
So, how easy and comfortable is it to get to the Pullman Hotel Munich? How quickly can you get to the city centre from the hotel? I timed it: From leaving the hotel to the next subway station (Nordfriedhof) – 56 seconds on foot! Add on two minutes and you are at the bus stop for the airport drop-off. The English Garden and Chinese Tower, Schwabing's trendy restaurants and pubs are all close by. The "Riva Schwabing" takes eight minutes and the luxury Chinese "Hutong Club", twelve. From Pullman Hotel Munich to Munich's city centre and the famous Marienplatz, again, only eight minutes on the subway.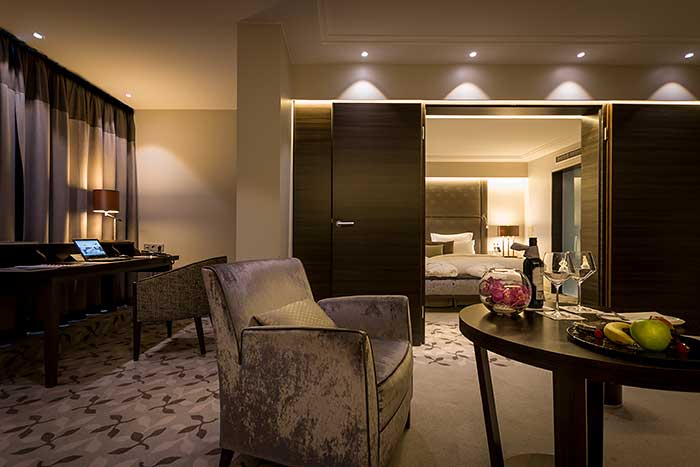 Most of the Pullman guests are still business travellers (60 percent). Individual travellers account for an average of 70 percent of all bookings. More than 18,000 employees look after the international guests and organise more than 30,000 events each year in the 4- and 5-star Pullman properties.
There are now 100 Pullman hotels in 28 countries worldwide, mainly in Asia-Pacific, the Middle East, Africa, Europe, and North and South America. The further expansion of the luxury hotel brand is firmly planned: 200 Pullman hotels are in the pipeline by 2025. And anyone who knows Pullman at home also books Pullman here in Germany. This is noticeable at the breakfast table in "my" Pullman Hotel in Munich. Next to me, a lively group of business guests from Hong Kong; behind them a family with two children from the UK. And two managers from Argentina who are preparing their Munich talk on a laptop. All conference, business and leisure travellers enjoy the light breakfast offered with lots of fresh fruit, several yoghurt and cereal varieties and really good coffee.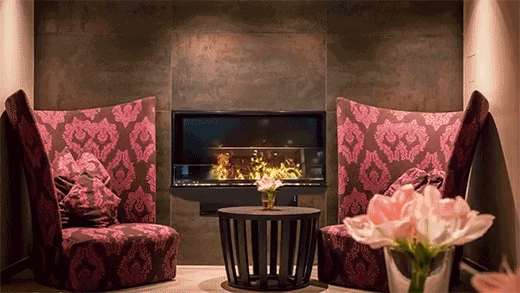 Two, no three highlights, which I would not like to leave unmentioned: The orange juice soaked banana slices (delicious!); the organic honey straight from the honeycomb (to die for!) and the polite and dedicated breakfast staff. Especially the very attentive French colleague Dominique Henkes.
What I remember especially well from the Pullman Hotel Munich
What I remember especially well from the Pullman Hotel Munich is the bed. A bed like a playground! Unfortunately, I did not manage to measure it, but it could have easily fitted three more people in it. And from those people, everyone would have had at least two pillows. In all shapes and sizes.
For me, the bed is the most important aspect of any hotel stay, be it business or pleasure. Bad sleep is like a bad drink; there is sure to be a rude awakening the next morning! Wellness spas, fitness rooms, a good bar and the best breakfast cannot compensate for a bad bed. The Pullman Hotels value a balance of "productivity and well-being". That means, not only fast Internet counts, but healthy sleep and restful relaxation during the entire stay. I can only confirm that after reading, "Work-Life Balance for Global Nomads," in their information booklet.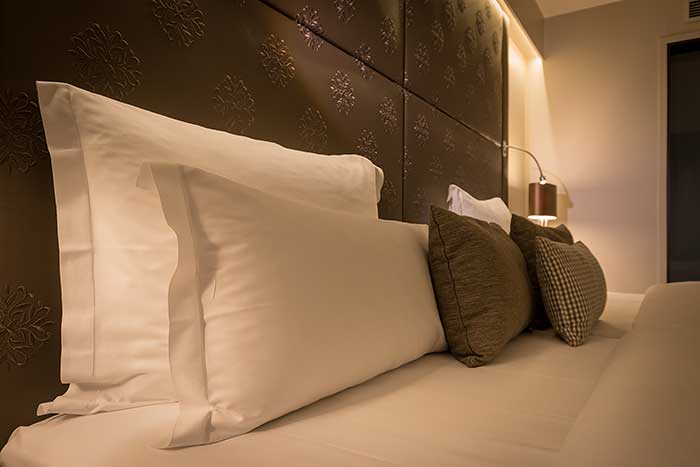 Whenever I arrived in the evening after my business appointments, I could always switch off completely. I would fall onto those soft pillows and blankets on that wonderfully comfortable mattress. Given the time, I could have watched on two TVs in my suite. One in the bedroom and one extra large one in the living room. The welcoming fruit plate with chocolates and red wine was also very tempting. As was the refreshing Paulaner beer and the other delicacies in the fridge. That made my day. But most of the time was spent in bed, in complete serenity. No noise from the hotel lobby, no doors slamming or even bathroom noise from the neighbouring rooms. Just rest. What more do you want?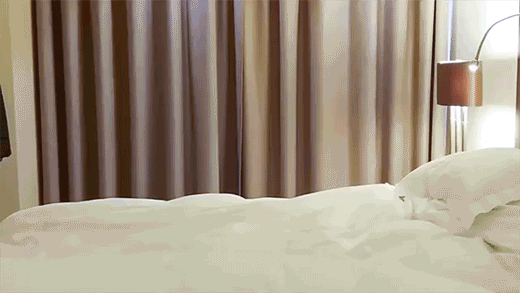 And so, here lies that "big boy" on his impressive Pullman bed, legs stretched out, again without trouble or risk. Remembering his first "Pullman encounter" and his grandfather, who always found the right words: "Sleep very well in your bed". I'll never forget that and that was my first and last thought as I lay in the Pullman suite.
Text and photos: ©Peter von Stamm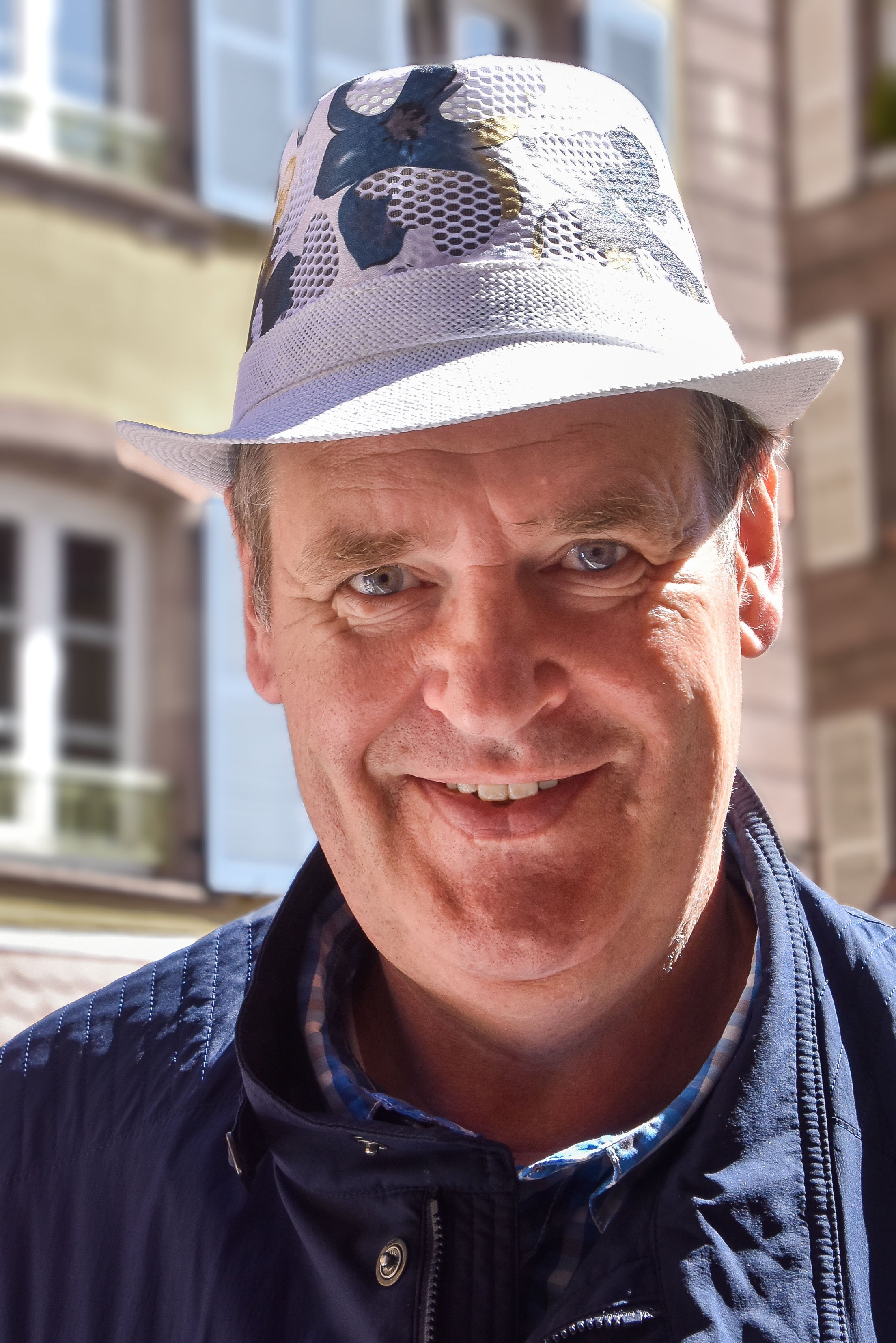 Please find more images of this story here
Translation: Bianca Demsa / Grace & Holmes (thank you so much!)
My stay was supported by AccorHotels. Content specifications or editorial influence did not exist.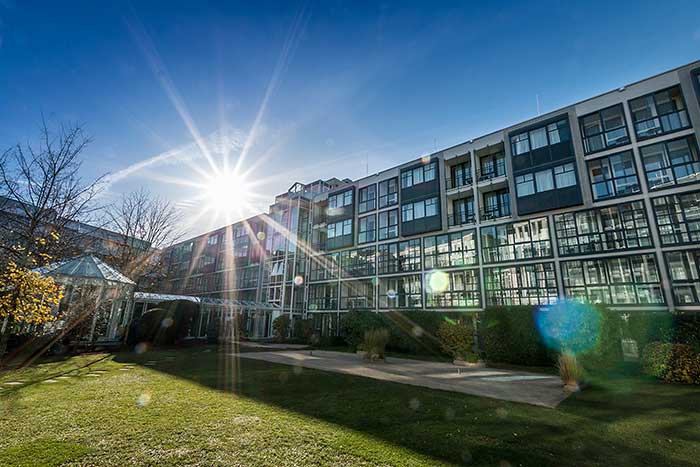 Hotel-contact:
Pullman Hotel Munich
Theodor-Dombart-Straße 4
80805 Munich
Germany
Reservations: +49 89 360 99 6666
reservations@pullman-munich.com
You might also like: Fairmont the Queen Elizabeth Unveils New Art Collection
The new Sofitel Sydney Darling Harbour has opened its doors
https://petervonstamm-travelblog.com/wp-content/uploads/2017/12/Peter-von-Stamm-Pullman-Hotel-Munich-_MG_9890.TITEL2jpg.jpg
667
1000
Peter von Stamm
https://petervonstamm-travelblog.com/wp-content/uploads/2018/05/petervonstamm-logo.png
Peter von Stamm
2017-12-12 16:00:09
2018-02-22 14:22:01
Sleep very well… The Pullman Hotel Munich