Trump Lashed Out at Press Again
President-elect Donald Trump lashed out at Vanity Fair magazine on Twitter (whereelse?) after a harsh review of the "Trump Grill" restaurant, located at the basement of the Trump Tower in Manhattan. The magazine featured a story online asking if Trump Grill was the "worst restaurant in America." President-elect took a swing at the magazine and it's editor Graydon Carter: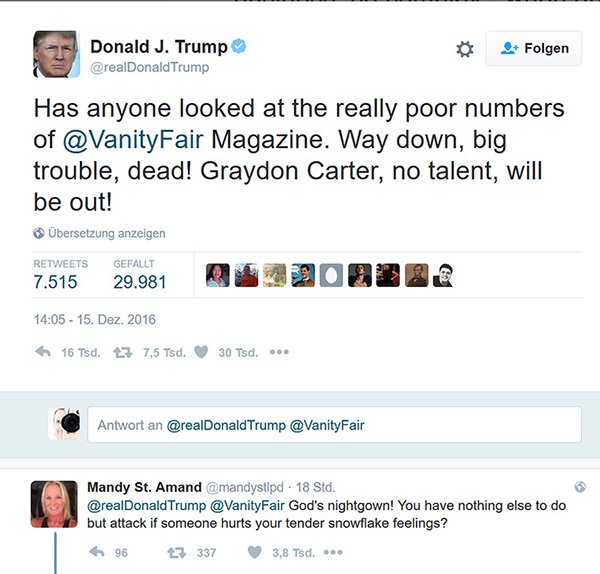 The author of the story, Tina Nguyen, describes the food tasted "like an M.S.G.-flavored kitchen sponge lodged between two other sponges." The steak was "overcooked and mealy, with an ugly strain of pure fat," and "slumped to the side over the potatoes like a dead body inside a T-boned minivan." Read the article here: Trump Grill Could Be the Worst Restaurant in America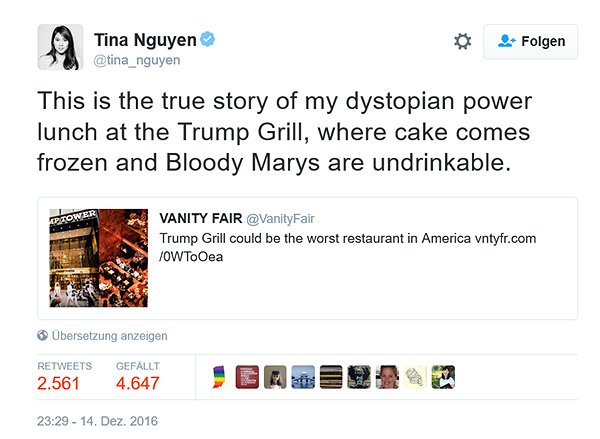 Yes, this critic is harsh and brutal. But Tina Nguyen is hardly the first to skewer the food at the restaurant. This is from a reader review published at New York magazine : "The finest restaurants in the world," reside in Trump Tower proclaims a sign near the building's entrance. Not quite. At Trump Grill finding something that "fine" to eat is as difficult as singling out an "apprentice" on TV.
And the NY Eater writes: "This is food chronically afraid to take chances, food for timid people with digestive problems." NY Eater further "recommends": "Take the 12 ounce $27 NY strip steak (please): It comes draped over a bed of gritty, oily mashed potatoes and limp asparagus that appeared plucked from a steam table — both inedible."
The Vanity Fair story is not the first critic of a magazine about the "Grill". It might be harsh, a brutal joke on Trump, but maybe true. The question is: If the President-elect reacts like this to critical journalists, how will he react to (foreign) politicians who criticise his politics? What does that mean to freedom of press, if the President (-elect) indirectly demands the shutdown of a popular magazine?
Last but not least, this is the answer of Vanity Fair on Twitter: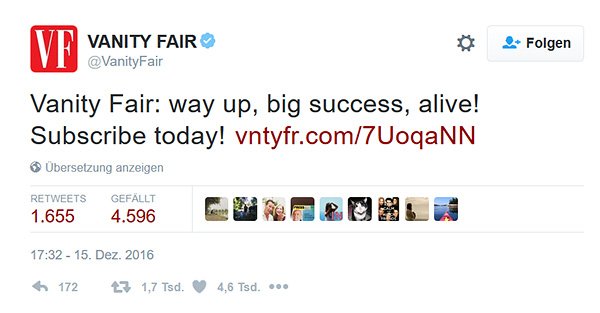 Good luck!
https://petervonstamm-travelblog.com/wp-content/uploads/2016/12/Vanity-Fair-Donald-Trump-TITEL-03.jpg
650
1303
Peter von Stamm
https://petervonstamm-travelblog.com/wp-content/uploads/2018/05/petervonstamm-logo.png
Peter von Stamm
2016-12-18 18:05:22
2017-01-16 22:44:58
Trump Lashed Out at Press Again