©Bianca Demsa
Venice Simplon Orient Express from Paris to London
Guest blog by Bianca Demsa
40th Birthday Bliss on a historical train and playing Lady of the Manor
.
Paris by night
After a sleepless night we arrive in Paris in the late afternoon. We take the train to Gare du Nord and with the help of Google Maps find our little hotel between Gare du Nord and Gare de L'est. After grabbing a quick bite to eat we decide we can't waste any more time indoors and explore Paris by night. I show my husband the famous and cosy Shakespeare's Bookshop (he was searching for a French to French dictionary but without luck I am afraid) near the Notre Dame and we walk along the Seine as the evening lights come on.
After waiting for almost too long we managed to get a table and have a tea and sumptuous rose chocolate and raspberry dessert at Laduree, another favorite of mine and extremely popular it seems. Our walk continues along the sparkling Champs Elysee. We see the Eiffel tower glittering in the night and we take our time to soak it all in. I dream about the exquisite Parisian houses and study the architecture, trying to take a peek inside and imagine who could have lived there. Slowly we walk back to the hotel to dream about tomorrow.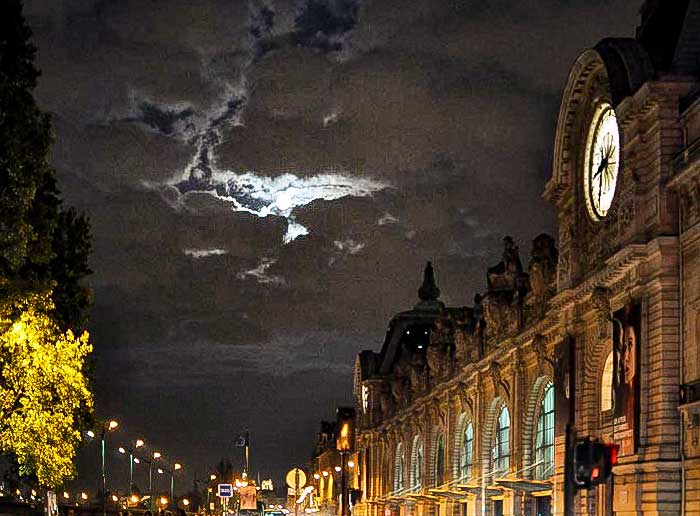 An art nouveau wonder on wheels
– The Venice Simplon Orient Express
We are not usually the most punctual and were surprisingly one hour early because we simply couldn't sleep. The train hadn't arrived yet so we sat down and had a coffee to steady our (my) nerves and my husband tried out his French which he has been learning for all of two months. He wanted to be prepared. We strolled candidly to the platform and there she was standing there in all her glory.
Shining and sparkling like brand new as though she had never travelled anywhere or been touched by a single soul. Her debut journey almost. You could see your reflection in her paintwork as I felt a lump in my throat and my eyes starting to well up. I had waited so long to do this and it had been my eternal dream. Now I will be taking a trip in her on my birthday. The concierge welcomed us and handed us over our tickets, packaged as luxuriously as our awaiting train.
Pristine white and silver foil paper with beautiful labels for our luggage and travel brochure complete with a diary. I felt as though I was in another world, in a film or a storybook. I couldn't believe it was true and even my husband was in awe (and usually he is not easily shocked).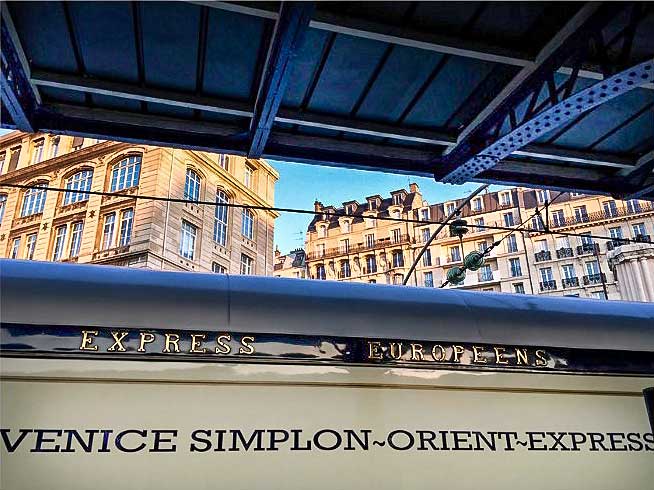 We walk at snail-pace along the platform towards our cabin entrance and luckily it's at the front of the train so we have a lot of time and opportunity to inspect the length of the train and take pictures of her majestic appearance in her blue and gold splendor, her windows encapsulating little lamps and polished wood veneers displaying a whole variety of art nouveau frieze elements such as flowers and animals. Like a proud queen.
She was originally used as a sleeping and restaurant carriage by the Compagnie Internationale des Wagons-Lits (CIWL) company in 1883. 1977 and the American investor, train enthusiast and dreamer James B. Sherwood painstakingly found, bought and restored the original Orient Express cars, piece by piece from all over the world. He had a vision to see the VSOE run again and that dream still stands to this day. I felt extremely lucky to be able to be apart of it.
All on Board!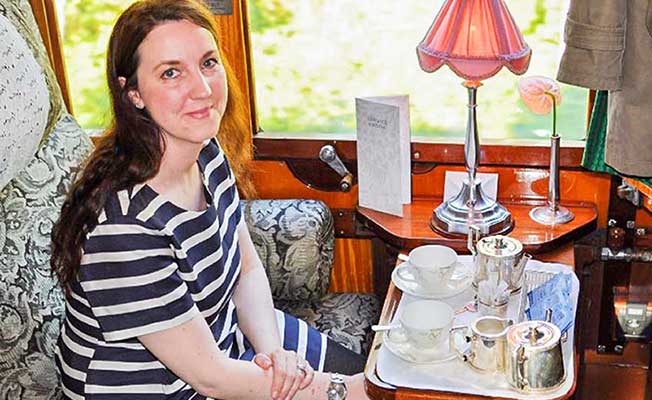 After lots of photographs and just plain staring we were met by our cabin steward Franco who welcomed us warmly and gave us the regulations and run down of our day. Our cosy cabin was beautiful and with our very own numbered key. Champagne was waiting for us as well as goodies galore such as vintage postcards a beautiful map, lots of information and the history of the train all presented in a lovely envelope.
Any written postcards can be given to our steward to post on our behalf and part of the service! And lets not forget the secret washroom which is revealed on opening the dainty doors and where a tiny basin with top-class products, crested towels and washing articles including a luxurious wash set with a cream called skin truffle and made from gold, diamonds and black truffle and various other sumptuous scented creams and sprays are revealed.
As we sat there sipping our champagne we still couldn't believe it. The Orient Express team in their blue uniforms crisp white gloves couldn't be missed and every single department on the train had a different uniform. It was fascinating to see and I felt like asking each and every one of them about their adventures so far. At 8.30 the whistle went and we were off to new adventures.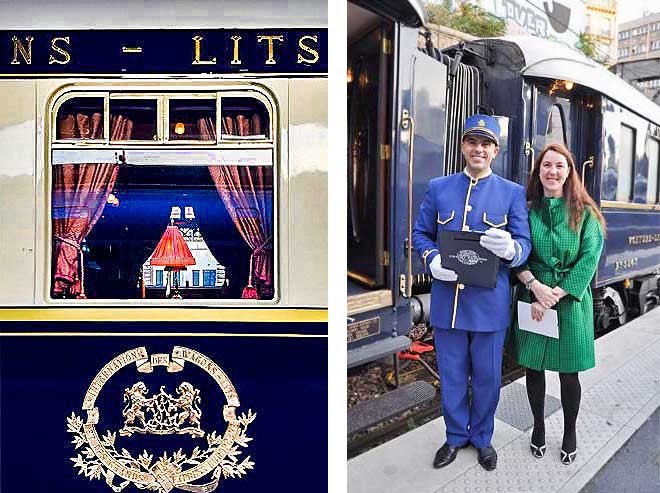 Orient Express:
Lobster Brunch
We were asked what time it would suit us to have breakfast and we made our way down to the to the dining car at around 11am. Our brunch consisted of lobster in a cream mushroom sauce, naturally with champagne, then salmon with grilled potato. And then came the surprise of all surprises and our waiter presented me with an early birthday present. A wonderful chocolate cake in the shape of a Hermes handbag with topped with a candle.
I was dumbstruck and I didn't know what to say. I spent quite a while staring at this cake because I didn't want to blow out the candle, let alone eat the gorgeous cake. But I certainly couldn't pack it in my pocket so I shared it with my husband. It had a delicious chocolate mousse in the middle and I was so full by the end that I was really struggling. But it was just so yummy! With more champagne to come we eventually left the dining car and went on to explore the train.
We went along the whole length of the train and every compartment is slightly different in interior style, be it the colours or the textures. We went through the bar area where a grand piano was playing and the lounge area. And then I couldn't help myself but I had to visit the shop. Browsing soon turned into buying as my husband bought himself a tie and handkerchief with the Orient Express crest on it, including the image of the famous whistle and that every member of staff has on the train. I loved the combination and thought it was very quirky. I myself got a little bag and I couldn't resist the dressing gown in dark blue with the golden crest on the pocket. We then went back to our cabin to continue writing postcards to family and friends And before we knew it we had arrived at Calais and it was it was time to switch trains.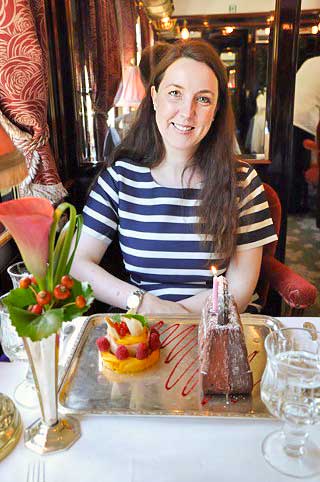 Orient Express:
British Pullman at Calais
We took a short bus ride and then a very odd half an hour of vibrations through the Eurotunnel. It felt as though you were kind of moving but you couldn't really tell because there were no windows and all of a sudden you were in England. Another short bus ride to the train station and then we were met by a lively jazz band. Another unexpected and wondrous moment and even one of the guests got up to sing with them as the British Pullman pulled in, the sister train to the Venice-Simplon-Orient-Express also bought and restored by Sherwood. She has carriages ranging from 1920–1950s and has been running again since 1982.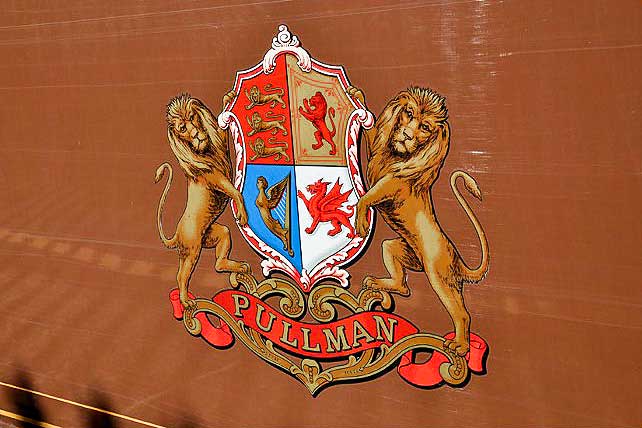 The journey from Calais to London was unfortunately a short one so we didn't have a cabin this time but I can't complain about the plush seats in our dining car Ione. Art deco style liberty patterned armchair sized seats that were so comfortable you felt as though you could sleep in them on the spot. A beautifully set table with pale blue and gold, white porcelain and as we sat down a freshly poured glass of rose champagne from Kent. As can be said, the afternoon tea was nothing short of 5-star luxury with scones that were still warm, marmalade freshly made as well as potted cream and four different kinds of sandwiches. And after we had finished all that we were treated furthermore to a selection of handmade chocolates, all individual.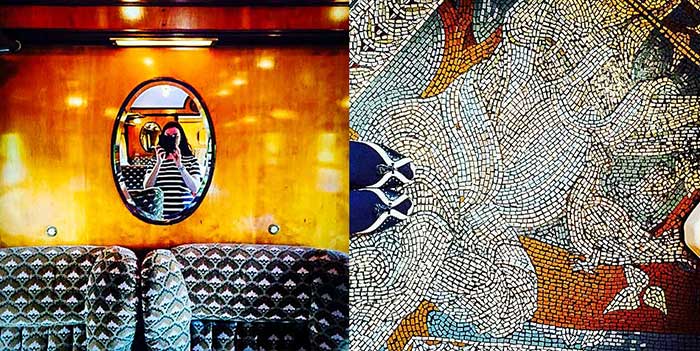 Again with a full stomach we decided to explore the train and we were always surprised how long the trains actually to explore from one end to the other. In the British Pullman every cabin had a different name and was differently coloured. There were individual compartments but without doors and others were completely open plan. We had a chat to the trains director who was showing our neighbor (a train engineer from Canada) details about the train and its history.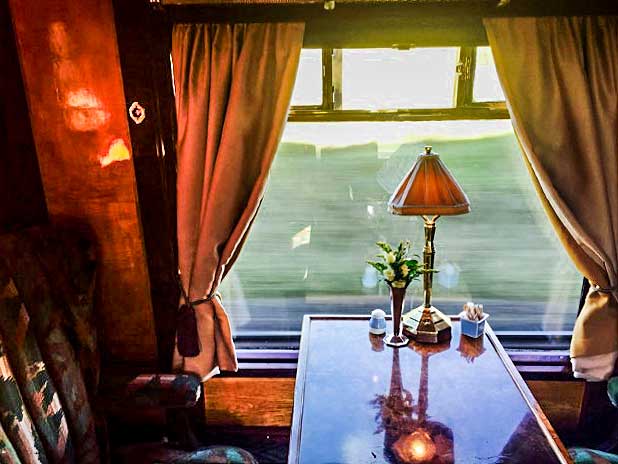 He even came back to talk to me and ask me about my background and my reason for travelling. He was a man who you could tell loved his job and had fond stories to tell. And so it was coming up to 6pm in London and our journey was coming to an end. With a very, very heavy heart we left the train at Victoria station. But our journey was not over yet.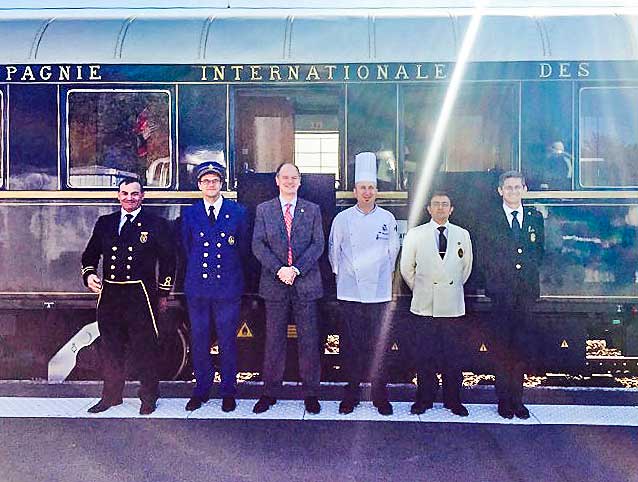 Eggington House
We headed over to Euston because our journey continued in a far less luxurious train heading to Bedforshire. I'm a fairly new customer of Airbnb and I was delighted to be able to spend the next few nights at a 17th-century mansion in Eggington. The house belonged to a Mrs. and Mr. Garrigue who had purchased it around 5 years ago and have been doing it up. And with 16 rooms I guess it might take a while. Arriving at this tiny station in Leighton Buzzard we were glad to be able to get a taxi and doubly glad because there was about one street light and it was pitch black.
At the house we were greeted by Suzie, her French husband and their three sweet retriever dogs, Megan, Hattie and Emily. Megan was the cheeky, smiley one, Hattie the shy one and Emily the skeptical one. We were shown to our room and I could not have imagined a more beautiful blue bedroom with antique furniture, a huge working fireplace, elegant black framed pictures on the wall and lovely windows across the whole of the right side of the door with stunning French shutters. The interior design very English but also very French. A harmonious mix and fusion of styles. To think that Suzie's family is French and the house was built by a Frenchman, it all makes perfect sense.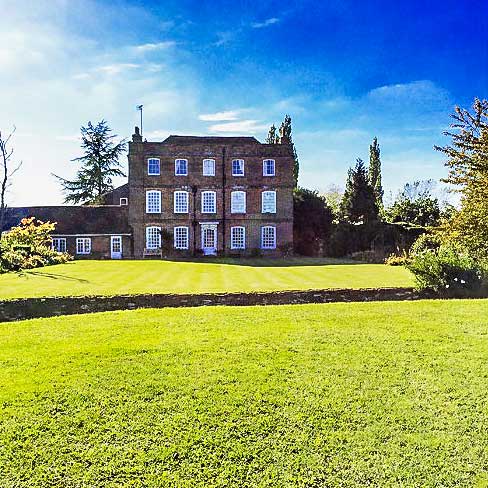 Baked Beans and Dog Walking
After an extremely restful night where we slept like stones we woke up to be served breakfast in the main dining area in front of a roaring fire. The breakfast was waiting for us on a beautiful mahogany oval table and we had the lovely luxury of being able to choose a breakfast of English or continental. We went for the full English with entirely regional products. Sausage and baked beans, homemade marmalades, sour dough bread made by her husband and all the while the three dogs observing us greedily. We explored the labyrinth of a house. The paneled drawing room with original 17th century graffiti on the window panes, the study filled to the brim with books and the house's original lighting, the Downton Abbey style servants bell in the kitchen and the stupendous paintings including a large portrait of the family's great, great grandmother with a hidden note.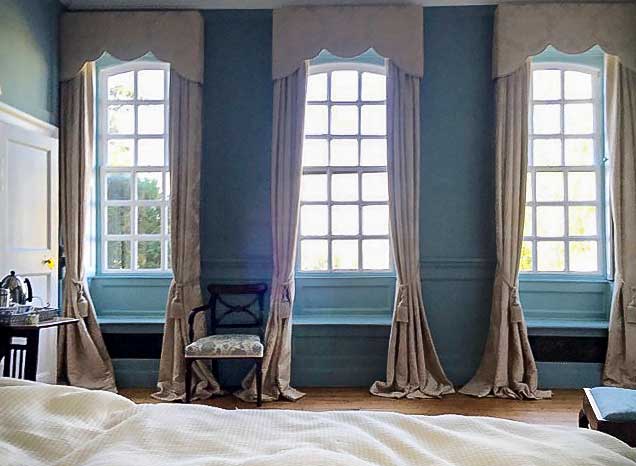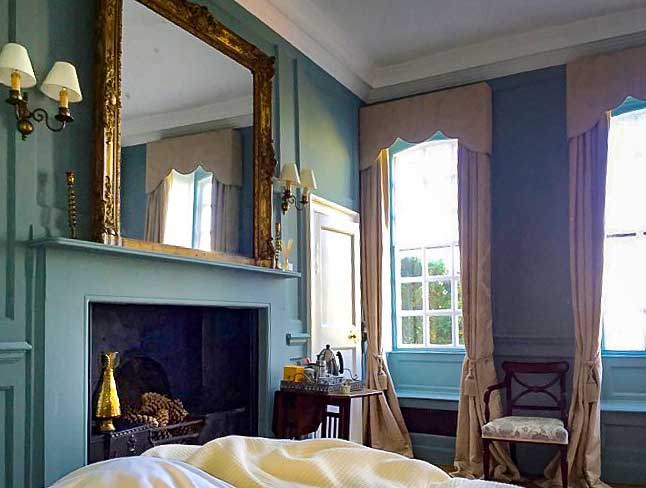 With it being a beautiful sunny day we decided to explore the grounds. Acres of glorious fields and that fresh country air. I love how green England always is. The first hour or so we took the three dogs with us and checked out the huge teepee that Suzie had organised for her daughter's sweet 16. I have never seen anything like it but I immediately took to the idea. Maybe for the next birthday? After we brought back the dogs we decided to walk on over to the next farm. But it took a lot longer than we anticipated and we ended up getting utterly lost.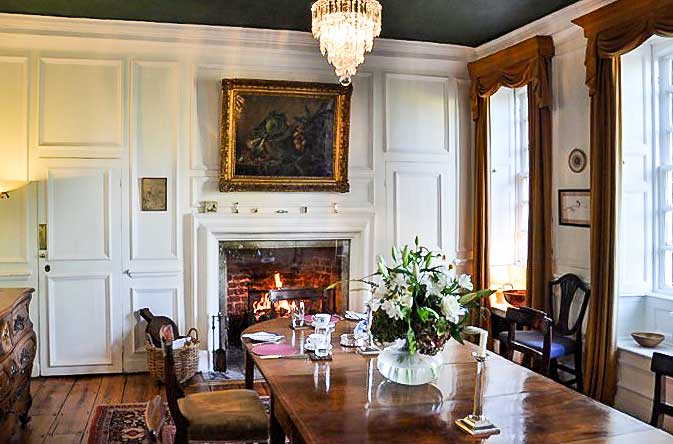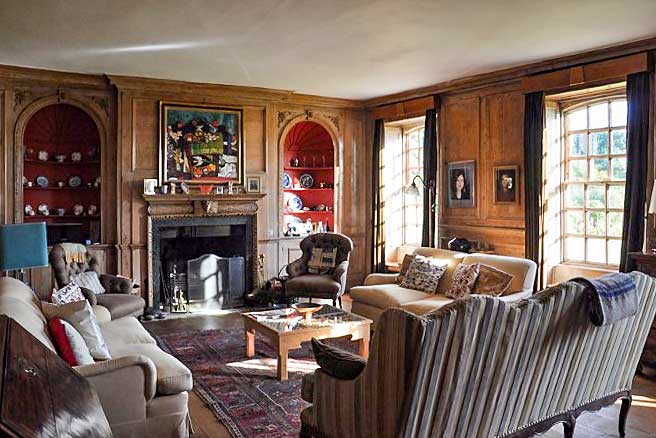 Tip-toeing through a cow field, where the cows seemed more than a little bit too agitated for our taste and trudging through the Bermuda Triangle of muddy fields that didn't even exist on Google Maps. Luckily Suzie had given us a rarity, a paper map! We were slowly getting worried that we wouldn't make my birthday dinner that evening. But in the end we had it all figured out and got back to the house about er, two hours later.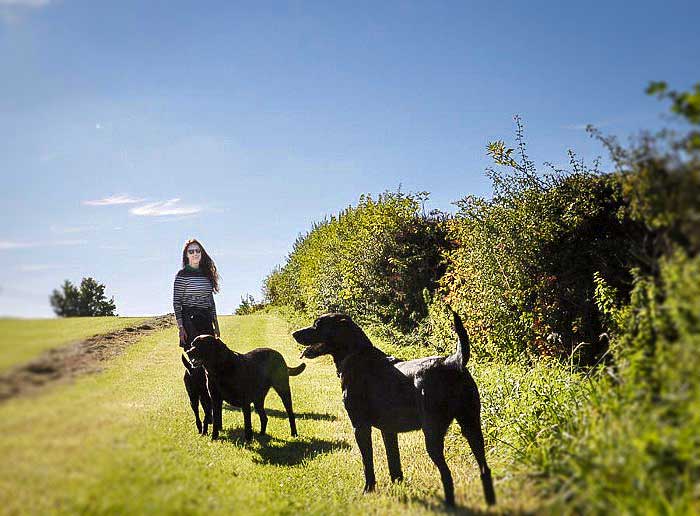 Life begins at 40 and at the Kings Head Pub
We got dressed in a hurry and called the taxi to take us to the Kings Head pub, which was no ordinary pub by the way, but a 4-star restaurant in Buckinghamshire and rated as one of Britain's finest. We were greeted by our French waiter and the director of the restaurant. It was fairly quiet being a Monday but we were treated like a king and queen nonetheless. We started off with drinks in the cosy bar, with beamed ceilings, an open fireplace and comfy chairs. We were then escorted into the restaurant and it felt like we had been transported into another world and another time. Dark wood, art deco paintings from Tamara Lempick on the walls, subtle lighting and tasteful crockery on the table.
I had the steak and my husband the liver, both of which were absolutely delicious. Then we proceeded onto the dessert, a lovely flavoured ice cream with seasonal fruits. We were then asked if we wanted to take coffee in the salon or at our table. The salon was also filled with cosy furniture, Ming-style vases and oriental art. And then came the second surprise of the week. A beautiful birthday cake which was presented with our coffee and big enough to feed 4 people, with a cream filling, chocolate and fruit. Delicious! By the end of the evening I felt as though I had been eating nonstop for days but I managed to roll into my bed that night happy as can be.
Fond Farewells
We didn't have that much time in the morning before our flight left for Hamburg, so we enjoyed our regional breakfast and then it was time to leave. I made sure Suzie got a little souvenir of Hamburg. A typical German cotton shopping bag, but with a lovely Hamburg motif on it. I look fondly on those days from my 40th birthday as they were unforgettable, Magical, wonderful, grateful days. I felt extremely lucky to be able to share them with my husband and now I can share them with you. I hope you all have the opportunity to make your dreams come true however big or small.
Bianca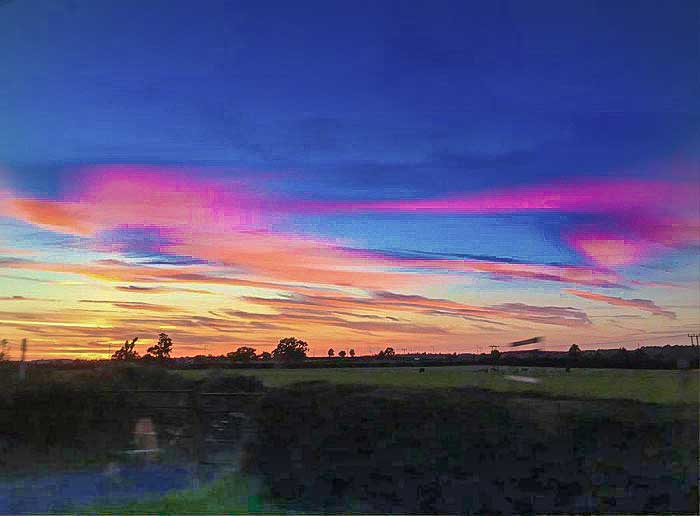 Photos: Bianca Demsa, Lorand Demsa
.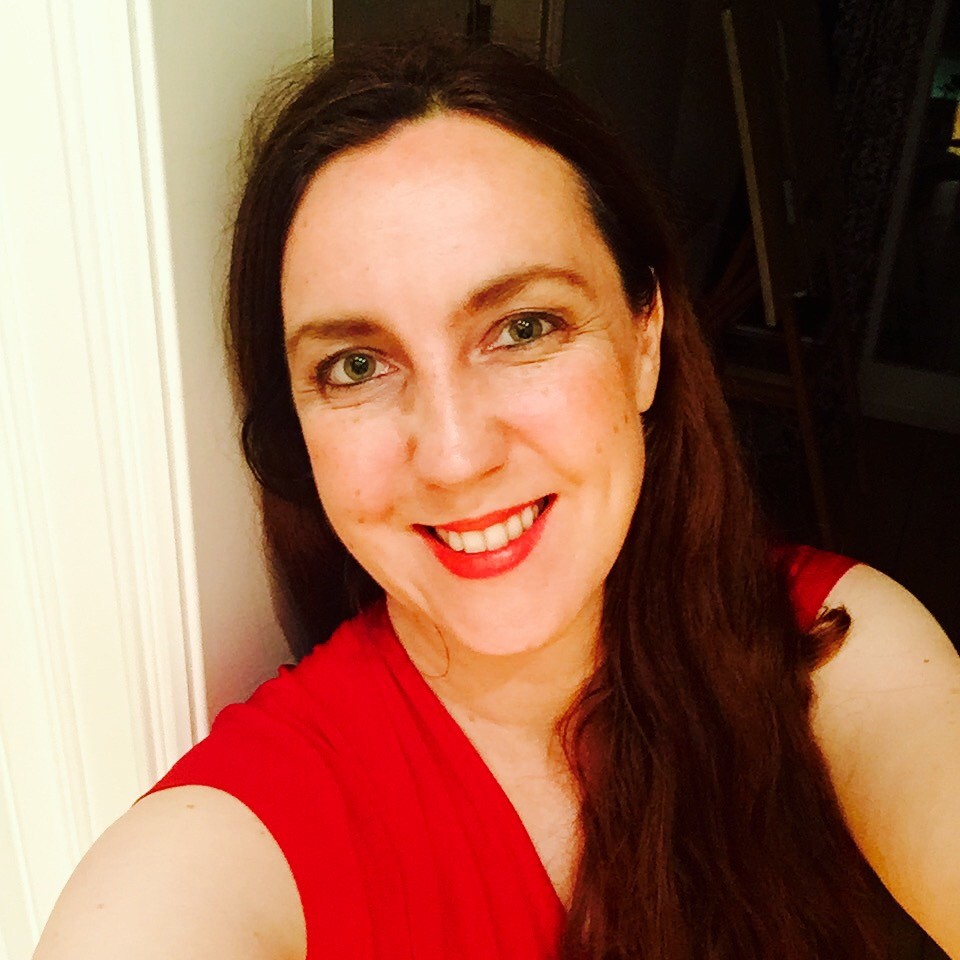 .
You might also like:
Finding your 'mojo' at Kurhotel Skodsborg
Silverado Hotel & Spa in Napa Valley, California
The Private Suite – LA's ultimate airport luxury touchdown
.
https://petervonstamm-travelblog.com/wp-content/uploads/2019/08/Orient-Express-13-Titel.jpg
595
900
Bianca Demsa
https://petervonstamm-travelblog.com/wp-content/uploads/2018/05/petervonstamm-logo.png
Bianca Demsa
2019-08-19 17:50:05
2019-11-23 14:17:59
Venice Simplon Orient Express from Paris to London