Four Seasons Chat Connects Guests with New Chat Feature
Let's Chat: Four Seasons Chat delivers world renowned Four Seasons service in 100+ languages at the touch of a (send) button.
Four Seasons Hotels and Resorts, the world's leading luxury hospitality company, has launched Four Seasons Chat – a new digital service enabling guests to send and receive instant messages with property teams before, throughout and after their stay.
Four Seasons Chat in 100+ Languages
Four Seasons Chat leverages technology to get more personal, providing guests with access to legendary Four Seasons service at their fingertips at any time, from anywhere. Guests can send a message via multiple channels – namely the Four Seasons App, Facebook Messenger, WeChat or SMS. The result is a seamlessly integrated conversation that creates uniquely tailored hospitality experiences, facilitated digitally but delivered with a distinctly human approach.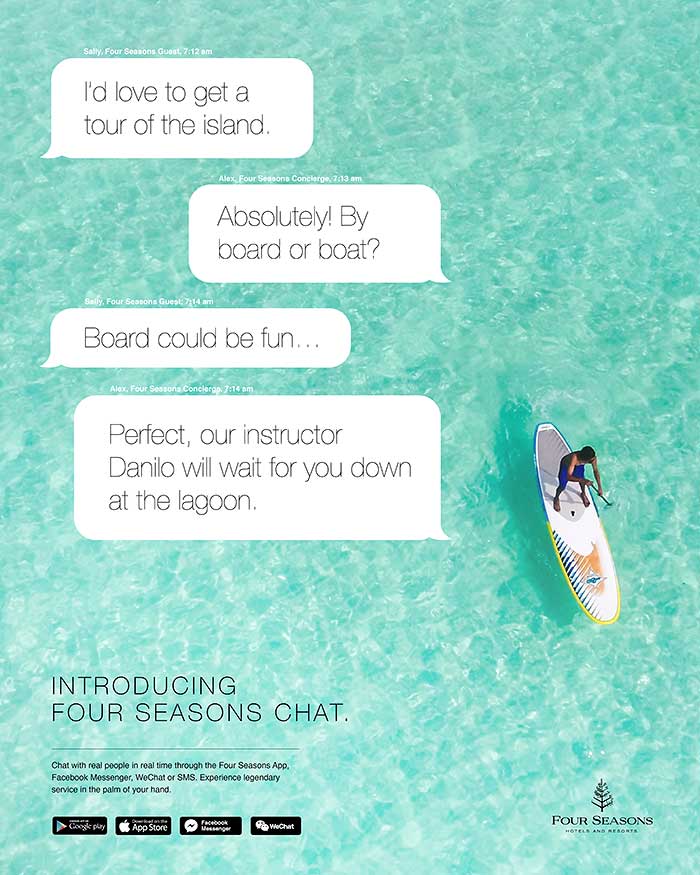 Wherever one travels, communication is made easy with Four Seasons Chat's ability to translate more than 100 languages efficiently and in real time. Best-in-class response times are in minutes, if not seconds, well below industry averages of 12 minutes. Four Seasons Chat alerts staff immediately via visual and audial cues to ensure that no message is missed and responses are delivered right away.
In a pre-launch pilot program at 30 hotels, more than half of guests introduced to Four Seasons Chat leveraged the service on their first stay. They also engaged with Four Seasons more regularly – they averaged more than six chats during a stay, more than twice as often as the industry average of three. Overall, guests loved the new simple and intuitive feature, consistently reporting that Four Seasons Chat heightened their guest experience.
Chat was designed with the sole purpose of heightening the guest experience, ensuring that all needs are met regardless of time or place. Whether asking for directions to the Louvre in Paris, craving a midnight snack in China, or flying aboard the Four Seasons Private Jet, Four Seasons Chat has it covered.
Five Reasons to Chat:
Customisation at One's Fingertips: Running late for a tee time? Adding an extra person to a dinner reservation? Need driving directions? Send an instant message to request prompt assistance and get answers in real-time, from real people.
From the Comfort of Anywhere: Feel like a Mojito poolside? No need to leave one's lounger. Send requests via Four Seasons Chat and staff will take care of the rest.
Advice On-the-Go: Best steak in New York? Finest tailor in Paris? A secluded spot for sunset watching in Bora Bora? Concierge recommendations are available when out and about.
Connect Before, During and After a Stay: Chat makes it easy to get organised before arrival and put a face to a name during one's stay. Need to get in touch following departure? No problem, Chat away!
More Me-Time: Whatever the purpose of one's stay, Four Seasons Chat's quick response time and ease of use means guests can enjoy more moments with family, another cocktail with friends, or simply an extra hour in bed.
Four Seasons Chat will be available in 72 hotels and 19 residences by the end of 2017, with rollout across all Four Seasons properties planned for 2018. In Europe, Middle East and Africa, Chat is already live in 16 Four Seasons hotels and resorts, including properties in Paris, Hampshire, Lisbon, Dubai, Riyadh and Istanbul. In the Americas, Chat is already live in 28 Four Seasons hotels and resorts, including properties in New York, Los Angeles, Toronto, Florida, Hawaii and Mexico City. In Asia-Pacific, Chat is already live in 12 Four Seasons hotels and resorts, including properties in Beijing, Shanghai, Bora Bora, Jakarta and Koh Samui.
SOURCE: Four Seasons
You might also like: Bebot – the AI chatbot for hotels
Marriott Launches Careers Chatbot for Facebook Messenger
Marriott and Aloft chatbots simplify travel experience
https://petervonstamm-travelblog.com/wp-content/uploads/2017/10/Fours-Seasons-Chat-chatbot-TITEL.jpg
578
1000
Peter von Stamm
https://petervonstamm-travelblog.com/wp-content/uploads/2018/05/petervonstamm-logo.png
Peter von Stamm
2017-10-31 18:05:58
2017-10-31 17:25:03
Four Seasons Chat Connects Guests with New Chat Feature