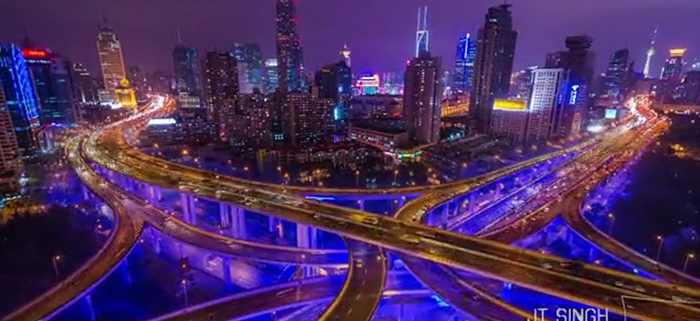 Video of the day: This is Shanghai
This is Shanghai – another wonderful video by leading city-branding pioneer and art director JT Singh
In 1980 Shanghai had no skyscrapers. It now has at least 4,000 — more than twice as many as New York. 'This is Shanghai' explores the diversities and eccentricities of the metropolis that is Shanghai going beyond the famous skyline.
Video by JT Singh
Photographer Rob Whitworth and urban identity expert JT Singh joined forces combining deep city exploration and pioneering filmmaking. 'This is Shanghai' is a roller coaster ride seamlessly weaving between the iconic, sparkling and mismatched buildings of the financial district travelling by boat and taxi touring Shanghai's impressive infrastructure whilst glimpsing some of the lesser-known aspects of Shanghai life such as the lower stratum areas or the stunning graffiti of Moganshan road. And of course there is the opportunity to try some of the vast variety of street food and Shanghai's most popular homegrown delicacy, the pan-fried pork dumplings, the shengjian bao.
[Tweet "Video: This is Shanghai – by leading city-branding pioneer & art director JT Singh"]
Wherever you travel in Shanghai the cities skyline is always present. The looming silhouette of the almost constructed Shanghai Tower now dominates and perfectly encapsulates the new heights this city is yet to reach. Once completed, in 2014, it will be the tallest building in China and the second tallest in the world after the Burj Khalifa in Dubai.
Toronto born (globally programmed), JT Singh is a leading city-branding pioneer, art director and economic strategist focused on city-regions. Renowned for his next generation thinking, JT's insightful reconnaissance of hundreds of emerging cities offers a lens on "where things are headed" on all crucial aspects of the urban world.
JT is passionate about decoding the nuances of the emerging urban world and showing cities how they could and should show themselves. His work is usually in collaboration with the official leaders of cities, regions and countries.
Currently JT is working on various projects on the global scale to create mechanisms that are helping accelerate global engagement for cities, improving governance and drastically altering the way we understand and experience the modern urban world.
His uniquely specialized expertise intertwines within the areas of city branding, sustainability, climate change mitigation, urban policy, economic competitiveness, culture development, public diplomacy, foreign trade/investment, tourism, environmental design, talent attraction and more.
Full story at Vimeo
More videos by JT Singh at Vimeo
https://petervonstamm-travelblog.com/wp-content/uploads/2015/04/This-is-Shanghai-1.jpg
397
700
Peter von Stamm
https://petervonstamm-travelblog.com/wp-content/uploads/2018/05/petervonstamm-logo.png
Peter von Stamm
2015-04-06 16:29:35
2016-09-19 15:53:54
Video of the day: This is Shanghai