The Secret Room: Exclusive Gourmet Experience at Hotel Ritz Lisbon
Throughout 2018 Sangue na Guelra – Blood 'n Guts will create a limited series of immersive experiences in the most legendary room at Four Seasons Hotel Ritz Lisbon with some of the biggest names in world gastronomy.
On the tenth floor, the door of the Presidential Suite opens only for those who hold the key. Inside, the table is set comme il faut, bringing out the Hotel's unique collection from the 50s, 60s and 70s. The stage too is set with one-of-a-kind period furniture pieces, the city's panoramic view is the backdrop. An unprecedented dinner for 20 people only, in the extravagant intimacy of the city's most iconic suite. In the Hotel's labyrinthine backstage, a chef puts the finishing touches on a dish, but on the king-size bed you can already taste something: welcome to the Ritz's Secret Room by Sangue na Guelra.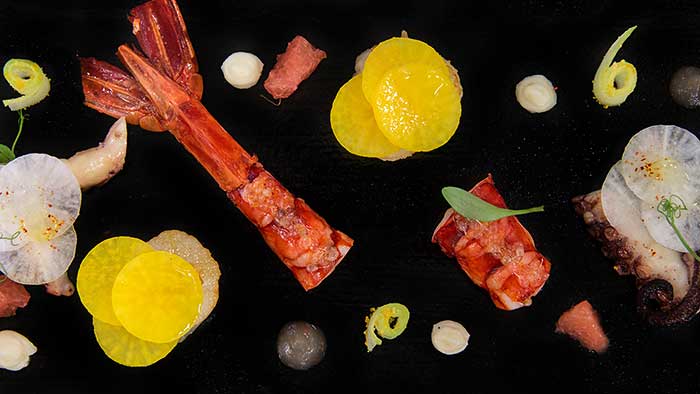 Each dinner will be a once-in-a-lifetime experience with a discreet yet engaging artistic performance that crosses the irreverent cuisine of the invited internationally-acclaimed chefs together with the Hotel's dynamic team and a handful of Portuguese artists.
The first experience will take place on April 14, 2018 and will bring Chef Eneko Atxa (Azurmendi, 3 Michelin stars, Spain) to Portugal. Alex Atala (DOM, 2 Michelin stars, Brazil) on April 25, Mauro Colagreco (Mirazur, 2 Michelin stars, France) in September and Toño Perez (Atrio, 2 Michelin stars, Spain) in Octobe , who also promise to "set ablaze" the Hotel's Presidential Suite with just a dash of provocation. Each dinner will be accompanied by an equally exceptional selection of national and international wines, with top references from Sogrape, Esporão, Bairrada and Château d'Yquem.
Nothing is what it should be. Executive Chef Pascal Meynard's brigade, runs through corridors, floors and secret doors, and with the same artistry as in Varanda's kitchen, installs a prepping station and an assembly line. Dressed by Storytailors, Gabriela Marques, the Hotel's Sommelier will also be part of the cast, taking on the mysterious character of a film noir, while the rest of the waiting staff seems to emerge from the glorious 1950s in a story that will for now be told in four chapters, and whose ending will forever remain unwritten.
The Hotel's Executive Chef Pascal Meynard said enthusiastically: "We're absolutely stoked to kick-start 2018 with these unique dining experiences." The Ritz's Secret Room came to be following the Young Chefs with Guts dinner at Varanda restaurant in May 2017, and is a Sangue na Guelra production in partnership with Four Seasons Hotel Ritz Lisbon, with the artistic participation of Alice Joana Gonçalves and the support of Vogue Portugal.
Base price: EUR 550, varying according to the invited chef and wine pairing
For reservations use code RitzSecretRoom10 and email: reservas@sanguenaguelra.pt
Share the experience using #ritzsecretroom.
Pascal Meynard, Executive Chef at Hotel Ritz Lisbon
A fan of everything ocean-related, from fish and seafood to body-boarding and surf-kayaking, Pascal Meynard likes nothing better than venturing into the great outdoors, embracing regional flavours at their authentic, natural best, while searching out new techniques, products and innovations. At Varanda, his seasonally changing menus marry classic French cooking with Portuguese influences, including his own signature products: two salt seasonings and a "liquid gold" olive oil, created in partnership with Loja do Sal, an exclusive Portuguese salt purveyor, and CARM, a family-run olive oil producer.
Fabian Nguyen, Executive Pastry Chef at Hotel Ritz Lisbon
Born in the far west island of Vanuatu, in the Pacific Ocean, Fabian is a graduate of the prestigious Lycée François Rabelais. His remarkable career began at Michelin starred Domaine De Clairefontaine with Chef Philippe Girardon, considered by many the best ouvrier in France, followed by a move to Le Buerehiesel, Strasbourg – Antoine Westermann's three Michelin starred restaurant. Since 2013, he has been sweetening Varanda's menus with his insanely enticing desserts, cakes, pastries and petits fours – each a mini masterpiece of intricate artistry.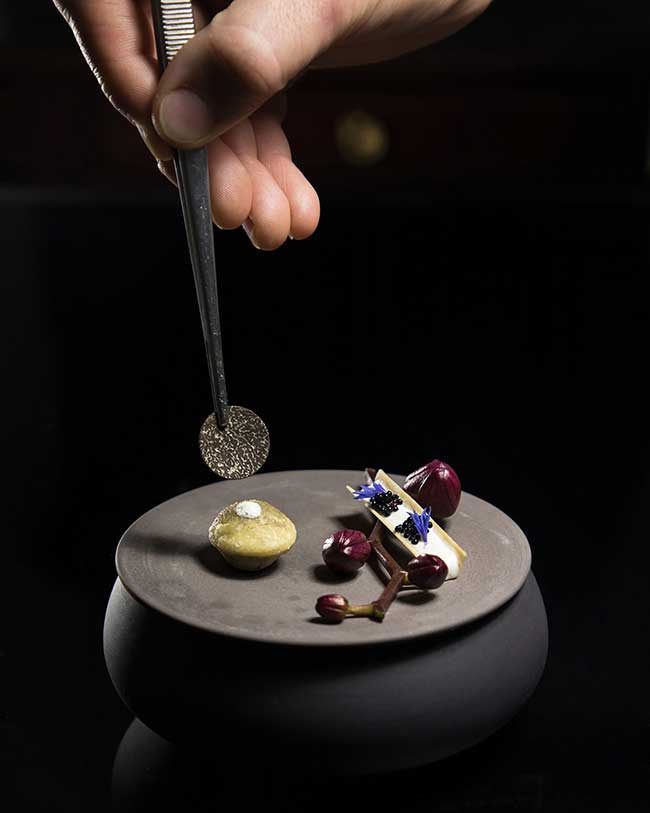 Gabriela Marques, Sommelier at Hotel Ritz Lisbon
As a female sommelier in a male-dominated industry, Lisbon born and raised Gabriela Marques views every day as an opportunity to challenge herself to become even better. At Varanda, she aims to continue the legacy of LicÍnio Carnaz to honour the restaurant's longstanding reputation in terms of its food and wine cellar. She likes nothing better than introducing people to wines beyond their favourites: "It is so rewarding, especially when they realise how a proper pairing can enhance and improve the flavour of their food. For many gourmands, it's like introducing them to a whole new world."
SOURCE: Four Seasons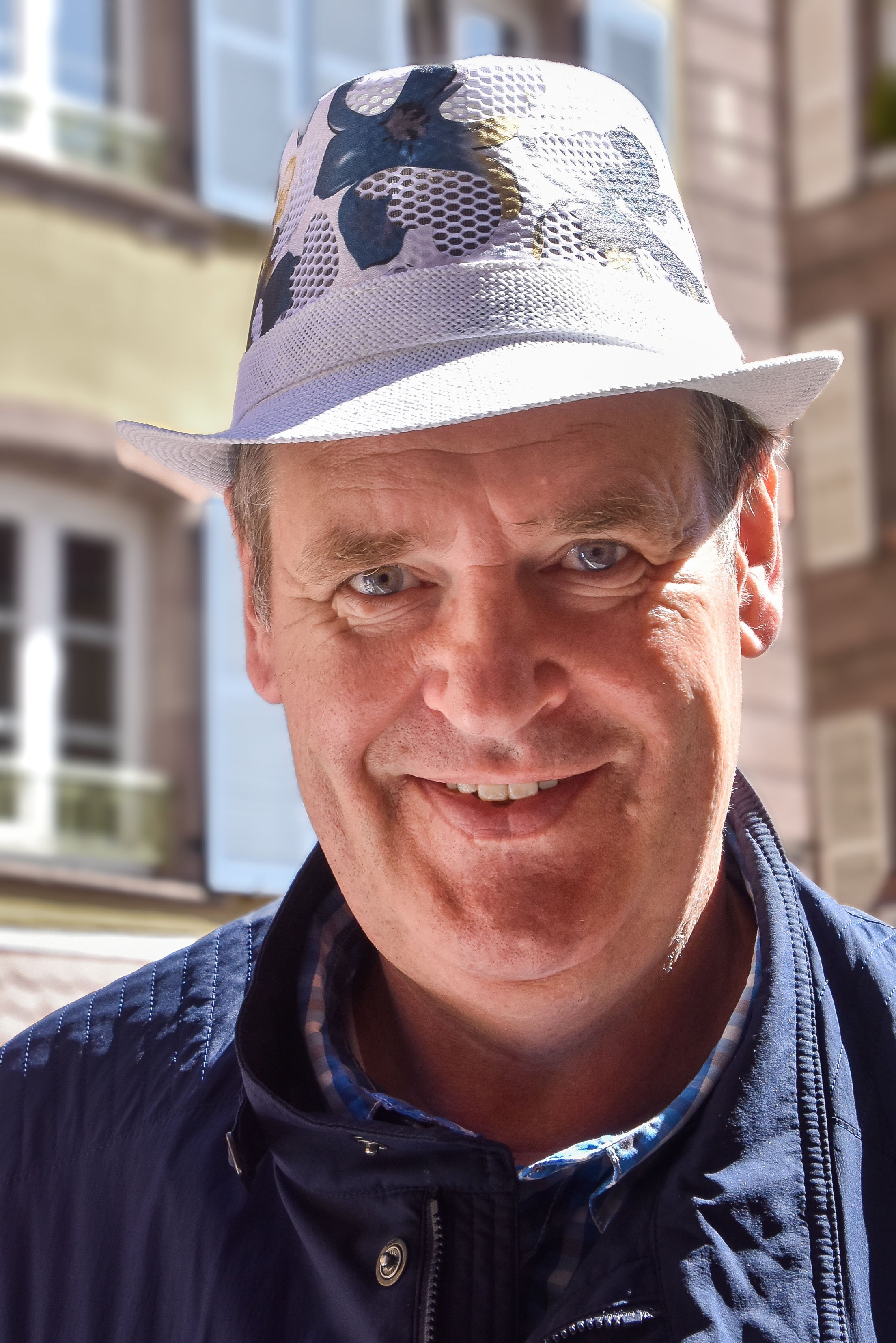 You might also like:
Küche mit Herz – das LOKAL in Davos
Gerd Reber und das Birnenbrot – eine Begegnung im Waldhotel National
The Private Residences at Four Seasons Resort Chiang Mai
Four Seasons Hotel Mexico City Ranked #1 in the Capital
Four Seasons Hotel Beirut Voted Best Luxury Hotel
Summary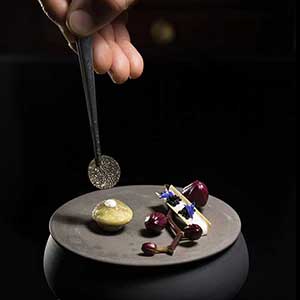 Article Name
Ritz Secret Room at Four Seasons Hotel Ritz Lisbon: One Room, One Dinner, One Ballerina, Nine Michelin Stars
Description
Throughout 2018 Sangue na Guelra - Blood 'n Guts will create a limited series of immersive experiences in the most legendary room at Four Seasons Hotel Ritz Lisbon with some of the biggest names in world gastronomy.
Author
Publisher Name
Peter von Stamm TravelBLOG
https://petervonstamm-travelblog.com/wp-content/uploads/2018/03/Secret-Room-Gourmet-Experience-at-Hotel-Ritz-Lisbon-TITEL.jpg
563
1000
Peter von Stamm
https://petervonstamm-travelblog.com/wp-content/uploads/2018/05/petervonstamm-logo.png
Peter von Stamm
2018-03-27 12:45:01
2018-03-27 12:52:23
The Secret Room: Exclusive Gourmet Experience at Hotel Ritz Lisbon