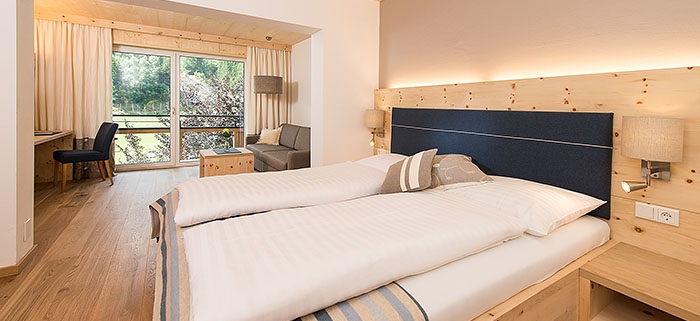 Where things are still authentic: The Landhotel Rupertus
Hotel Review: Bio- und Landhotel Rupertus

We were traveling by car through the Salzburger Land, Austria, in search of a hotel for a few days. We stopped in Saalfelden and asked at the Tourist Information for a peaceful hotel, not too big, privately held and close to the mountains, because we wanted to hike. It should be a modern house with sauna and wellness department, because we wanted to relax. Half board was not so important for us.
The friendly staff at the Tourist Office recommended the "Bio- und Landhotel Rupertus", a family run 50 rooms four-star hotel. Not in Saalfelden, but in the nearby village of Leogang. Close to the mountains of the "Stony Sea" (Steinernes Meer). With half board. And I tell you: Its worth it!
"Where things are still authentic" is the motto of the house and it sounds like a promise. The owner families Herzog and Blumenkamp make every effort to fulfill this pledge: 49 beautiful organic and nature rooms, nature suites and family rooms in solid wood construction, equipped with oak wood floors, pine wood furniture, "Villgrater sheep wool" beddings and wool fabrics that promise a deep sleep. The marvelous sense of comfort invites you to stay. It smells healthy when you enter the rooms and the unobtrusive stone pine-scented regulates your blood circulation while you sleep. It "calms you down"; and that's what you want on holidays, isn't it? I have rarely slept so well like here.
For breakfast guests get healthy foods from the region, most of it with organic "bio" certification. If you like, you can have vegan, gluten- and lactose-free products, too. The incredible delicious jams are made by senior manager Sophie Herzog herself, and the bread comes freshly baken from the hotel oven every day.
In the Rupertus restaurant, you will primarily enjoy regional and organic products with healthy foods on the menu, combined with vegetarian dishes or fresh fish from the nearby Leogang waters. Beef comes from farmers of the Leogang area and from the close "National Park Hohe Tauern". More than 60 percent of food served at the "Bio- und Landhotel Rupertus" is from certified organic products. And that's what you taste.
"Milk, cheese, yoghurt, butter, eggs and honey are provided by regional farmers" – Sophie Herzog
For 13 years Hotel Rupertus has been a member of Mountainbike Holidays and, together with Bikepark Leogang – just 200 meters away – and numerous mountain-bike trails, provides an ideal base camp for mountain-bike vacations. "Bio- und Landhotel Rupertus" is THE mountain-bike hotel in Leogang. Hotel boss Nadja Blumenkamp is a passionate mountain biker and likes to inform you about wonderful tours.
Walking, hiking, mountaineering, rock climbing, mountain biking – here in Leogang anything is possible and guests get well prepared for all outdoor adventures. If you are a hiker, you can choose between the gentler Kitzbühel Alps or the more challenging peaks of the Leoganger Steinberge. Three times a week the hotel offers guided hikes. Detailed advice for custom tours, trekking poles and water bottles to borrow – and if you like, you'll get a delicious stuffed organic snack backpack and a complimentary shuttle to hiking trails, that do not start "next door".
It's the "little things" that make this charming hotel so appealing: the personally by the senior manager lovingly prepared crepes for breakfast. The many good hiking tips. The honest smile of the managers. The comb honey at the morning buffet (miss it!). The glass of homemade jam for farewell (didn't last too long!). All these "little things" have led us to stay longer than we originally wanted. "Where things are still authentic".
Get more informations here:
Bio- und Landhotel Rupertus****
Familie Herzog-Blumenkamp
A-5771 Leogang, Hütten 40
Tel.: +43/(0)6583/8466
Fax: +43/(0)6583/8466-55
E-Mail: info@rupertus.at
www.rupertus.at
Summary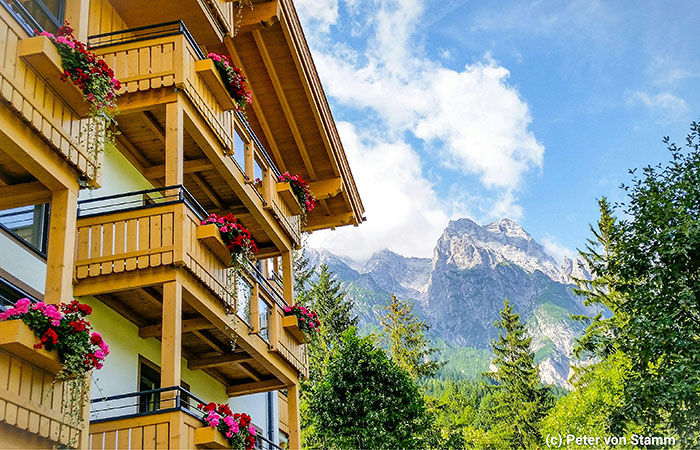 Article Name
Landhotel Rupertus in Leogang
Description
A Hotel review of Bio- und Landhotel Rupertus in Leogang, Austria.
Author
https://petervonstamm-travelblog.com/wp-content/uploads/2014/08/Biozimmer__Bio_Landhotel_Rupertus_.jpg
450
700
Peter von Stamm
https://petervonstamm-travelblog.com/wp-content/uploads/2018/05/petervonstamm-logo.png
Peter von Stamm
2014-09-07 20:28:14
2016-10-27 10:13:09
Where things are still authentic: The Landhotel Rupertus